How to Build an Email List from Zero
Thinking about starting an email list? Before you begin, read this great guide Drew Cheneler wrote for ZeroBounce to learn how to build an email list from scratch.
Email marketing done well can 38(x) your rate of return (ROI). That means that for every $1 you spend on email marketing there is a potential of a $38 return.
Put simply, email can be the difference between the success or failure of your business.
Of course, this statistic is not a guarantee of riches for anyone willing to shoot out unedited emails willy-nilly. Email marketing is a skill to be practiced and honed and your ROI will reflect your savvy and dedication. 
But before you can begin sending emails, you need to curate a list of quality leads.
What is an email list?
The obvious answer is that an email list is a list of email addresses you collect. This is true, but there is a little more to it than that.
Consider customer retention. According to studies conducted by invesp, it costs up to five times more to get new customers than to retain existing customers. Also, increasing customer retention rates by 5% boosts profits by 25-95%.
Now consider that email marketing is the most effective tactic for retaining customers.
So, let's ask again, what is an email list?
An email list is not merely a list of email addresses. It is a source of recurring income.
If you build your email list correctly, it will be filled with your ideal customers. And if you consistently provide value and quality through your emails, then those ideal customers will become loyal customers that clamor for your next product.
Can't I just buy an email list?
Buying an email list is a great idea if you like taking short-cuts that will jeopardize the integrity of your business. But if you want to provide value to your customers and build a stable and trusted business, then buying an email list is a big no-no.
There are laws and regulations designed to protect internet users from spam. So, if you send emails without the receiver's permission, you may face financial and legal consequences.
If you don't care about fines, then consider this: the seller may have received permission to send emails. However, that does not mean you have permission.
Even if you somehow avoid the law, you can still ruin your reputation and get flagged and prohibited from using email services. If receivers mark your email as spam, your email service provider (ESP) can forbid you from sending emails. This would be a greater cost to your business than any amount of time it takes to build a list yourself. 
So, if you think buying an email list will give you a head start, you're wrong. There are literally thousands of other ways to earn money. Do yourself a favor and protect your business. 
How to build an email list the right way
We will cover various ways to build your email list. Some of them will be more effective than others, depending on your business. 
As you decide which tactics to employ, the most important variable to keep in mind is your audience. Put yourself in their shoes. Will they appreciate a sarcastic or funny opt-in pop-up, or will it deter them?
Be sure to have a clear profile of your ideal customer before you implement your email marketing strategy.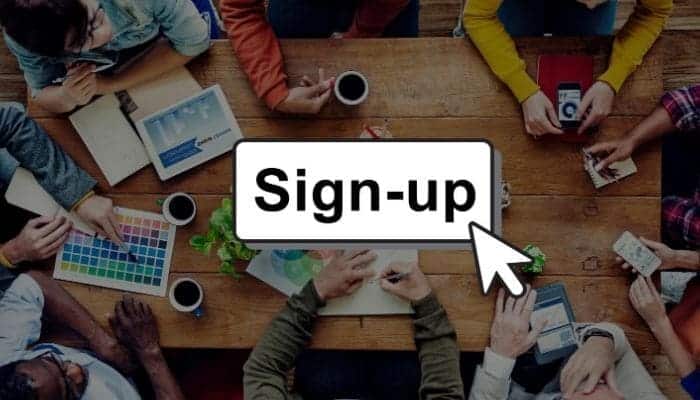 Where should I put email sign-up forms?
Where you choose to place your email sign-up forms on your web page will have a marked effect on your opt-in rates. Let's take a look at some of the tested, high-converting places that will optimize your subscriptions.
Side-bar
You're familiar with the sidebar email sign-up – and because it is so familiar, it is often where users expect it to be. But rather than putting a simple form on your webpage's sidebar, you could place a visually appealing ad offering a lead-magnet.
Bottom of a blog post
If you are confident that your reader will make it to the bottom of your post, this could be a great opportunity to capture their email with a targeted call-to-action (CTA) and lead magnet. That means, if your blog post was a guide on how to build your email list, you could offer a more detailed PDF download on how to optimize email marketing conversion rates.
Header
A sign-up form in your header will only work with a strong CTA and lead-magnet. They haven't read any content yet, so you must provide value some other way. This could be offering a newsletter, eBook, or any informational product that will benefit the user.
If done well, a header sign-up form can have the impact of a massive ad on a billboard. But it is not visually appealing, and you don't offer value, your users won't scroll down and your bounce rate will increase.
Exit-intent pop-up
Pop-ups are irritating and often lead to higher bounce rates. However, the exit-intent pop-up senses when the user's cursor is moving to exit the page and then presents a pop-up. This ensures that the user has gotten some value from your content and allows you to offer them a lead magnet in exchange for their email.
About page
If someone has navigated to your about page, they probably feel that you have something of value to offer them. They have already interacted with your site and want to learn more about you or your business. This is an excellent place to put an email sign-up form offering a newsletter that will allow them to keep up with your content.
Slide-in
Similar in design to an exit-intent pop-up, the slide-in sits at the corner of the user's screen and follows them as they scroll. You can time the slide-in to appear when the user has scrolled to a certain point on the page. The downside to this method is that it can sometimes obstruct content as people are scrolling. Make sure that it is easy to exit from.
Lightbox pop-up
These are pop-ups that take up the entire screen with a lead magnet and strong CTA. While they can be very effective, it's important to time its presentation. If you interrupt people too soon, they may become irritated and leave your site. Make sure that they have gained enough value from your content so that by the time the pop-up appears, they trust you.
Go through your email inbox and find newsletters and lead-magnets that have led you to subscribe. Revisit the websites and analyze where the email sign-up forms are on their site. What made you sign up?
Also, consider the websites that you find irritating and spammy and avoid their practices.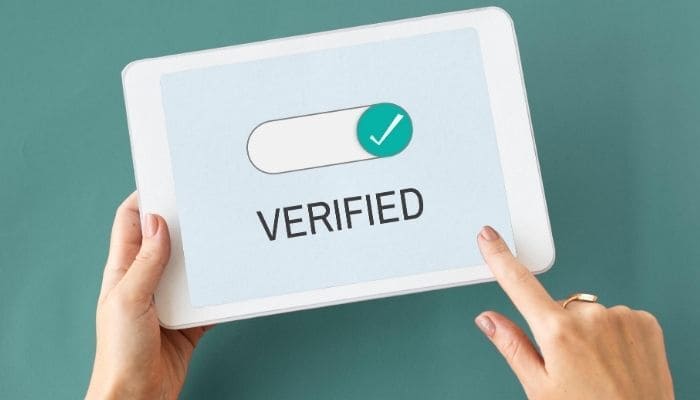 Verify new subscribers in real time with an API
Before you decide where to put your email sign-up forms, you should make sure that you have an email validation API. This will ensure that the email addresses that you gather are legit and worth sending to.
An API will allow you to make informed decisions, in real time, based on the data they extract and present to you.
How to create lead magnets and CTAs
Without a strong CTA, a lead magnet might not hit, and without a lead magnet a CTA won't pack much punch, but together they will lead to higher conversion rates and a quality email list.
Lead magnets
When creating your lead magnet, whether it is a newsletter, downloadable PDF guide or checklist, or other information product, you want to target that lead magnet to your customer persona. Don't try to make a lead magnet that appeals to everyone.
You can have multiple buyer personas, but then you should have multiple lead magnets that target the corresponding personas on relevant pages of your site.
Here are some examples of lead magnets:
Training (video or written guide)
Checklist
Resource list
Discount
Quiz/survey
Sales material
Case studies
Trial
Software
Template
Calendar
Gated content
Your lead magnet should be convenient, actionable, easy to consume and easily delivered. People need to be able to download or use the product immediately. Otherwise, they're likely to forget about it altogether.
A lead magnet is not some trick and it is not bait. An effective lead magnet should aim to truly provide value to your audience.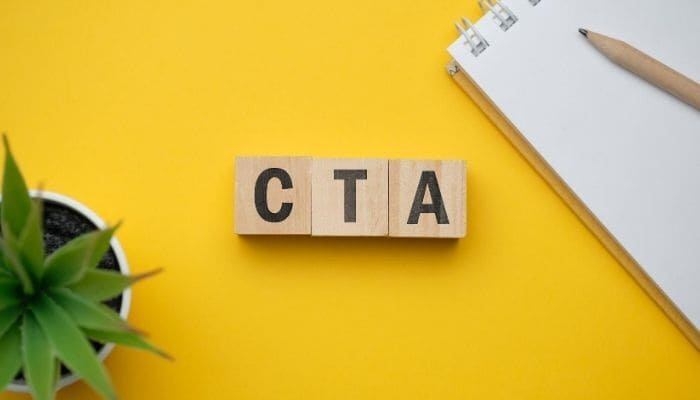 Call to action (CTA)
A call to action must be concise. When a reader reaches your CTA, they have already been primed by the value of your content and your lead magnet, so the CTA acts as that final nudge.
Despite the concision and simplicity of a CTA, there is a right way and a wrong way to write them. Here are some basic pointers to follow.
Begin with verbs
"Sign up for our weekly newsletter" is better than "Our newsletter comes out once a week, you can sign up for it here!" Be mindful of your audience's time, and be confident in your CTA, you are offering them something of value.
Be specific
Use numbers and details specific to the action. Rather than "Sign up for our weekly newsletter," you could add "Sign up to get my 5 weekly actionable tips".
Alleviate fears
Take any risk out of the equation. This isn't the place to ask for long term commitments or money. Your lead magnet should be free, and your CTA shouldn't ask for anything more than an email and their name (if you want to personalize your emails). For example: "Sign up for my FREE weekly newsletter".
Use proof
Give information that has helped you or your previous customers achieve tangible results and benefits. Think "Sign up for my free eBook that has helped my readers increase their leads by up to 20%!"
Immediacy
Since your lead-magnet should be immediately downloadable, your CTA should clearly state: "Sign up to download my free eBook now!"
Urgency
Offer a sale or a limited-time offer to encourage the user to sign up right away: "Take advantage of this limited-time offer to sign up for my free eBook!"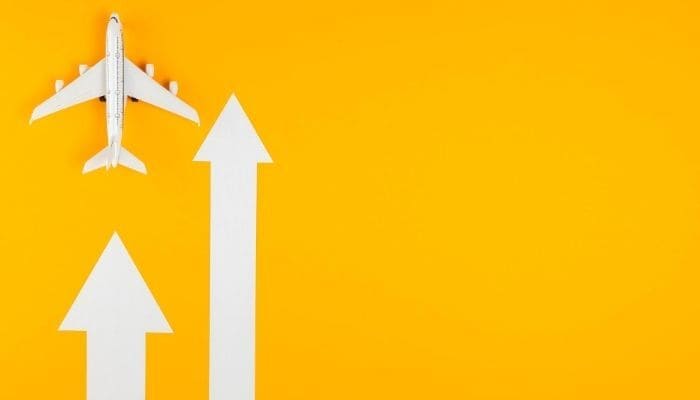 Capture emails with a landing page
A landing page is an excellent place to gather emails because it's already designed to inspire action and sell your products and services through your sales funnel.
Since your landing page is optimized for conversion, you should have shown the value of your product or service to your audience by the time they've reached an email sign-up CTA.
Building a landing page and writing great landing page copy is a science. You will need to implement A/B testing, write a captivating headline, clearly communicate your value proposition, employ visual appeal, and emphasize benefits over features.
If you do this all correctly, your audience will be looking for a sign-up form.
Don't use pop-ups and sidebars on your landing page if you can help it. But you also don't need to delegate your sign-up form to the footer only.
Moreover, place CTAs at different stages of your landing page. Not everyone will need to scroll to the bottom to be persuaded.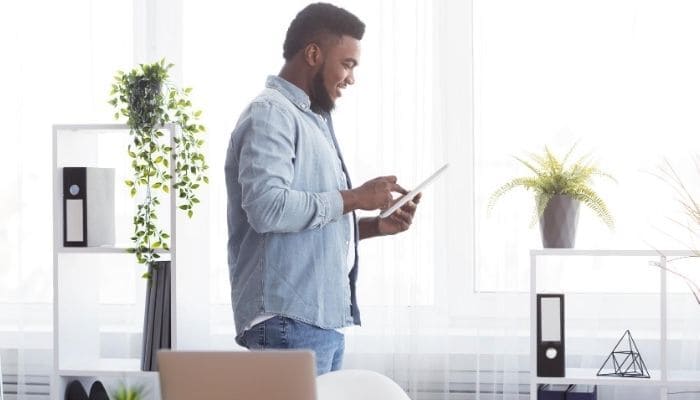 Leverage your social media following
Do you command a legion of fans on Facebook, Instagram, Pinterest, Linkedin or Twitter? Having a large social media following is only as valuable to your business as the sales it generates. You may be building your brand and marketing your product, but it is difficult to quantify how effective your social media game is without measuring it.
That's why you must leverage your social media following to grow your email list. Here are some ways to accomplish that.
Facebook Ads
This will cost you, but it's quick and can be effective if properly executed. Facebook lead ads allow you to take advantage of market segmentation by targeting those customer segments that care about products like yours.
But throwing money at an ad is not a guarantee of success. As a burgeoning startup, you need to employ robust Facebook tools to help you build your brand, tell stories, and share your content. You should still promote a lead-magnet, spend time and effort creating an effective CTA, and consider design and image.
Contest/Giveaway
GoPro's million-dollar challenge is an excellent example of a giveaway. They gave a million dollars to a GoPro user who submitted the best video using one of their cameras. That's tons of unique marketing done by their customers.
You might not have a million dollars, but you can still give away one of your products, and if you sell a service you can give away a discounted/free consultation or subscription.
The contest/giveaway should be fun, shareable, and, if possible, demonstrate the benefit of your product or service.
Gated content
You can promote content that customers must sign-up to view. This could mean posting a teaser on Instagram with a link to your site. Once they arrive at your site, they are required to sign up to access the rest of the content. This strategy works much like a lead magnet.
Bio/About page
This works great for LinkedIn and Facebook. You can add a "sign-up" button on your Facebook profile page and use that to redirect the user to your landing page.
Assuming that you're engaging on LinkedIn and posting regularly, you can obtain emails by adding your website to your contact info card.
Events
Hosting, posting and attending events offer personal and unique opportunities to grow your email list.
In-person events
It might seem old-fashioned and inefficient, but if you're attending a trade-show or any type of event where throngs of your ideal customers meet, it is an opportunity for high-quality emails.
Not only can you be sure that the people you meet are ideal customers, but you can also build trust and relate the benefits of your products in person. Use an email sign-up form and input it into your database later.
Host an event or webinar
When hosting a webinar or an in-person event, you should require attendees to sign up with their email. You can even use the webinar or event as a lead magnet.
This can be a networking event you've organized, a series of educational talks, contests, meet-ups, etc. Make sure that people understand you are the host, put yourself in the center of the event so that they know where the value is coming from.
Post events
You can find plenty of event hosting sites online that are designed to promote and list your event to the web. You can require attendees to sign up using their email.
Invest in automation tools
Creating compelling content for your various social media accounts is half the battle. To connect with consumers and drive leads, you need to strategically distribute your content. However, this takes precious time. Fortunately, there are literally hundreds of social media scheduling tools that streamline this process.
You can also post events on your social media and direct those interested to a landing page designed just for that particular event.
Once you've gathered these emails, continue to put them to good use by notifying them of future events.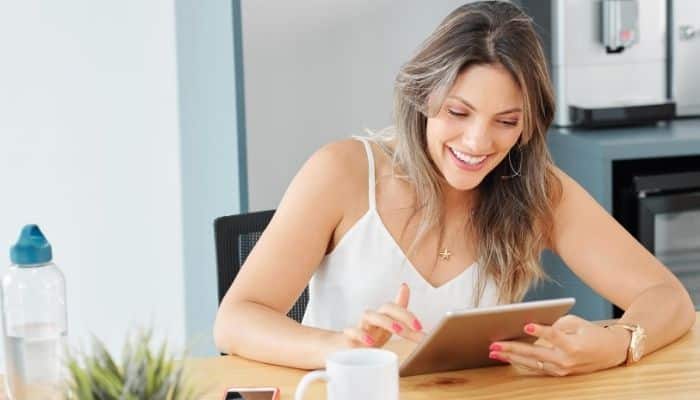 Writing a welcome email
Now that you have a list of high-quality email leads, it's time to use great copy to convert those leads into loyal customers. The first step to doing that is with a welcome email. It's important to note that a welcome email is not a cold email.
Welcome emails may seem like nothing more than a standard courtesy, but they actually generate 86% higher open rates than other emails, so pay attention to your copy!
Subject line
The first, and arguably most important, part of your email is the headline or subject line. If your email recipients don't open your email, they'll never read it.
Ideally, your subject is short. Consider that 46% of emails are opened on mobile devices and that an email subject line on a mobile phone will show about 25-30 characters. That's about 6-8 words.
That means you only have 6-8 words to relate the value of the email to your reader. Don't focus so much on the content of the email. Instead, focus on how the reader will benefit from the content. Use what you learned about CTAs.
So rather than "Some information to help your business grow" you can write "Increase your profits by 36%".
Be careful not to come off as spammy. "INCREASE YOUR PROFITS BY 36%" is likely to be sent straight to the trash. All-caps is the equivalent of screaming at someone on the street.
Thank you/Welcome
This might seem obvious, but there is no shortage of automated emails that sound robotic and impersonal. A simple and sincere thank you, followed by a welcome, will make you sound human… because you are.
You don't need to be punchy or cute here, unless that's your brand. Be simple, "Welcome, and thank you for subscribing to my newsletter!"
If your sign-up form has the option for the user to input their name, make sure to add it to your emails.
Deliver the magnet
If you offered a lead magnet, this is the place to present it. Make sure that it's easy to locate and requires the minimal number of actions possible to download or use.
This is not the place to sell them on bells and whistles. They gave you their email because you offered a free product.
Thank them, welcome them, and deliver that product. If they open your email and you're trying to upsell them already, they will probably just take your product and unsubscribe.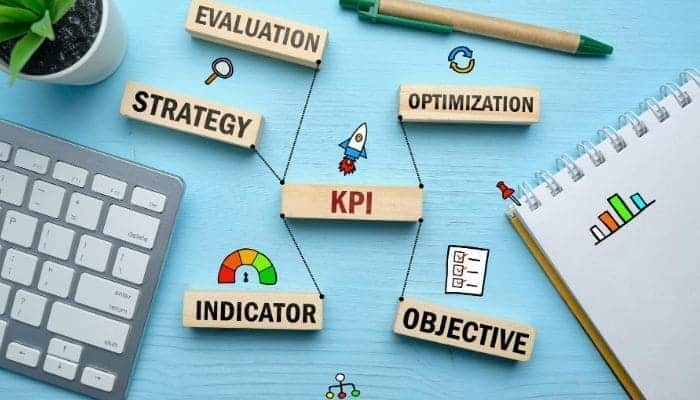 Measure and recalibrate
This might be the most important step. What works in theory may not work as expected when put into practice. Everyone has a unique customer base and email list, and it may be that certain things will work for you that won't work for others.
The only way to discover the optimal email marketing strategy that works for you is to measure the efficacy of that strategy.
Here are a few important factors to take measure:
Open rate
Your open rate is (# of emails opened) divided by (emails sent minus bounced emails). If you are sending a weekly email, then you should track this metric weekly. This will help you see if your subject lines are effective.
After a few months pass, you should start seeing a pattern of what works and what doesn't. Be deliberate. Don't send out the same types of subject lines every week. If you don't experiment, you won't have any comparisons to make.
Click-Through Rate (CTR)
An email CTR is the (# of click-throughs) divided by (# of messages delivered). The primary goal of your emails should be to achieve a high CTR.
CTR will help you understand if your copy is working. If your CTR is low, it's time to spend more effort on your CTA. Maybe you aren't offering the reader enough value, or maybe you haven't communicated value clearly.
Channel
Where are your email sign-ups coming from? Your landing page? Your social media network? A particular blog post? Pay careful attention to that so that you can analyze what works on those channels and emulate it in your less lucrative channels.
You can check out a list of email marketing services. Make sure that any service you choose lets you see these metrics so that you can analyze and recalibrate based on the information.
Pay careful attention to what is working and what is not, experiment with different strategies and different tones until you can gather enough evidence to implement the most effective email marketing tactics.
Who Needs an Email List?
You may be asking yourself, does my business really need an email list?
Yes!
As you can see, nearly all businesses need to build an email list. It is the best way to communicate with your customers, generate leads, and build trust. Below is a list of those who absolutely need an email list:
B2B businesses
B2C businesses
Law firms
Startups
If you launched an online side hustle
E-commerce platforms
Small businesses
Local businesses
Wrapping Up: How to Build an Email List from Zero
An effective email marketing strategy can quickly become the backbone of your business's growth. The importance of email is increasing. By 2023, the number of email users is expected to grow from 3 billion to over 4.3 billion.
There is no shortage of opportunities to develop your email list. Get your email marketing squared away so you can focus on delivering value to your audience and generate revenue.
Author bio:
Drew Cheneler is the founder of www.simplemoneylyfe.com, a leading personal finance and small business website. His work has been featured in CNBC, The Huffington Post, StartupNation, Fox Business News, SmallBizDaily, and more. Drew is passionate about marketing and making sure business owners have the right tools and advice to grow and succeed in a competitive market.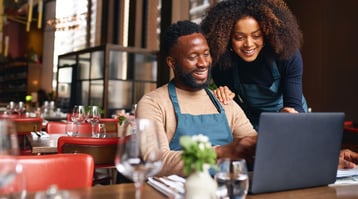 So, you want to build an email list. How do you do it? In this guide, we share all the tactics we know. Tried-and-tested over tim...
Read Story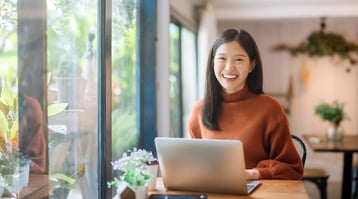 Should you use GIFs in emails? It depends on your brand and what you want to communicate. Marketing strategist Lesley Vos has all...
Read Story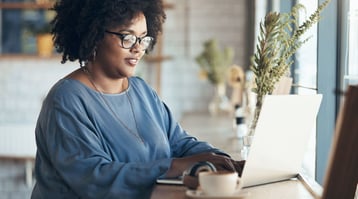 Struggling to grow your email list? Many marketers and business owners are. Worry not – these newsletter signup form examples a...
Read Story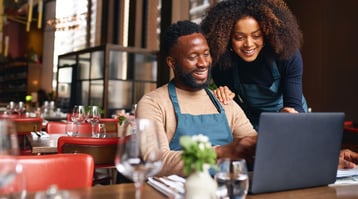 So, you want to build an email list. How do you do it? In this guide, we share all the tactics we know. Tried-and-tested over tim...
Read Story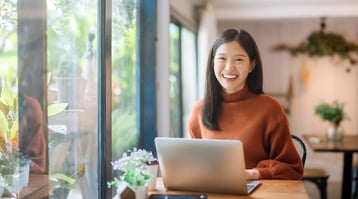 Should you use GIFs in emails? It depends on your brand and what you want to communicate. Marketing strategist Lesley Vos has all...
Read Story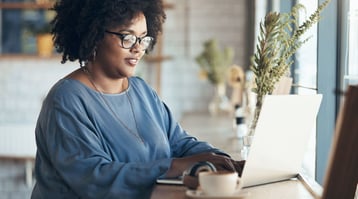 Struggling to grow your email list? Many marketers and business owners are. Worry not – these newsletter signup form examples a...
Read Story