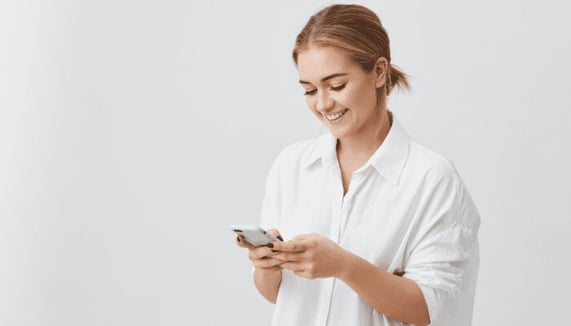 eCommerce Emails That Give Us Heart Eyes – With 8 Examples
Content marketing strategist Zoe Devitto shows us how to write eCommerce emails that nurture and convert.
Did you know that digital marketers receive an average return-on-investment (ROI) of $42 for every dollar they spend on email marketing?
Email marketing is one of the most profitable forms of digital marketing. While anyone can slap together a basic email campaign, creating eCommerce emails that convert is one of the most challenging parts of being a digital marketer.
This guide will teach you the three critical elements of a great eCommerce email and give you my top strategies for producing game-changing eCommerce email marketing. 
Elements of a great eCommerce email
Great eCommerce email marketing builds an ongoing relationship between a brand and its customers. While the best copywriting, graphic design, and presentation for your campaign depends on your business, three key elements underpin every successful email marketing campaign. 
#1. Good timing
Your marketing emails' timing influences whether customers will open your email, so it's vital to time your emails correctly. When planning an email campaign, always:
Send your emails during reasonable hours (i.e., not between 11 pm and 5 am). 
Consider the time zone of your recipients. 
Space your promotional emails out to a maximum of five emails per week.
Track your email open rates to identify when you receive maximum engagement.
Survey your customers and ask them when they prefer to receive marketing emails. 
As balancing the timing of your email marketing is tricky, professional digital marketers plan non-promotional emails with a content calendar and schedule promotional emails to send automatically. This ensures your emails arrive on time, every time.
#2. Behavior
There are two types of eCommerce email campaigns: those that are pre-planned (like seasonal emails) and emails that are sent out in response to a 'trigger.' A 'trigger' is an action a customer takes – like abandoning their cart or reaching a critical stage of their customer journey.
When planning a digital marketing campaign, the best campaigns design eCommerce emails around a customer's trigger and the behavior they desire from customers.
To do this, marketers segment customers by their behavior (i.e., "sign up for the free trial" or "renew contract"). Then, they target each segment with a unique series of eCommerce marketing emails, with a call-to-action that corresponds with the desired response (i.e., "click here to start your free trial").
As a customer's behavior changes frequently, the best email campaigns continuously re-adjust their customer segments and triggers to ensure they target people with the right campaign.
#3. Intent
While a promotional email's primary intent is to make a sale, the best eCommerce emails avoid pushy or over-the-top sales tactics. Instead, they use soft-selling, a sales technique that prioritizes the customer's needs, experience, and education over a fast sale.
As your email's intent frames how the customer will respond, soft-selling is the most effective way to drive sales while building a long-term relationship.
To use soft-selling effectively, great email marketers design their campaign around the customer, using demographic information, traffic channel data, and customer feedback to drive the campaign.
Top strategies for eCommerce email marketing
There are hundreds of ways to design eCommerce emails – but they are far from equal.
In this section, I will share the top four types of emails that drive high-quality email marketing.
#1. Abandoned cart emails
Cart abandonment emails are a great solution to a common problem, as 72% of eCommerce businesses struggle with cart abandonment.
Cart abandonment emails go to customers who added items into their shopping cart but did not complete the ordering/payment process. There are two types of cart abandonment emails.
The reminder email
This email goes out to customers 24 hours after they abandoned their cart.
The reminder email includes a summary of the customer's cart and a list of available discounts (if applicable). It finishes with a call-to-action to push the customer to complete their purchase.
If you're looking for inspiration for your abandoned cart email, check out this great example from Food52: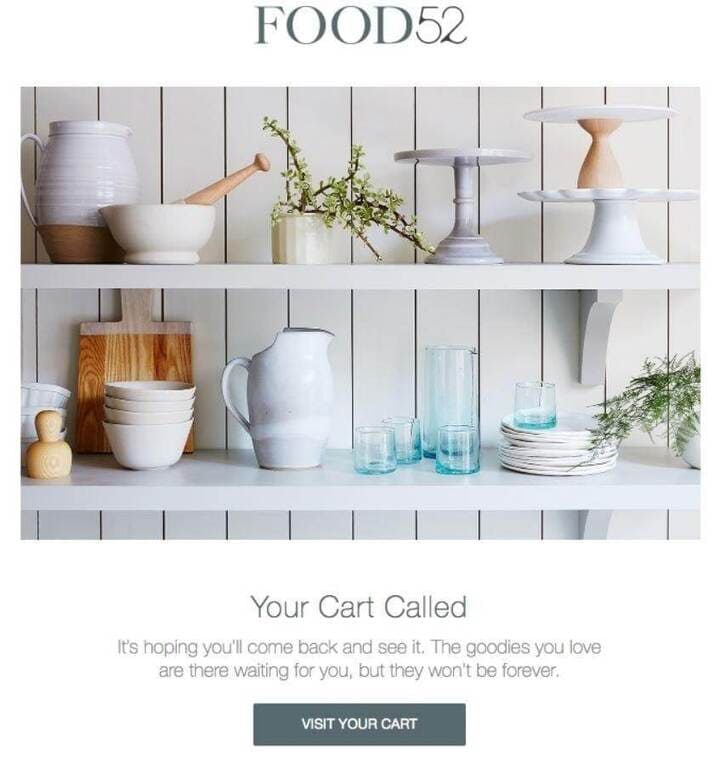 The discount email series
The discount email series is a chain of two-three emails going out to customers who abandon their cart but partially fill in their shipping and payment information.
Emails in this series include a 10 – 20% discount to incentivize people into making a purchase. These emails are typically sent 24 hours after the original 'reminder email.'
According to a report by Bluecore, cart abandonment emails are the most effective type of eCommerce email marketing. They have the highest click rate and the highest conversion rate of any eCommerce email – at 11.66% and 1.74%, respectfully.
A cart abandonment email is a must for any email campaign that aims for results.
#2. Up-sell and cross-sell emails
Up-sell and cross-sell emails go to customers who have made one or more purchases. These emails give them a personalized list of products they might like, based on their website browsing history, purchase history, and demographic.
These emails come in two forms:
Up-sell emails
Up-sell emails recommend products and services that enhance the experience of the item the customer just bought. This includes extended warranties, insurance, or complementary products (i.e., offering socks and shoelaces to customers who purchased shoes).
Here's an up-sell email in action:
Cross-sell emails
These emails recommend products and services similar, but not identical, to the customer's item – like the same cut of jeans in a different color. Cross-sell emails work best once the customer has already received their goods, as they capitalize on a the person's satisfaction with their purchase.
Check out this great cross-sell email from Harry's:
#3. Loyalty and re-engagement emails
Loyalty and re-engagement emails aim to rebuild a relationship with customers who haven't purchased in a while. There are four primary types of loyalty and re-engagement emails, including:
Life event emails
These emails are sent on significant dates, like the customer's birthday, the anniversary of their first purchase, or a milestone for your brand. Life event emails re-engage customers by offering a discount in celebration of the event, as you can see in this example from Party Pieces.
Win-back emails
Win-back emails are sent two-three months after a customer last made a purchase. These emails are designed to re-engage with customers that were previously loyal.
Win-back emails include a summary of new products, an update on your brand, and a discount incentivizing the customer to purchase new goods. Here's a win-back email I love from Grammarly:
Replenishment emails
Replenishment emails go to customers who purchased products and services that need replacing or renewing on a strict schedule. This includes consumable goods, vitamins, household items, and hardware items (like fire extinguishers).
Replenishment emails welcome the customer back, warn them their product needs replacing, and finish with a call to re-purchase the product.
Here's a game-changing replenishment email from Rockin' Wellness.
Renewal notice emails
Renewal notice emails go out to customers of subscription-based services ten days before their contract ends. Like replenishment emails, these emails invite the customer to renew their subscription. Here's a high-quality example from GoDaddy.
#4. Promotional offer emails
Promotional offer emails aim to increase sales, launch new products, or move old stock.
The best promotional offer emails rely on friendly language and a discount-based strategy, as they leverage the existing relationship between the brand and customer.
Here's a great example of a promotional offer email.
Tips-and-tricks for sending more successful eCommerce emails
Whether you're sending an up-sell email on socks, or a Christmas sales announcement, there are many tried-and-true ways to increase your ROI.
To increase your chances of converting those customers, make sure you:
Never reuse emails without 'respinning' their content.
Segment your customers by purchase history and demographic, and only send them relevant promotional emails.
Don't overuse words and phrases like 'free", "cash," "discount," and "best price," as these will trigger spam filters and decrease your email's reach.
If you are using pay-per-click advertising to build your email list, send new subscribers a promotional offer within 24 hours to receive the maximum return.
Don't send multiple promotional emails per day, as spam filters will intercept your email.
Include recommended items or upselling options in the email that deliver a customer's receipt or confirm delivery.
Use email templates to speed-up your processes.
Send your email from an address that the customer can reply to with questions (i.e., not a 'donotreply@' address).
The secret to game-changing eCommerce emails
While it may seem like other digital marketers have magical email marketing powers, the key to writing game-changing eCommerce emails is simple: knowledge.
With the right training, techniques, and skills, any digital marketer can produce high-quality emails that convert.
High-quality emails are well planned, data-driven, and customer-focused. Low-quality emails are pushy and targeted to the wrong audiences.
Great marketing starts with small steps. Step up your eCommerce emails today and see the difference tomorrow.
Bio: Zoe is a content marketing strategist for SaaS brands like FollowUpBoss, Mention.com, and more. On the personal front, Zoe is a pho enthusiast and loves traveling around the world as a digital nomad.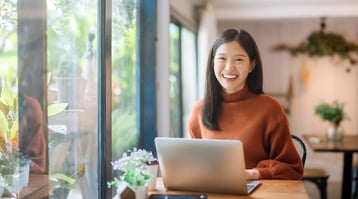 Should you use GIFs in emails? It depends on your brand and what you want to communicate. Marketing strategist Lesley Vos has all...
Read Story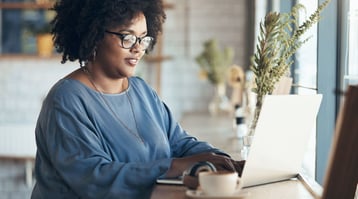 Struggling to grow your email list? Many marketers and business owners are. Worry not – these newsletter signup form examples a...
Read Story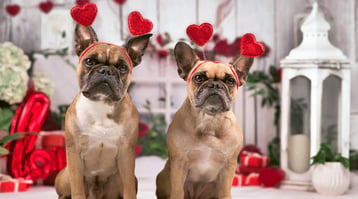 Valentine's day is just around the corner and you are finalizing the last details of your email campaign? Jeremy Moser of PR &a...
Read Story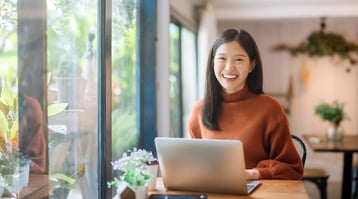 Should you use GIFs in emails? It depends on your brand and what you want to communicate. Marketing strategist Lesley Vos has all...
Read Story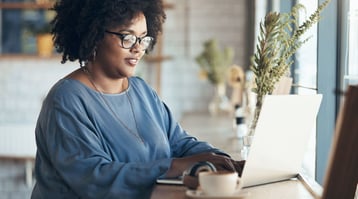 Struggling to grow your email list? Many marketers and business owners are. Worry not – these newsletter signup form examples a...
Read Story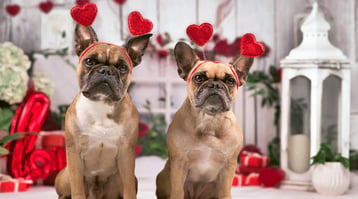 Valentine's day is just around the corner and you are finalizing the last details of your email campaign? Jeremy Moser of PR &a...
Read Story