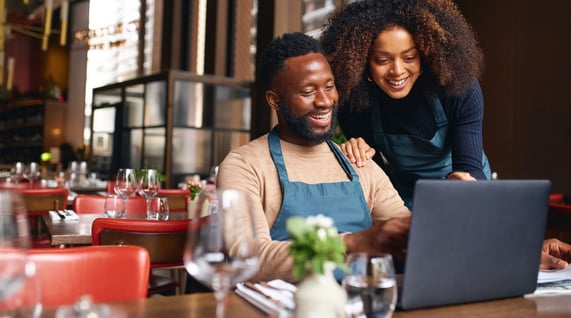 How to Build an Email List
So, you want to build an email list. How do you do it? In this guide, we share all the tactics we know. Tried-and-tested over time, they're here to help you get started – and build a thriving mailing list.
It seems like everyone out there has a newsletter these days, isn't it?
As social media has slowly turned into a pay-to-play channel, more and more businesses realized email is a more reliable way to build awareness and relationships.
Of course, it's also a fantastic sales channel, as the stats below confirm.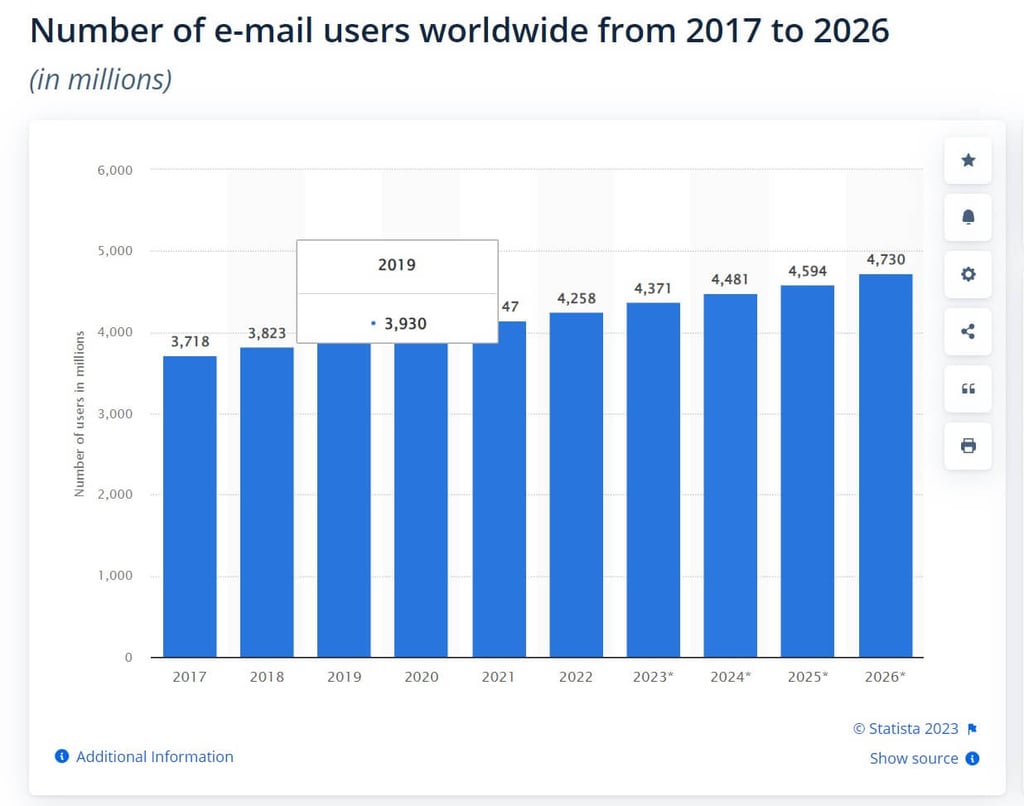 Whether you've just launched your business or you work for a well-established company, it's never too late to build an email list.
With the number of email users higher every year, there's no time like the present to start growing your list of contacts and reach out to your prospects in their inboxes.
We'll show you exactly how to build an email list from scratch, no matter your knowledge level.
Why build an email list?
If you're like most people, you probably get oodles of emails in your inbox. There's little doubt that you get asked for your email address a lot – online, but also over the phone, at store checkouts, and when filling out forms.
Why does that happen? Because email is still the most effective way to reach people.
If you don't recognize a phone number, it's unlikely you'll pick it up. However, sending an email has a high likelihood of reaching the recipient, provided everything is on the up and up.
Your mailing list gives you a direct line of communication with your customers and prospects.
If you're on the fence, consider the following:
Virtually everyone has an email address. There are 4.3 billion email users, Statista shows, and that number is growing every day.
The inbox is where people spend time. Consider that the average person spends an unbelievable 321 minutes each workday checking emails. Also, no less than 88% of consumers ZeroBounce surveyed said they check email every single day.
When you think about those two statistics, it's understandable why email has the highest ROI of any marketing channel. Just imagine – the average ROI for email is $36 for every dollar spent. That's a lot of potential.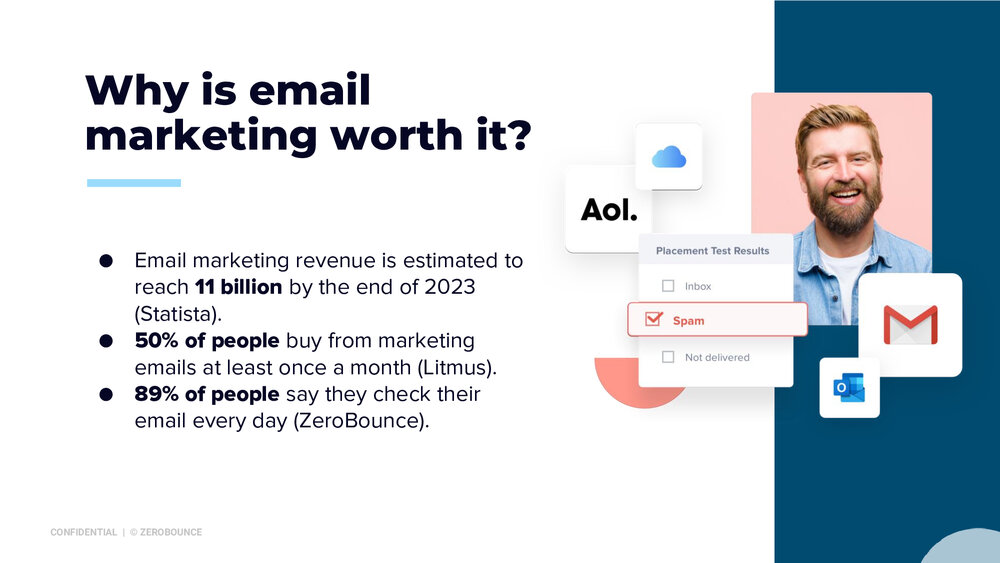 Email is a great way to market your business.
You can have a direct hand in crafting how the public perceives you. You can see what your audience resonates with – and that can shape your other marketing initiatives. Also, you can share up-to-the-minute updates and suggest complementary products based on past purchases.
For sellers looking to find leads, email has great potential, provided you can reach the right person and entice the recipient enough to engage.
People are increasingly wary of telephone calls, but you can put your best foot forward with a careful, concise, relevant email.
How to build an email list
Email has come a long way. Every now and then, you may get an email that is impressive in its design and writing. Also, you may hear colleagues who can brag about their humongous lists.
Can you tackle email? Isn't it high-level?
Like embarking on any new venture, there's some intimidation at the onset. We're going to take it one step at a time.
The first thing is to get an idea of what you hope to achieve with email. It's a good idea to spend a little time in deep focus, thinking about the possibilities and what tone you'd like to have.
Knowing what you seek will help you as we get into the actionable items of building your email list.
Bonus tip: Before we go any further, do not purchase an email list. It may be tempting to think you can eliminate many of the growing pains by buying a list of email addresses.

But almost without exception, any individual or company selling an email list just wants your money. The people on this list do not know you, so they'd be justified to mark you as a spammer. After all, they never opted in to receive your emails.
Now that you know how important it is to have permission to email everyone on your list, you need a place to keep these contacts. You'll want to choose your email service provider wisely.
Find a reliable email service provider
Whether you're planning to build an email address list for cold outreach or to send marketing emails, you need a place to store your contacts and send them emails.
There are many email service providers (ESPs) you can choose from. But before you do, let's look at some of the critical factors to keep in mind.
You'll want to select the ESP that ticks all of these boxes:
Security. Can you trust your ESP to safeguard your customers' private information? The ESP you select should have vigorous security protocols. Look for evidence that there is a commitment to continuously heighten privacy and security.
Email deliverability. The main purpose of using an ESP is to facilitate communication with your list. The deliverability rate is the percentage of emails that reach the inbox. It differs from delivery, which could mean an email sent anywhere, including the spam folder. Your ESP has a definite effect on your deliverability. Choosing one with a sketchy reputation may spell disaster for your inbox reach.
Ease of use. The user experience of your ESP is a big factor. The more intuitive and simple to understand, the happier you will be in the long run. Also important is customer support – can you rely on the team helping you out if you encounter a technical problem?
Pricing. Your ESP charges take into account the size of your list and the number of emails you send. Consider these costs to make sure they fit into your budget.
Bonus tip: If you build an email list, you want to add as many addresses to it as you can. However, storing bad data is not just costly, it also diminishes your email outreach efforts. Bounces and poor-quality contacts will cause your campaigns to land in spam.
This is one of the biggest reasons you need an email verifier. It keeps ESP costs down while ensuring your emails make it to the inbox.
How you go about building your email list does depend on the purpose of your list. However, the need to validate email addresses before sending them messages is the same for email marketing and cold emailing.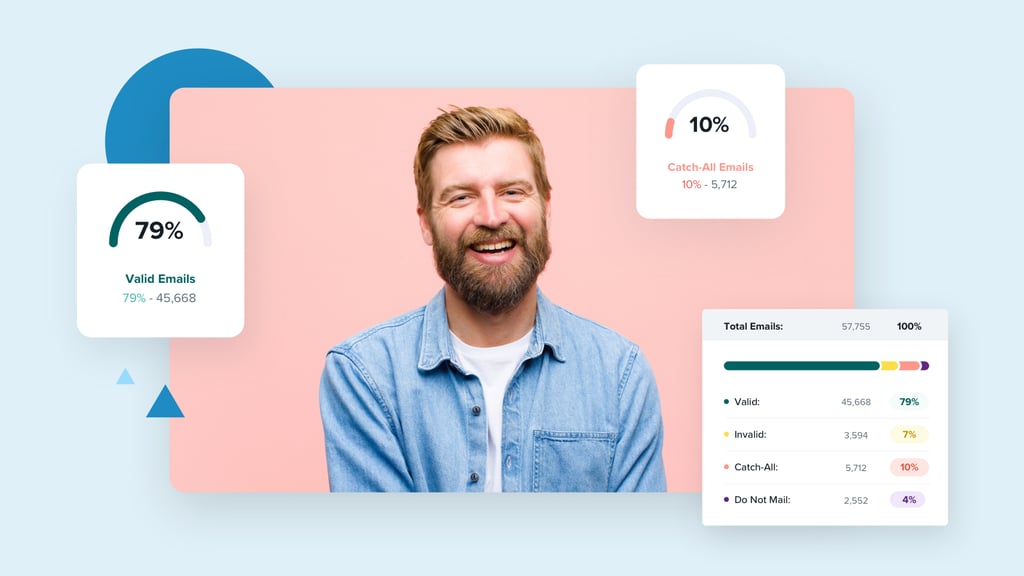 How to build an email list for marketing
Although there are other sources like social media, consistently good traffic to your website is the key to building an email marketing list. You can begin collecting email addresses if your website looks professional and demonstrates value.
Here are the most actionable and practical ways to build an email list for marketing purposes.
Bonus tip: Do you already have your customers' email addresses in a CRM system? Import them into an email marketing platform. Many of them integrate with popular CRMs, so moving that data shouldn't be hard.
Put care into setting up your sign-up forms
It may seem like common sense, but don't make your customers hunt for the place to subscribe. Instead, place sign-up forms in multiple places on your website and blog. Furthermore, you want to ensure your forms look appealing and appear prominently. Some businesses place them right at the top of their websites so that visitors can't miss it.
Related: Here are 22 examples of great, high-performing sign-up forms
Use social media to build your email list
Your social media content shouldn't be a rehash of your email newsletters or vice versa. People are already bombarded with emails. They need an incentive to sign up, and that means unique content.
However, you can use your email marketing to promote your social media and occasionally tease your newsletter on your Facebook, Twitter, or other platforms. From YouTube videos to podcasts and LinkedIn articles, take any opportunity to plug your email newsletter when you get a chance.
Accept in-person sign-ups in physical stores
Let's say you've got one or more physical locations, or you're doing an in-person event like a convention, fair, or any place where you'll interact with prospects face-to-face.
You should be able to collect email addresses and make a concerted effort to invite people to do so. Please put more thought into it than using slips of paper or a clipboard. You'll probably get a lot of misspelled contacts which will bounce. If your POS system cannot accept customer data, it's time for an upgrade.
Related: What's the difference between a soft bounce and a hard bounce? Find out
Have a subscribe link in every email you send
Make your emails so irresistible that people want to forward them to friends, family, and colleagues. It's wise to mention now and then that your subscribers may want to forward your emails. But you should include a subscribe link in every email you send. Keep it brief: "Was this email forwarded to you? Subscribe here."
See how marketing expert Ann Handley does it in her popular newsletter, "Total Annarchy":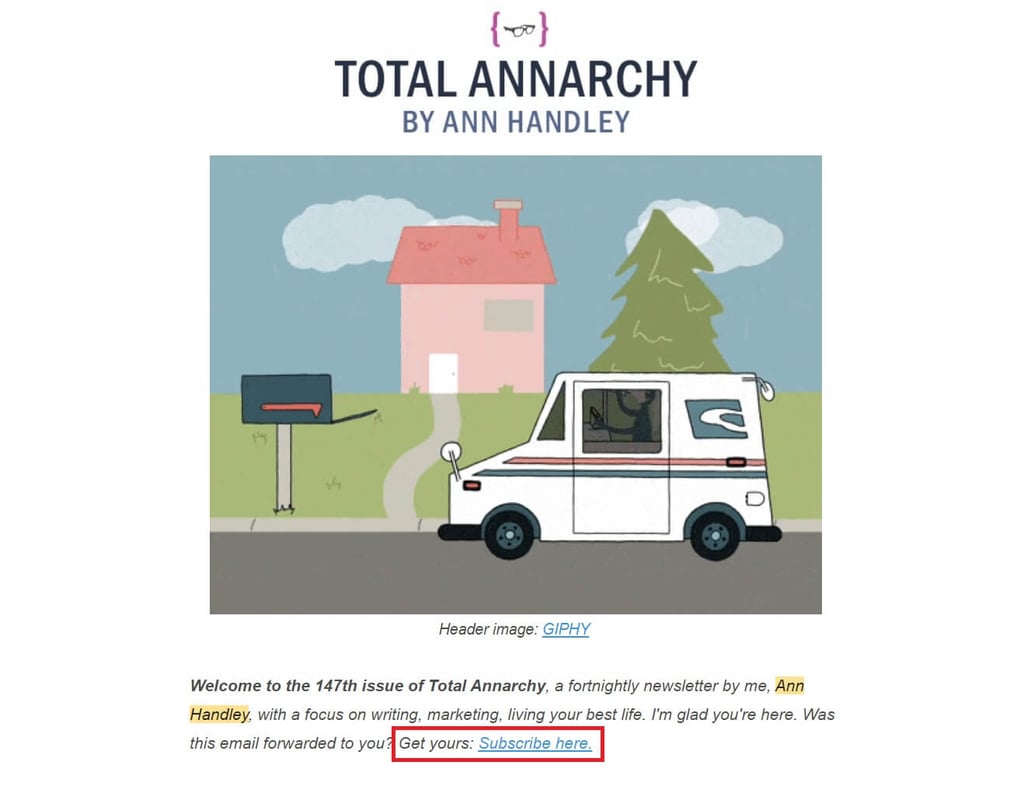 Offering discounts is a great way to build an email list
Whether you sell directly to consumers or have a B2B company, offering discounts exclusively to email subscribers is a great way to motivate people to sign up.
Reminding people that more discounts will be forthcoming is also a good idea. If you don't periodically give people a deal, they'll just sign up and get it and then unsubscribe or mark you as spam.
Offer gated free content offers
Free content offers are another way to build your mailing list. Think about something that your audience, in particular, would find helpful, interesting, or entertaining.
You can offer an ebook, infographic, audio download, or even an electronic comic strip. Use your creativity. To get the freebie, they must subscribe.
Just like we do here with "The 12-Minute Email Marketing Checklist":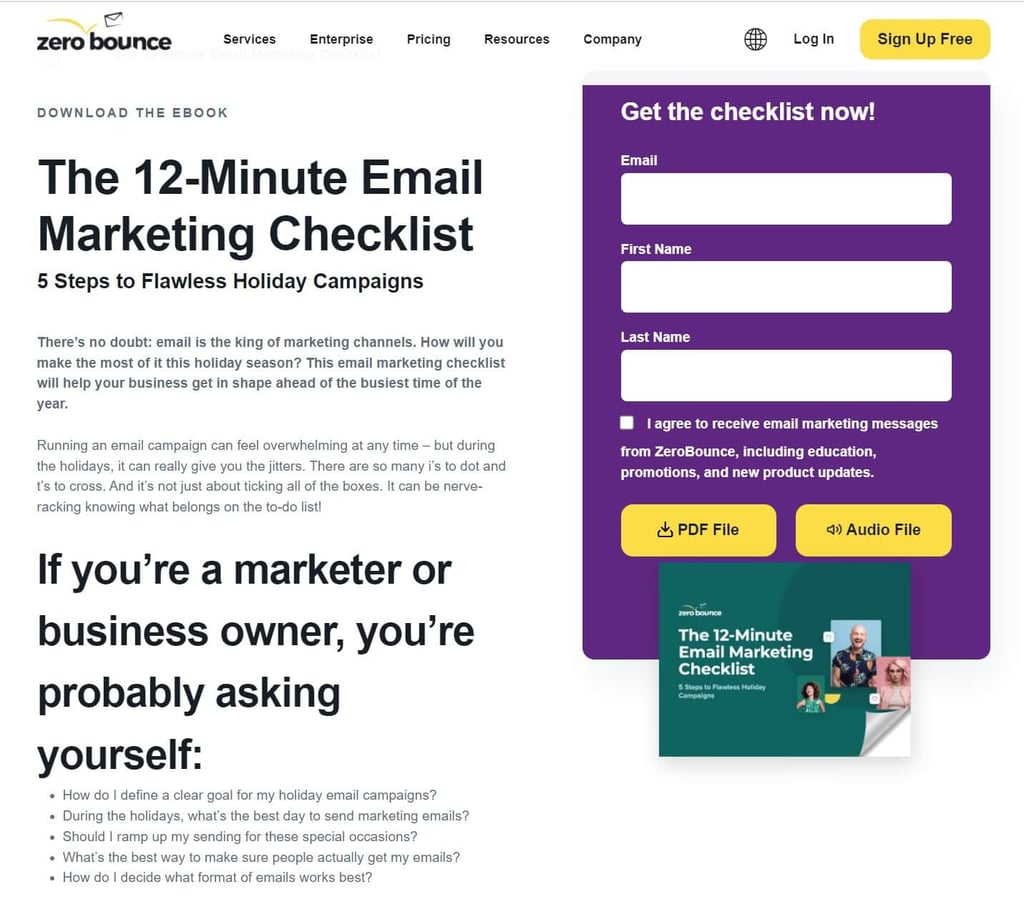 This is a good time to emphasize the importance of blocking bad or potentially invalid email addresses from finding their way into your email list.
For example, some people will sign up to get a promo code or a free content offer using a disposable email address. These are also called temporary or burner email addresses because they work briefly and then are deactivated.
If you send emails to a disposable email address, you'll eventually get a bounce when the account self-destructs. Connect an email validation API to every sign-up form there is. That way, you prevent disposable emails and other risky types of contacts from infecting your database.
Prevention is much better than catching a spam trap and being forced to take multiple steps to get your sender reputation into shape.
How to build an email list for cold emailing
Some companies set out to build an email list to send newsletters and marketing emails. However, there are several reasons why you would need an email list:
Sales teams build mailing lists for cold outreach.
PR professionals build email lists for media relations.
Business founders may be looking to contact investors and organize all contacts in a database.
Booking agents need to reach out to many people, so they need a list of contacts.
Real estate agents are actively pursuing new leads, so an email list is indispensable.
Startups, in particular, focus on SEO, so their teams will build email lists to ramp up link building.
All of these professionals use cold emailing to try to kickstart opportunities.
But there are no guarantees that your recipient will open your cold email.
"Open rates on cold emails vary between 20% and 36% on the very high end," said Brian Minick, COO of ZeroBounce.
Minick added, "If you're not validating emails, open rates can be meager, even below 10%. Not verifying cold email leads is a downward spiral. The longer you ignore email hygiene, the more future emails will languish in the spam folder."
How to build your cold outreach email list
It's not hard to build a cold outreach email database. First, brainstorm what groups of people you'll target.
For example, suppose you're on a team that developed an app for the restaurant industry. Maybe you'll filter to a specific type of restaurant that will most likely use your app.
It may help to have different clusters of contacts that share a specific characteristic, or you may choose to keep them all together.
Here are some ways to begin building your mailing list once you know your target.
Use an email finder
Most people use an email-finding service for their cold emails.
Some services piggyback on LinkedIn as an extension. Others will tell you every email address ever associated with an individual, going back 20 years or more. Who knows if those contacts are still valid?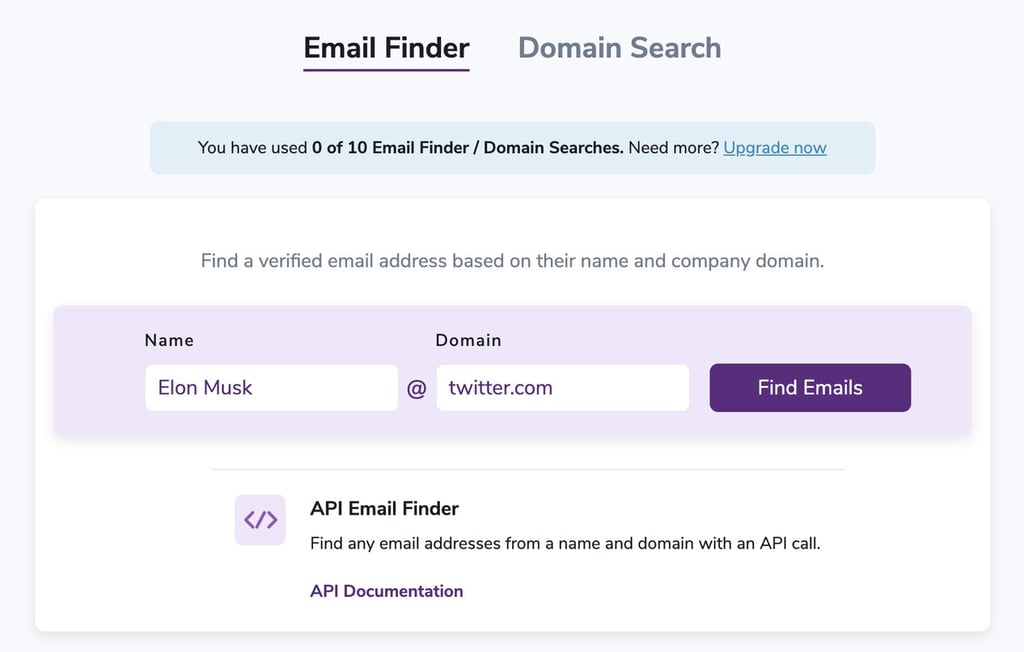 It's best to find an email finder that lets you look for a person at a company – but also checks the email address to ensure it's valid. Otherwise, copying a slew of associated emails wastes time and money. If the email address doesn't work, why would you want it?
So look for an email finder that is accurate and also fast and simple to use. It's as simple as putting the name and domain of the company into the respective fields and then clicking "find emails."
With the ZeroBounce email finder, if you see the green checkmark, that means your new contact is valid.
In-person events
We spend so much time online that we've come to overlook in-person communication. Any time you have a chance to meet face-to-face at a conference, convention or mixer, it's simple to mention you'd like to stay in touch.
Provided what you offer is a solution to their problem, it's reasonable to collect someone's email address right then and there.
Even when you collect an email address in person, validating for email accuracy is essential. If gathering cold emails involves a notepad and a pen, be sure you can read the email accurately and enter it correctly. Running it through an email checker will help. You should never send emails without this step.
LinkedIn
LinkedIn is the go-to place for professionals to connect, find gigs, and learn from each other. It's also one of the best resources for business people. If you're building an email list, get comfortable using it and upgrade your profile as much as possible. A friendly but professional picture does wonders.
When you find someone you think would benefit from your offer, reach out and introduce yourself. Then, at the right moment, ask for their email address and add them to your email contact list.
When you switch to email, it's important to make notes or reference any LinkedIn communications you had. You don't want to make the person feel like you snagged their email from LinkedIn, and now they're tossed into a depersonalized email campaign. That can feel robotic as your emails will come across as a steady stream of marketing.
Instead, use email to continue the conversation and build a lasting relationship with your new acquaintance.
How to make sure your email contact list is healthy
When building your email list, don't get into the mindset of seeing it as a list you add to continuously and roll the dice with.
Some contacts engaging with you will fall off, never to be heard from again. Some email addresses were never valid in the first place. Not regularly removing invalid email addresses is like holding on to rotten produce in your refrigerator because you don't like to waste food.
Bonus tip: Did you know that at least 23% of your email list degrades yearly? Email data is so fragile that only 57% of all the contacts ZeroBounce verified last year were valid and healthy. Check every new email you add to your database. The last thing you need is more bounces or spam complaints.
We'll tell you how to keep your email list healthy so your efforts aren't counterproductive.
While you build your email list, focus on email deliverability
Some people think of building your mailing list and email deliverability as two unrelated things. In reality, they complement each other.
If you're not considering email deliverability, but adding new emails to your list without checking them, you're just spinning your wheels. Will your emails make an impact if they're going to spam?
The best way to protect deliverability is to practice regular email validation.
Bulk email validation helps you build a functional email list
Real people is the name of the game when it comes to results with email.
Plenty of harmful or useless emails crop up in even the most vibrant list. Most of them look the same as any email address, but they will result in a bounce or destructive outcomes – like ending up on a blacklist.
So at least once per quarter, but ideally more often, you should upload your entire list to an email validation platform. Only keep the high-quality emails and discard the rest.
You're building a list for functionality, and not so you can boast a huge collection of contacts. Clinging to bad email addresses will inevitably lead to email list atrophy.
Real-time email validation fights bots and misspelled emails
While building your email list, allowing those seeking you to sign up personally is essential. However, you don't want risky email addresses dribbling in.
Connect an email validation API to every online form to prevent typos and block risky email addresses. The API works in real time to check every new contact you add to your database. Bots, misspelled addresses, disposable emails or people who could report you as spam – they won't get past this filter once you have it in place.
Use double opt-in
The double opt-in subscription method requires every new subscriber to click a link in an automated email you send, thus confirming they'd like to receive emails from you.
While double opt-in adds another step to the subscription process, it helps to weed out invalid email entries and be sure that the person subscribing really intended to sign up. It's an efficient way to reduce the number of fake signups and protect your email list.
Email deliverability tips: what to do after you build your email list
Now that you've started building your email list, you must do whatever you can to strengthen email deliverability.
Here are some tips that will give you a boost.
Use Google reCAPTCHA
Google reCAPTCHA is a test that intends to filter out spambots from adding fake and risky email addresses to your mailing list. Using a reCAPTCHA will go a long way in preventing bots from meddling with your sign-up forms. Add this extra layer of protection to your forms to keep scammers and bots at bay.
Beware of spam complaints
If someone marks you as spam, be sure to take them off your email list. Spam complaints are like dynamite to your email deliverability.
The spam complaint threshold is only 1 per 1,000 emails. Anything more than that means you're at high risk of being considered a spammer. You always want to be seen as what you are: a real person sending legitimate emails and not someone spamming the world.
Bonus tip: It's critical that you stay abreast of the changes in email. Both Google and Yahoo recently set new rules in the neverending war against spam. It's never been more necessary to be vigilant about keeping spam complaints as close to zero as possible.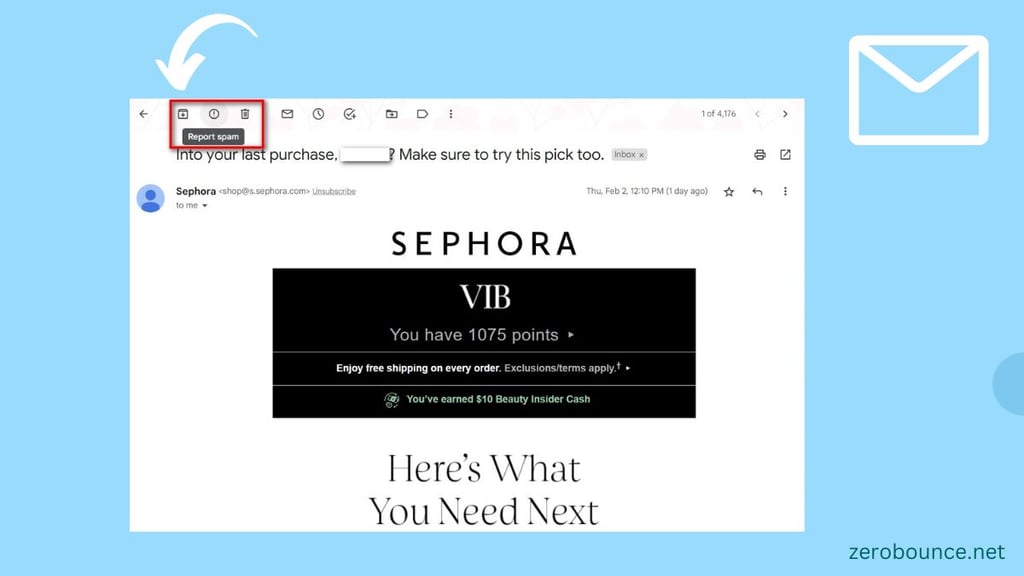 Remove bounces right away
Maybe a contact was once valid, but it's not anymore. Once you get a bounce, be done with it. Get that email address off your list and don't send anything to it again.
Of course, using an email verifier before you send an email will prevent bounces in the first place. While you can't tell if an email address is valid, good email verification software can determine that in seconds.
Related: Want to start with a free email verifier?
Stop emailing inactive subscribers
Persistence is the key to so much in life, but in some cases, it can be detrimental to building a healthy email list. When people don't engage with your messages, you need an action plan.
If you think there's potential for re-engagement, segment them to a separate email list and give it your best shot. Make an offer or catch their attention, just don't leave them to wither on your list. If they still don't click on your re-engagement campaign, remove them.
Bonus tip: Google is pruning inactive accounts in December 2023. It's yet another reason for you to assess all your contacts. If they've been inactive for more than two years, it's time for you to delete them – before they bounce and taint your sender reputation.
ZeroBounce's Activity Data tool can give you helpful insight into your email list engagement. You can see whether an email subscriber has opened, clicked, forwarded, or unsubscribed from an email in various timelines you select.
Email consistently
Sending emails regularly is a safeguard to keeping your list vigorous and relevant. When you disappear and then come back, it looks suspicious to mailbox providers. Similarly, if you drastically ramp up your emails out of the blue, it appears similar to the way spammers behave. Not to mention how your subscribers could react to such an erratic sending schedule.
So keep it steady. If you need to send more emails for the holidays or the peak time of your business, work your way up incrementally.
Start building your email list now
You can do many great things with an email list, but there are more than a few pitfalls. Protect your list and treat it like the asset that it is. Know your purpose and stick to it. As long as you send your subscribers emails they care about, you're on the right track.
When is the best time to start building your email list? The time is now. Don't be intimidated. Get one contact today and then another. Your email list has already begun.
Need help using an email verifier, finding email addresses or testing your email deliverability? Reach out – we'd love to help you build a healthy email list. Plus, our team is here 24/7.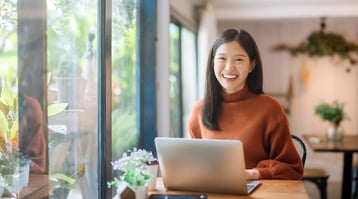 Should you use GIFs in emails? It depends on your brand and what you want to communicate. Marketing strategist Lesley Vos has all...
Read Story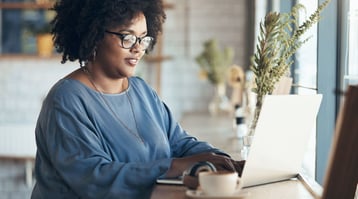 Struggling to grow your email list? Many marketers and business owners are. Worry not – these newsletter signup form examples a...
Read Story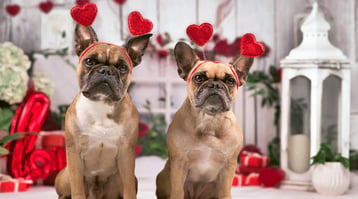 Valentine's day is just around the corner and you are finalizing the last details of your email campaign? Jeremy Moser of PR &a...
Read Story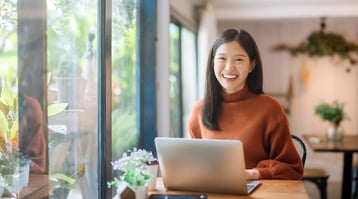 Should you use GIFs in emails? It depends on your brand and what you want to communicate. Marketing strategist Lesley Vos has all...
Read Story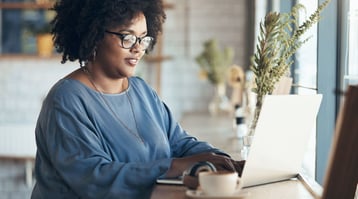 Struggling to grow your email list? Many marketers and business owners are. Worry not – these newsletter signup form examples a...
Read Story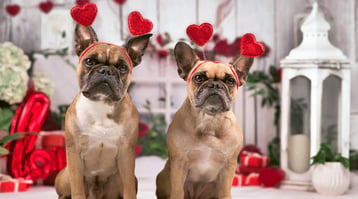 Valentine's day is just around the corner and you are finalizing the last details of your email campaign? Jeremy Moser of PR &a...
Read Story