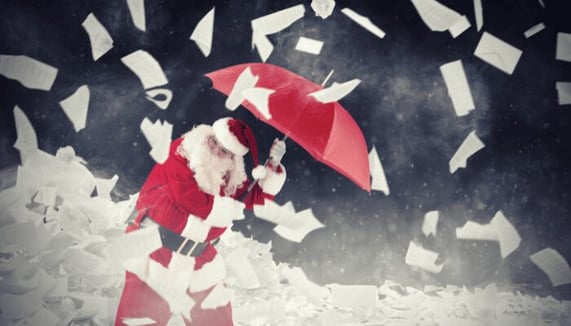 Holiday Email Marketing Tips: How to Make Your Emails Stand Out in 2022
Show of hands: who's ready to launch their holiday email campaigns? If you're still working on yours, we've got something to get you going. See what these experts from Oracle, AWeber, Zoho, GetResponse and other companies have to say. Their holiday email marketing tips are priceless – steal them, use them, share them!
12 holiday email marketing tips you can use now
From an email marketer's perspective, the holiday season can be overwhelming to say the least. If you're like most email marketers, you may be wondering how you can make the most of the peak buying time of the year.
To lend a helping hand, we reached out to some of our favorite industry experts and asked them: What can we do this holiday season to make our emails stand out?
Let's hear from the pros.
Sarah Noel Block, Tiny Marketing: "If they don't know there's a gift in that email, it will be deleted with the rest."
Consumers are bombarded with emails during the holiday season, so make sure your gift isn't overlooked because the subject line doesn't let them know. You don't want to forget this detail when giving a gift through email, as Sarah Noel Block of Tiny Marketing explains.
"Email ramps up around the holidays, so it's hard to stand out. But everyone loves gifts! B2C has gift-giving down, but B2B can take a queue from them as well.

Give away eBooks, guides, or a small service or product. Now is a great time to prime leads into becoming customers in 2022. It's budget-time!

And, don't forget to create a clear and compelling subject line. If they don't know there's a gift in that email, it will be deleted with the rest."

—Sarah Noel Block, Founder & CEO of Tiny Marketing
Micha? Leszczy?ski, Get Response: "Put your audience at ease and start your campaigns early."
Be sensitive to people's needs and challenges. Try to remember the reason for the holiday season and keep good cheer. It can be a stressful time for many, but maybe there's a way you can put your subscribers at ease. Let's hear what Michal Leszczy?ski of Get Response recommends.
"Saying that the last two years were pretty miserable would, for many, be an understatement.

As we've yet to recover and return to our everyday lives, we're craving things that can make us smile, cheer, and celebrate. And this applies to emails we receive in our inboxes, too.

If your brand wants to win at holiday email campaigns, be sure to make your emails fun and enjoyable to read. Whether that means you'll include funny photos, gimmicky checklists, videos, or plain ol' humor – it's your call.

Naturally, you'll want to link that with your sales campaigns, so you can't forget about the usual prominent CTAs, buying guides, gift vouchers, and all that.

At the same time, you may want to avoid using scarcity and creating an unnecessary sense of urgency. Instead, put your audience at ease and start your campaigns early. Let them know you're there to provide help, support, and products they value."

—Micha? Leszczy?ski, Head of Content Marketing & Partnerships at GetResponse
Related: Get the 12-minute holiday email marketing checklist from ZeroBounce
Chad S. White, Oracle Marketing Consulting: "Simple messages win."
For many, the holidays are a somewhat chaotic time. Having a message that isn't overly complicated may be more likely to get the attention of your email subscribers. Chad S. White of Oracle Marketing Consulting points out the beauty of simplicity in email marketing.
"When someone is subscribed to your promotional emails during the holidays, then you've already won half the battle for their attention. You're already on their mind and under consideration.

Contrary to what you might think, the next step in getting their attention isn't something outlandish. During the holiday season, when people are extra busy and getting more emails than at any other time of the year, simple messages win.

Use both your subject line and your preview text to communicate clearly what's inside your email, as well as about upcoming deadlines. Over-promise, mislead, or confuse your subscribers and they'll turn to brands that don't.

So, to summarize, the secret to standing out in the inbox during the holiday season is (1) simplicity, (2) clarity, and (3) urgency."

—Chad S. White, Head of Research at Oracle Marketing Consulting and author of Email Marketing Rules
Related: 5 Halloween Email Campaign Examples to Spark Your Inspiration
Sean Tinney, AWeber: "The best way to stand out this holiday season is with an interactive email"
Although your message can be simple, it should avoid being boring. Emails that people can interact with can go a long way as opposed to a somewhat dry and standard "Merry Christmas" or "Happy Holidays." Sean Tinney of AWeber shares some ideas on grabbing a customer's imagination and attention.
"The best way to stand out in a crowded inbox this holiday season is with an interactive email. If your subject line did its job and got the email opened, the battle is only half way done.

With our attention spans getting shorter and shorter, interactive elements create engaging experiences that quickly grab a customer's attention and, ultimately, increase conversions.

Try adding a GIF, countdown timer, image carousel, video, quiz, real-time product reviews, or even a product page into your email this holiday season."

—Sean Tinney, Email Marketing Guru at AWeber
Related:AMP for Email 101: What It Is, the Pros and Cons – and How to Get Started
Vicky Smith, Flic Email: "Give your subscribers the choice to opt out of or reduce the holiday emails they receive."
Not everyone celebrates during this time, still others may be facing holiday fatigue. Vicky Smith of Flic Email says to give your readers a choice to not receive or cut back on the seasonal emails you will send.
"It's easy to get swept up in the celebrations and festive cheer. But it's important to pause and remember that there will be subscribers in your audience who do not celebrate the holidays, or who find it a difficult time of year.

You can set yourself apart from other businesses by offering your subscribers control over what they receive. Setting up a preferences center and giving your subscribers the choice to opt out of holiday campaigns, or reduce the number of emails they receive, illustrates a level of thought and effort that many will not go to.

The added bonus? Often a brand will see unsubscribes, or even spam complaints, rise as they increase the number of emails they send at this time of year. By giving your audience this added level of choice you can retain them through to the new year."

—Vicky Smith, Email Consultant, Strategist & Copywriter at Flic Email
Jonathan Herrick, Benchmark Email: "For every sale, donate proceeds to the organization of your choice."
Although every company must make a profit, to repeat an old truism, "tis better to give than receive." Especially around Thanksgiving, but throughout the holiday season, giving back is important. Furthermore, it's the right thing to do. Jonathan Herrick of Benchmark Email shares some ideas about how you can involve your customers in a good cause.
"We've all been through the wringer this past year and a half and could use some cheering up. And there's no time like the holiday season to spread some additional cheer and goodwill.

A great way to make your holiday email campaign stand out (aside from the typical best email marketing practices, like segmentation and personalization) is to tie your campaigns to a give-back program.

Choose an organization you'd like to give back to and center your holiday email campaigns around the power of giving back. For every sale or product purchased, donate proceeds to the organization or organizations of your choice.

By including your subscribers in these efforts, you're sharing the love this holiday season and spreading some word around an organization that could use some support. It's a great way to bring the focus back to what really matters this holiday season – helping others."

—Jonathan Herrick, Chief Executive Officer at Benchmark Email
Anne Ghaltchi, ZeroBounce: "Review your previous email performance data."
The savvy email marketer knows that if your email doesn't reach the inbox, it has virtually no chance of being seen. It's the most important time of the year to validate your email list. Anne Ghaltchi of ZeroBounce sheds light on many important details that you cannot afford to miss.
"To make your holiday emails stand out in a crowded inbox, here are some starting points:

1. Clean your email list to reduce bounce rates and ensure deliverability to your target audience.

2. Review your previous email performance data to identify trends in frequency, open and click through rates. Use this data to plan out your holiday email campaigns.

3. Create a holiday email calendar and strategize your content and promotions alongside Thanksgiving, Black Friday, Cyber Monday and other holidays you plan to send campaigns. Focus on developing strong subject lines and preheaders to start off with a great first impression.

4. Generate urgency throughout your campaigns within subject lines and expiration dates for sales and offers.

5. Make sure your website and landing pages match the content from your email campaigns to form a cohesive user experience. Messaging and design should be consistent from the moment a user reads a subject line all the way up to completing your desired conversion."

— Anne Ghaltchi, Director of Digital Media at ZeroBounce
Emily Ryan, Westfield Creative: "Personalize your subject line."
Personalizing your subject lines help your emails stand out, but especially during the holiday season, when people are getting so many emails. Here's what Emily Ryan of Westfield Creative says:
"A great subject line should be top priority for your holiday email marketing. You have to get people to open your email before you can do anything else.

You can use merge tags to personalize the subject line with their first name. For example, "*|FNAME|*, have you bought your mom a gift yet?" might be a great way to get someone to open.

Invoke curiosity in your subject line, but also be honest. Your email should always be in line with your subject line (no clickbait!).

Personalizing your subject line will help your email stand out. When I see my name in my own Inbox, I'm definitely more likely to open it. Give it a try! But also, make sure you preview and test that merge tag to be sure it's working properly.

—Emily Ryan, Digital Marketing Specialist at Westfield Creative
Marika Zinca, InboxAds: "Keep track of everything."
The more information you have about your customers and their habits, the better your planning and execution will be. Marika Zinca of InboxAds points out that keeping track of your customers and their activity can help you give them what they want.
"To have a successful holiday email strategy, publishers need to focus on meeting their audience's needs and expectations, not only to sell their products. With the widespread popularity and indisputable benefits of email marketing, the return on investment is massive.

Publishers should stay focused and take control over their email strategy.

Incorporating these tactics in their holiday email marketing strategy can help them achieve their marketing goals.
Keep track of everything
Insights, metrics, statistics, open and click rates – everything that can be measured and analyzed. Look at demographics, social media interactions (likes and shares), and customers' online behavior (preferences and pain points).
Create and design festive newsletters
The design should inspire the holiday season vibe. From the colors associated with the season to relevant content, any publisher can create a spectacular holiday email campaign.
Send targeted emails using list segmentation
This helps you increase your subscribers' engagement and is the most effective way to send the right message to the right audience.
Monetize your email newsletters
Programmatic advertising can increase customer engagement and business revenue at any time, but especially during the holiday season when people are more willing to open their emails."
—Marika Zinca, Marketing Specialist at InboxAds
Daniel Wolff, Madrivo: "Find your value proposition and shed light on it."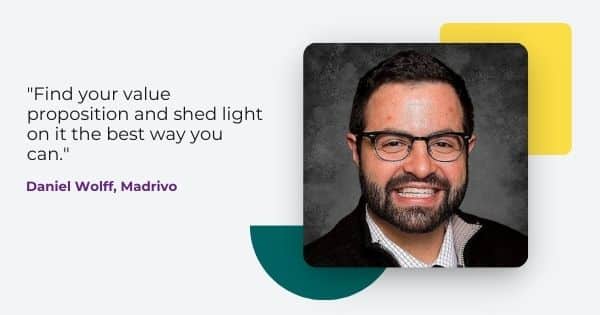 Most of the time the people who get your emails will naturally ask: what's in it for me? Finding the value you bring is crucial. Daniel Wolff of Madrivo really breaks it down.
"Helping your email stand out when an inbox is only so large, and everyone else is trying to do the same, is not an easy task. To do it, find your value proposition and shed light on it the best way you can.

Explain in just a few short words why it makes the most sense for your product to be used/purchased during this time of year. Is it a promotion you're offering? Is it a product that you are suggesting for someone to buy as a gift?

Just like with any digital marketing, your product/service can shine above the rest with good messaging. Align your message with your audience's needs and how your product/promotion can help them. If you need help coming up with suggestions for your product, our team is happy to help!"

—Daniel Wolff, Assistant Director of Business Development at Madrivo
Josh Brown, Helpjuice: "Make use of user-generated content"
Josh Brown of Helpjuice points out the many ways you can make the most of this time of year. Have you considered the many potentials of user-generated content?
"I see many email marketing campaigns fall flat because they fail to encompass the feelings of a time of coming together and being festive, as well as a time for reflection. Instead, they use generic images, basic discounts, and so on.

So, if you want your holiday email campaign to stand out, think about how you can generate these feelings for your audience.
It starts with copy.
If you want people to open your email, you need to find ways to entice while trying to create a positive emotion. This seems difficult given the limited characters of a subject line (especially for mobile). However, remember that the first few words in an email are also shown, so this can be used almost as a sub-headline.
Make use of user-generated content that's authentic and customer-focused.
Perhaps you show off some unboxing experiences from customers. That "wow" factor that's captured is something that holiday shoppers want to share with whoever they're gifting
Consider giving back.
For instance, products or a portion of sales from any purchase your customers make can go to a charity. To involve your customers more, you can run a poll that lets them choose where the donation should go. Also, you can try to find ways to tie into #GivingTuesday (which is the Tuesday after Thanksgiving).
Your holiday marketing emails don't have to be purely transactional.
That means your emails shouldn't attempt to create an immediate sale. You can send informational emails whose end goal is to send people to a conversational landing page that acts like a personal concierge. There, a chatbot or live chat could assist customers with picking out the right gift."
—Josh Brown, Content Marketing Manager at Helpjuice
Swathika Mahalakshmi, Zoho: "Segment your database on demography, interests and purchase behavior"
In the current era, a one-size-fits all approach is obsolete. Segmenting is key to getting better results. Swathika Mahalakshmi of Zoho weighs in on the importance of catering to the specific needs based on categories and behaviors.
"Here are five significant tips to make your holiday email campaign thoughtful, personalized and surprising to your audience.First things first, segment your contact database based on their demography, interests, and purchase behavior to send personalized emails to each group.

Use enticing and memorable subject lines. Examples: "Order before 2 PM PDT today for free overnight shipping", "Last hour to participate in the holiday giveaway", "That extra hour of sale for you". Do not forget the preheader text as readers notice that as well while reading your subject line.

Employ interactivity in your email by using GIFs, animations, videos, etc. Adding timers and countdowns will help drive engagement and conversions.

Personalize your CTA with short and actionable content. Choose red or orange colors as they create a sense of urgency. Also, separate your CTA from the rest of your email.

Deliver value by providing useful items like gift guides, holiday FAQs and to-do lists, discount coupons, and so on."

—Swathika Mahalakshmi, Product Manager for Zoho
One more tip before you go!
I don't know about you, but all these ideas make me feel more confident about sending marketing emails this holiday season. A big "thank you" to everyone who took the time to share with us!
Care to hear one last suggestion before you go?
Something a lot of people struggle with – including myself – is being clueless about what gifts to get the people in their life. So, an incredible service many marketers could do is offering up some ideas. Not enough emails do that.
I recall scratching my head and was at the verge of giving up when an email arrived. I don't even remember what the product or service was. However, I'll never forget seeing those four simple words: "makes a great gift." I connected the dots and knew it would be appreciated and with that, I let out a huge sigh of relief. If there's a better feeling an email can give, I don't know what it is.
It all goes back to being of service. Not knowing what activities to do, what gifts to buy or where to go are the questions on the mind of many. Don't imply, be bold and make the suggestion. We really want to know.
Do you have this checklist?
Ready to launch your holiday email campaigns? Before you do, download this checklist to make sure you're good to go.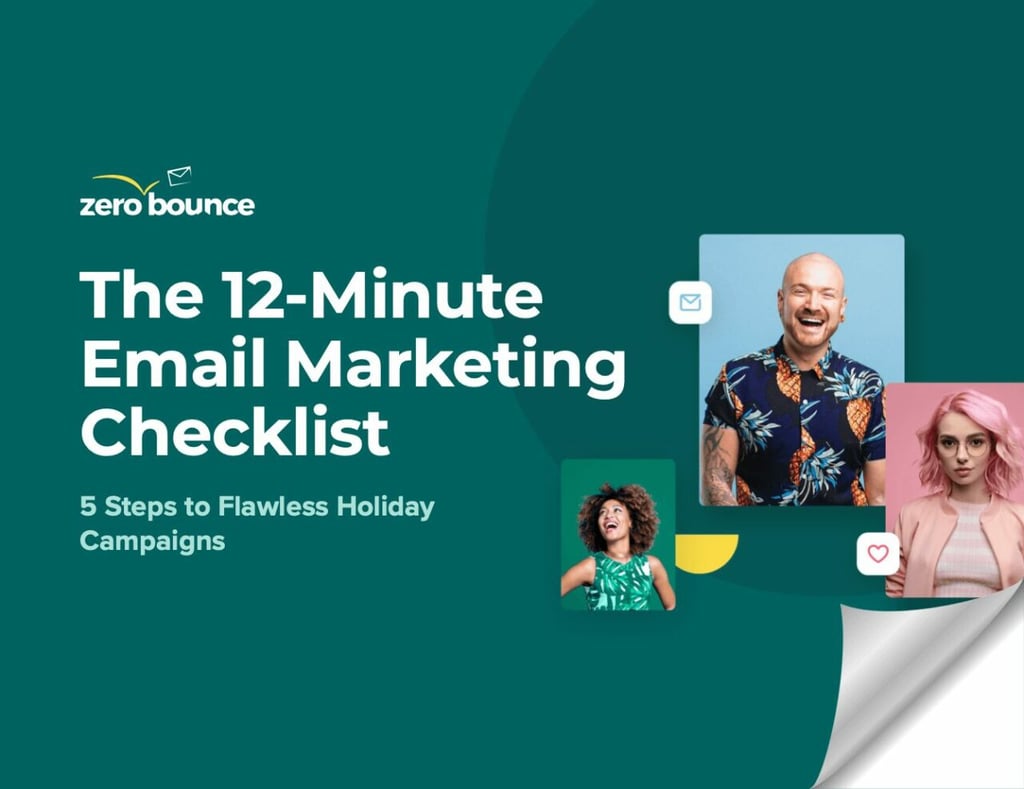 In 12 minutes, you'll learn:
how to come up with a compelling offer
how to make sure your email list is in the best shape
and the simple things you can do to land in the inbox.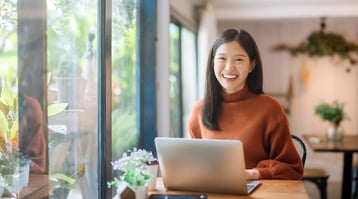 Should you use GIFs in emails? It depends on your brand and what you want to communicate. Marketing strategist Lesley Vos has all...
Read Story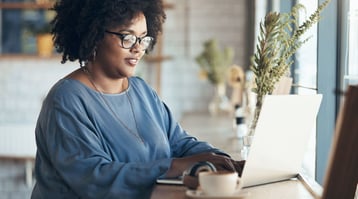 Struggling to grow your email list? Many marketers and business owners are. Worry not – these newsletter signup form examples a...
Read Story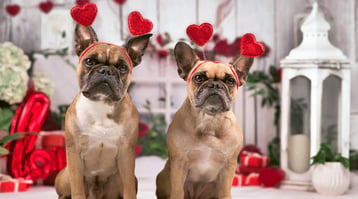 Valentine's day is just around the corner and you are finalizing the last details of your email campaign? Jeremy Moser of PR &a...
Read Story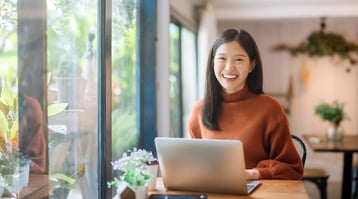 Should you use GIFs in emails? It depends on your brand and what you want to communicate. Marketing strategist Lesley Vos has all...
Read Story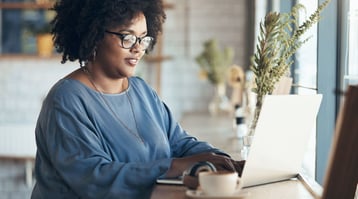 Struggling to grow your email list? Many marketers and business owners are. Worry not – these newsletter signup form examples a...
Read Story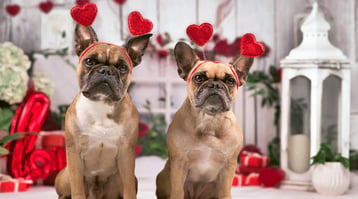 Valentine's day is just around the corner and you are finalizing the last details of your email campaign? Jeremy Moser of PR &a...
Read Story