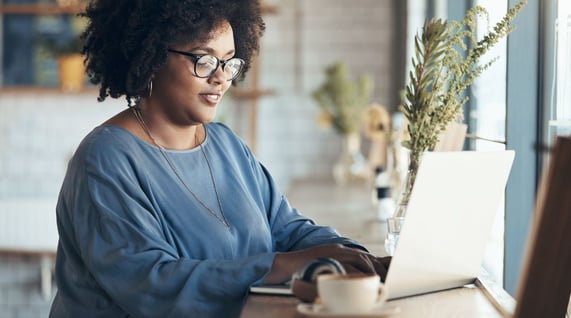 22 Newsletter Signup Form Examples to Grow Your Email List
Struggling to grow your email list? Many marketers and business owners are. Worry not – these newsletter signup form examples and tips will make it easier for you to gain subscribers. See what works for some of the most successful email lists – so you can boost your signup rates, too.
Email newsletters have been around a long time, but in the past few years, they've been booming. Every other website prompts you with an invitation to share your email address. "Sign up for our newsletter" may be one of the most common calls-to-action you see online, and for good reason.
Businesses of all sizes recognize the power of email. Not only is it vital for transactional messages, but its marketing ROI is $42 for every $1, according to several studies.
RELATED: 60+ email marketing statistics for 2023
Newsletters are a great way to build brand awareness and nurture your audience with useful content. They're fun to write, but can take up a lot of time and energy. So it's natural that you want these emails to reach more people, right?
If your email newsletter signups have been slowing down lately, revamping your signup forms could help you boost subscriptions. Also, you might need some fresh strategies to promote your list. I'll cover all that below – let's get to it!
Newsletter signup forms: what is your message?
Before you design your email newsletter signup form, remember what newsletters are.
As opposed to direct marketing emails, which aim to push and sell, newsletters are an inbound marketing tactic. Their role is to inform, educate and nurture your audience, and that should reflect in your email list signup forms.
So, when writing your call-to-action (CTA), focus on the most compelling part of your offer. Why should people sign up to your email newsletter?
Defining your message will make it much easier for you to create an effective call-to-action.

Not sure how to identify your unique offering so you can place it at the core of your copy? No worries, you'll learn that below – and see some great examples!
How to create effective newsletter signup forms
Forms that attract a lot of subscriptions get two things right:
A pleasant design with well-written copy
A frictionless subscription process.
The design of your form and the copy you write are the first things people see. So you have to make them work to your advantage. Once you get that part right, make sure signing up for your email newsletter is a snap. Any hiccups or bumps in the road and you'll lose them. In this fast-moving world of endless distractions, patience is in short supply.
Bonus tip: Verify every email address you add to your list. People can make typos or try to sign up with a fake address, and that will cause your newsletters to bounce. Keep a good sender reputation by ensuring every email list signup is genuine.
Learn from the best: 22 email newsletter signup form examples
Now that you know the basics of creating a compelling email signup form, there's no better way to learn how to improve yours than by looking at some examples. These are some of the forms I like best – from entrepreneurs, writers and companies with highly engaged email lists.
Let's look at what they do, why it works, and what tactics you can steal to boost your email list growth.
Email signup forms from entrepreneurs and writers
Smart entrepreneurs know better than to build their audience on someone else's land. Social media has many benefits, but nothing compares to building your own email list and connecting with those people consistently. For writers, too, email is a way to get their content in front of more people.
But how do you create high-performing email newsletter signup forms?
Here's some inspiration.
#1. Emily Ryan, Westfield Creative: "Get weekly email tips" + two free downloads
As a Mailchimp Pro Partner and expert, Emily Ryan knows email inside out. Not only does she run email campaigns for her clients at Westfield Creative, but she has her own email list and email newsletter, "10 Things Sunday."
Take a look at how Ryan is growing her email list: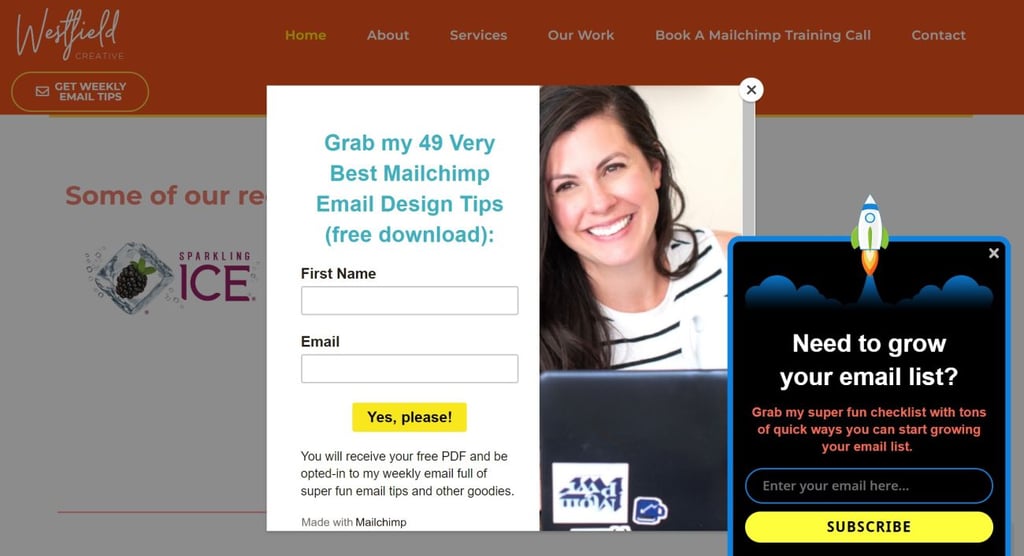 RELATED: Emily Ryan talks to ZeroBounce about email marketing
As soon as you land on the homepage, a button stands out in the top left corner, inviting you to subscribe. But the co-founder of Westfield Creative knows that's not enough to get people to subscribe. She also uses not one, but two pop-ups prompting you to download some relevant resources.
I've never seen two email signup pop-ups running at the same time, but this makes sense. If a prospect doesn't care so much for the first offer, the other free download may get them to leave their email address.
Could you try something like this on your website?
#2. VeryGoodCopy: "Learn to persuade"
Whether you're a copywriter or a business owner, knowing how to persuade is an invaluable skill. Eddie Shleyner is an expert at it, and in his emails, he shares some of the best copywriting tips in the industry. No wonder almost 55,000 people are on his list, which Eddie promotes intensely on LinkedIn.
The copywriter and founder of VeryGoodCopy uses very simple and straightforward copy on the button: "Subscribe." And subscribe I did (a long time ago.)
#3. Laura Belgray: "Get the only emails anyone likes anymore"
Copywriter and soon-to-be author Laura Belgray has one of the most enticing email signup CTAs I've seen. Notice the relatable reference to email fatigue, followed by the promise "Emails that make you a better writer." Me want, indeed!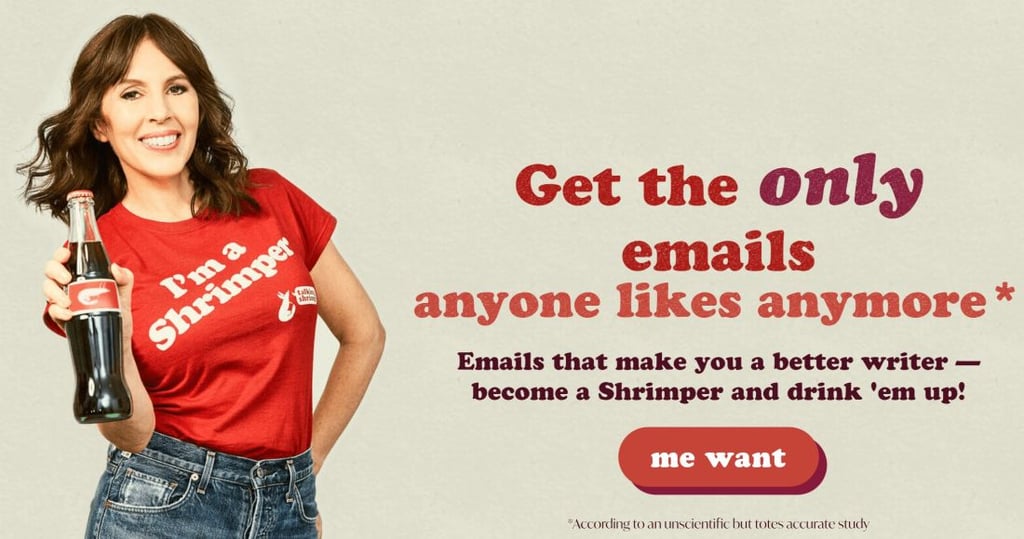 But wait, there's more. If that CTA doesn't seal the deal, Laura is giving away an e-book in exchange for your email. If you're a marketer, chances are you'll go for it. I know I did.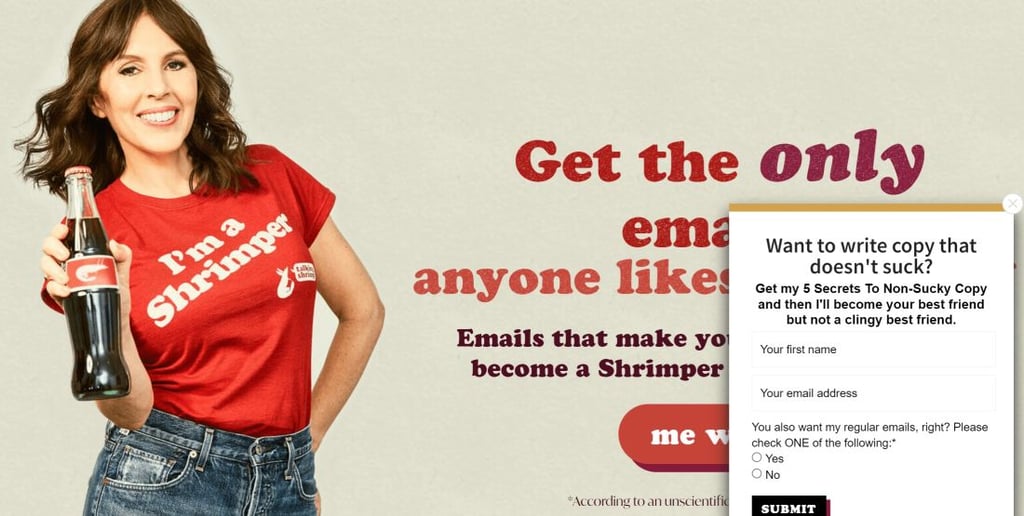 Bonus tip: On her website, Laura placed her subscription link above the fold, so it's the first thing you see. You'll find more ways to subscribe once you scroll down, but she's doing a great job capturing those leads right away.
RELATED: Laura Belgray talks to ZeroBounce about email, copywriting running her own business
#4. Marie Forleo: "Learn how to get anything you want"
Get anything I want? Yes, please! Entrepreneur Marie Forleo sure knows a thing or two about copywriting. Her email signup form could get even the "I get too many emails" crowd to subscribe. In exchange for your email address, Forleo promises a free audio on "how to change your life, fast."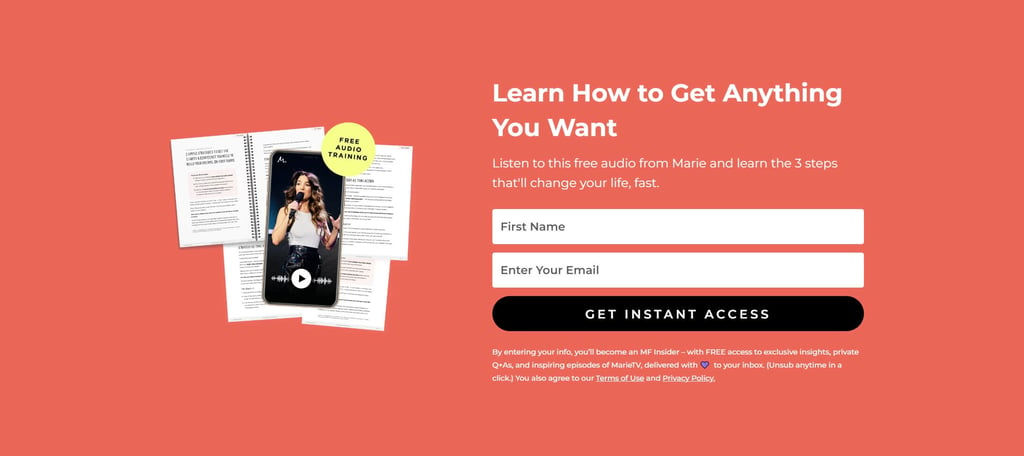 Bonus tip: Notice the copy on the CTA, using three marketing power words: "Get instant access." Think of similar words you could use in your signup button!
#5. Ann Handley: "Subscribe to Ann's newsletter"
Some may find it surprising that Ann Handley kept her signup form copy so simple, but Ann's classic tactic works. However, the content marketing expert, author, and founder of MarketingProfs surprises with a fun wordplay – her newsletter is called "Total Annarchy."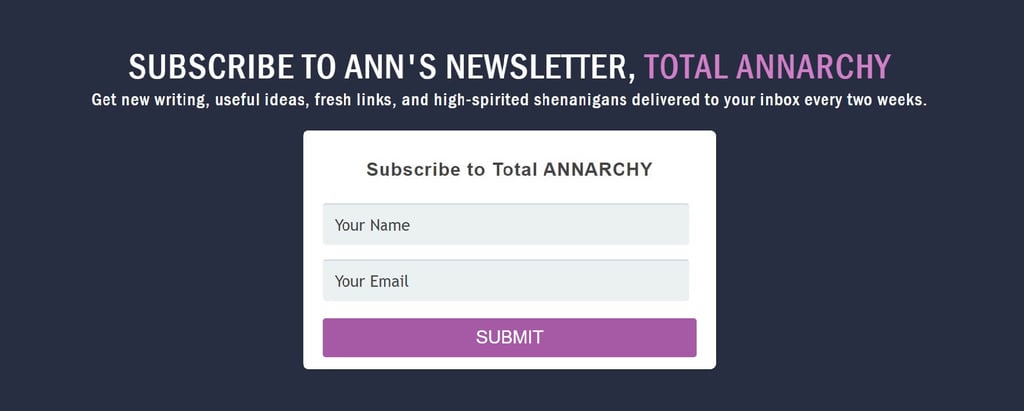 Bonus tip: You can be as creative as you feel with your form, as long as it reflects what your emails are about. But there's nothing wrong with using "Subscribe to our newsletter" or "Join our email list" if you think that's what best represents your business. You can be playful in the subheading – see how Handley says she'll deliver "high-spirited shenanigans to your inbox."
#6. Garance Dore: "Sign up"
French illustrator, author, former fashion blogger and now beauty entrepreneur Garance Dore has never been one to go down the beaten path. Instead of a classic newsletter signup form, she wrote a note about The Note, her free newsletter. In it, she added a CTA promoting her paid membership and ended with a simple "Sign up" button.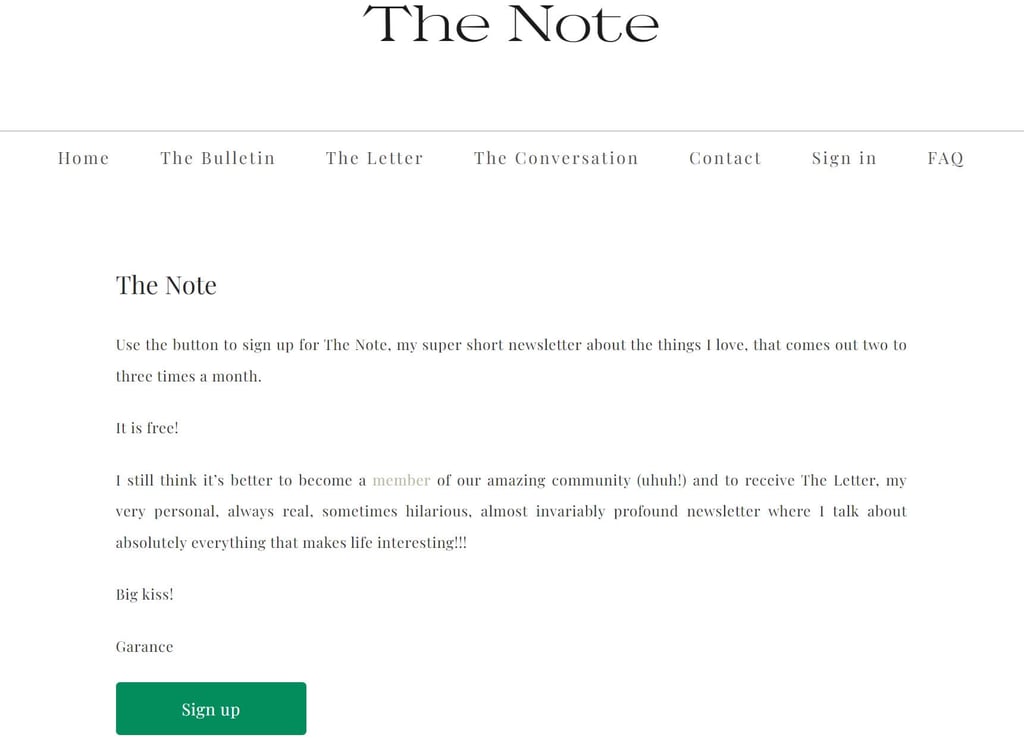 Bonus tip: Notice how both Ann Handley and Garance Dore mention how often they email their subscribers. If you have a sending schedule, add that to your copy so people know what to expect.
#7. Kara Cutruzzula: "Subscribe"
Simplicity is also at the core of Kara Cutruzzula's email newsletter signup CTA. Placed above the fold, it shortly describes what you're getting and how often. Kara delivers – every weekday, she sends some of the best emails around.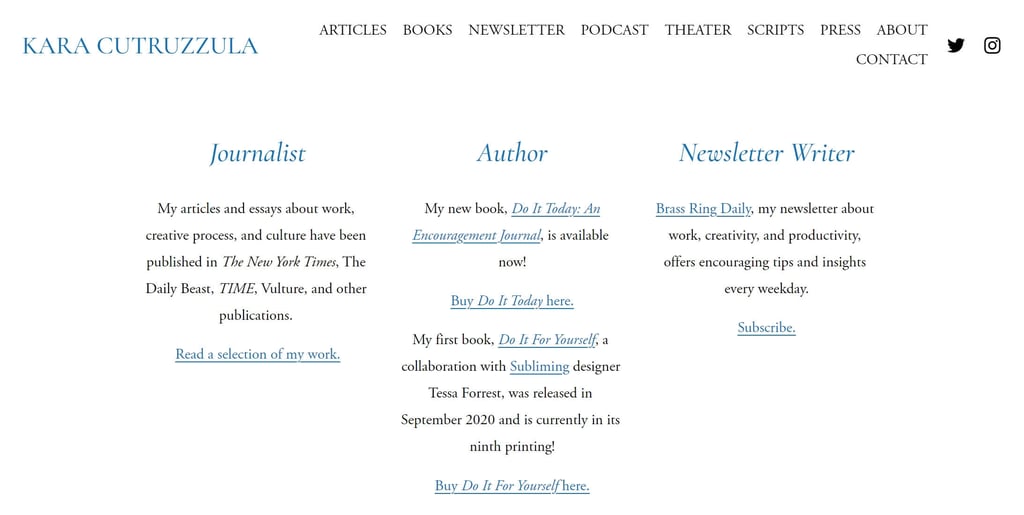 Bonus tip: The "Subscribe" button takes you to a simple signup box that only asks for your email address. Kara makes it super easy for everyone to get her great emails. Do the same!
#8. The Newsette: "Try it"
Founded by entrepreneur Daniella Pierson eight years ago, The Newsette has more than 500,000 subscribers and brings in millions of dollars a year. While Pierson has been using referral marketing to grow her email list, her newsletter signup form targets her audience so well.
The "Try it" button is different, and just look at that "Click! Click!" CTA – it's hard not to click, right?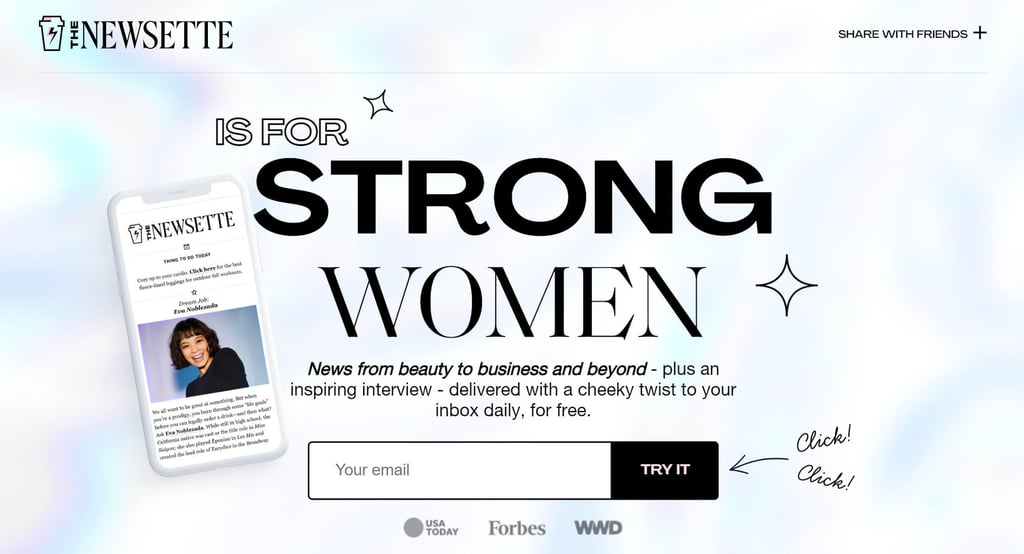 Bonus tip: Daniella and her team mention that the emails are "for free." Most email newsletters are, but The Newsette decided to put it in the CTA. Reminds me of Don Draper's "It's Toasted" Lucky Strike campaign. (Please go watch "Mad Men" if you haven't.)
Email newsletter signup form examples from companies
Feeling more inspired to revamp your forms and boost your email signups? Now, let's see a few examples from companies – so you can adapt depending on your business.
#9. Jeneration PR: "Send me the secrets"
Founded by Jennifer Berson, Jeneration PR is a Public Relations agency serving lifestyle and beauty brands. Berson also created a highly engaged community that I love, called Profitable PR Pros.
To attract more subscribers, she's using a content offer she created by getting original insights from 10 PR pros. Her signup message focuses on the offer: helping you "become a pitching powerhouse." That's exactly what you want to be as a PR professional, and Berson knows that message resonates with her audience. Her emails are so good, too!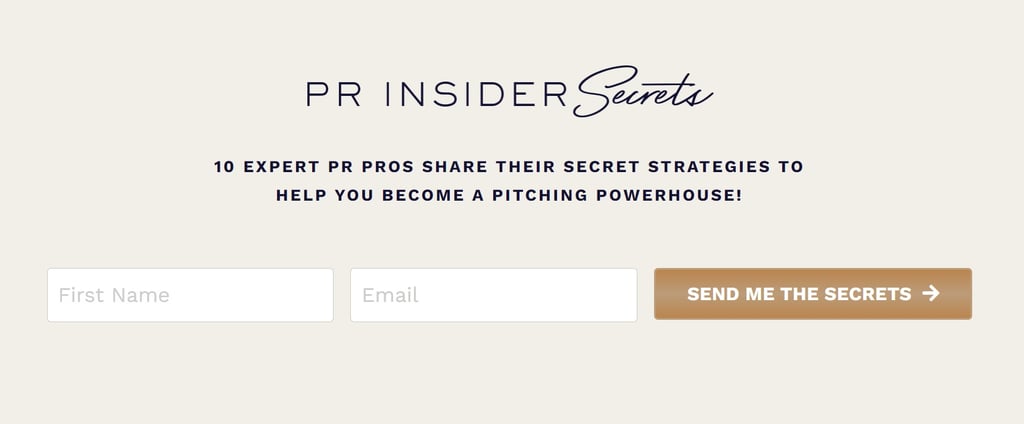 #10. Copyhackers: "Yes, notify me!"
If you're into copywriting, Joanna Wiebe's Copyhackers platform is a great source of tips and strategies, and so are her emails. Notice how the company mentions its current email list size to make signing up more enticing.
Instead of "Join our mailing list," the button says "Yes, Notify Me." It's unique and helps Wiebe and her team expand the Copyhackers email list.
RELATED: Joanna Wiebe talks to ZeroBounce about email and copywriting

#11. AWeber: "Stay in the loop"
As one of the most popular email service providers, AWeber talks a lot about email and how you can make it work for your business. The company also sends a great weekly newsletter, and is getting people to subscribe with a simple, yet effective email newsletter signup form.
"Stay in the loop" is AWeber's CTA, and the subheading concisely lets you know what you're in for once you sign up for emails.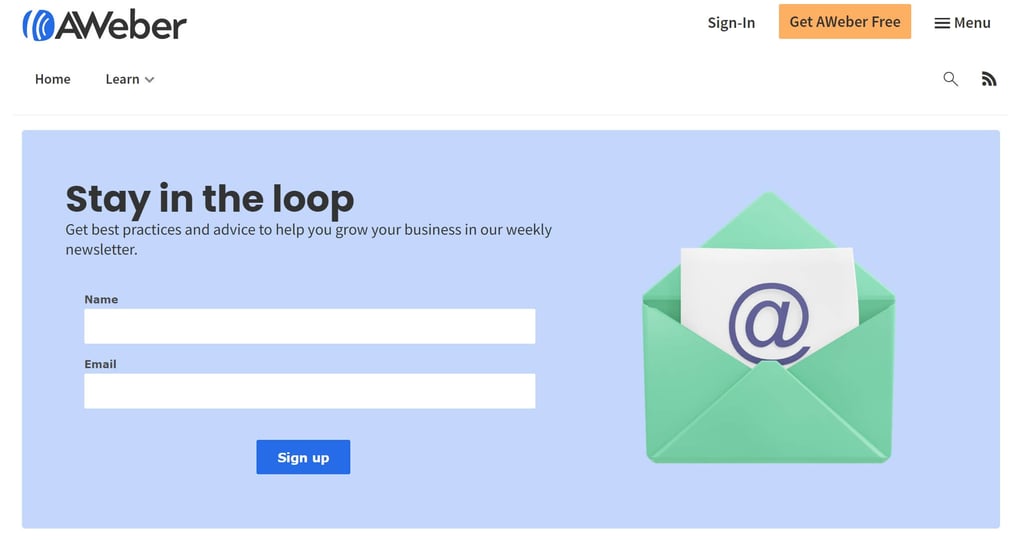 #12. Forbes: "Sign up"
Now, let's take a look at how Forbes grows its email lists. It pays to study what the media does to get the public's attention – journalists are experts at this, so you can learn a lot from them.
There's no "subscribe to our newsletters" in the pop-up. Instead, Forbes puts you and your benefit at the center of the headline, while the subheading elaborates on the type of content you'll get if you sign up.
This may be my favorite newsletter signup form – it's engaging and shows a deep appreciation for the reader.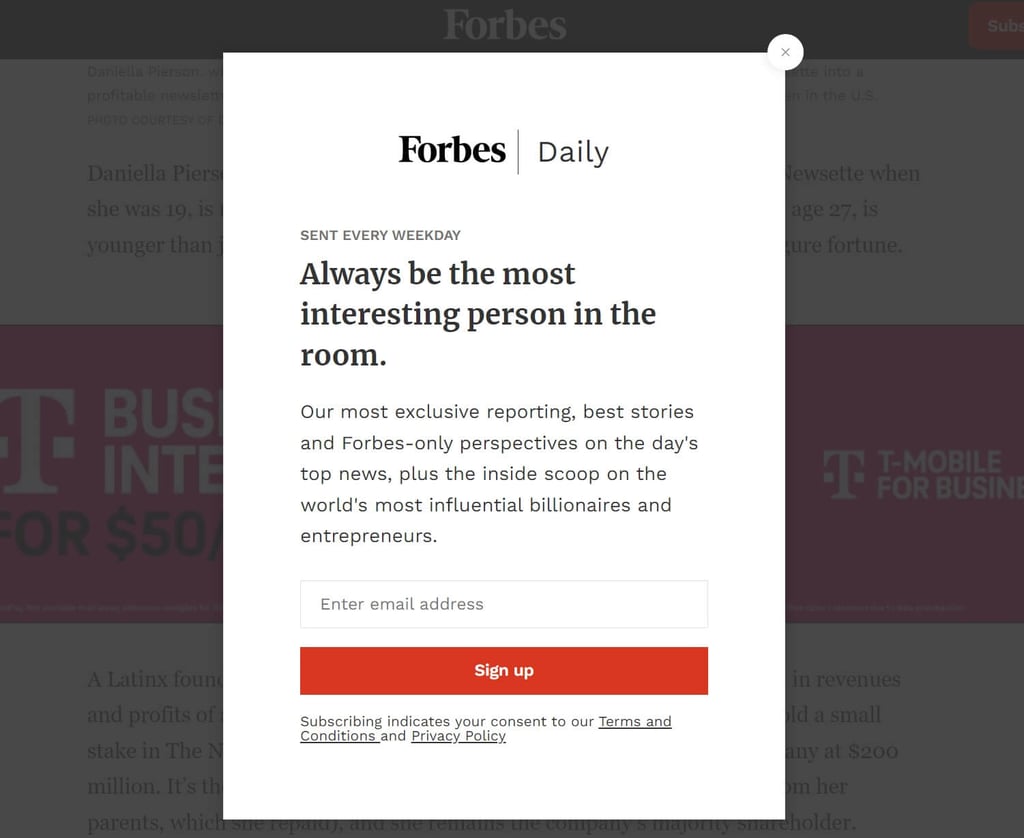 #13. Marketing Brew: "Get marketing news"
Another effective email list signup form comes from Marketing Brew, the well-known newsletter business keeping marketers abreast of the latest trends. The headline makes a promise – sign up and you get relevant, useful news about your industry.
Notice that the form only asks for your email address, which makes it quick and easy to subscribe.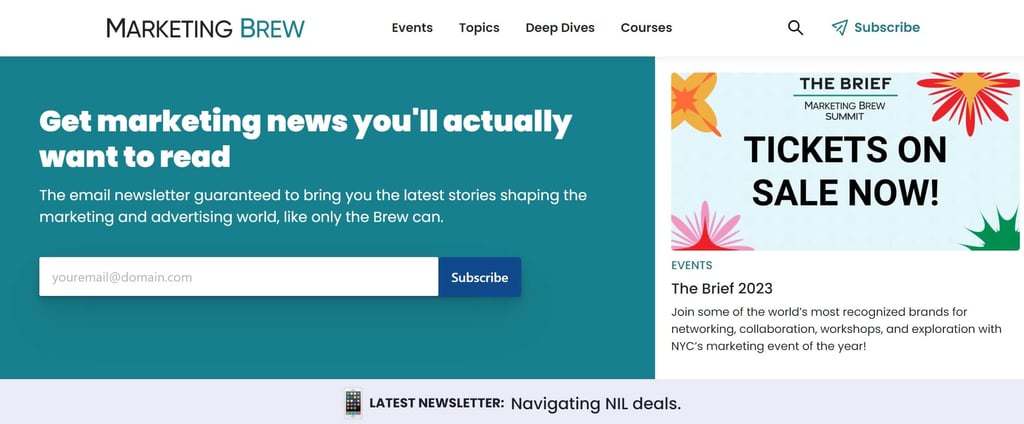 Also, do you see that line at the bottom? Marketing Brew lets you read the latest newsletter so you can get a taste and entice you to subscribe. Smart! Try it yourself.
#14. Salesforce: "Sign up now"
Surprisingly simple, Salesforce's email newsletter signup form does a great job telling you what to expect from the emails if you subscribe. Who isn't looking for some "fresh ideas"?
Once you click the "Sign up now" button, you're taken to the actual email subscription form. There, you can choose the types of emails you'd like to get. Aside from your email address, Salesforce also asks for the country you live in. Not everyone is comfortable sharing this information, so keep that in mind when you design your email signup form.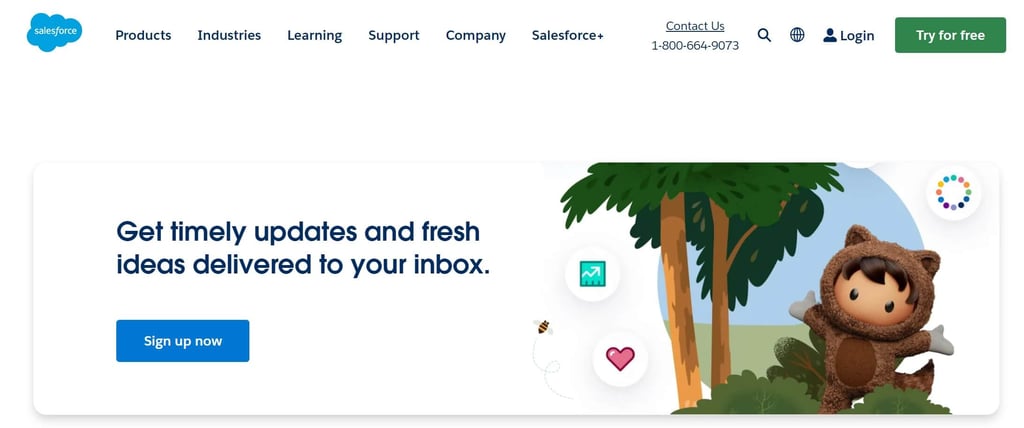 RELATED: The official ZeroBounce – Salesforce integration is now available
#15. Mailchimp: "Subscribe"
It's time to look at another email service provider and how it drives email list growth. Mailchimp, one of the most popular email marketing platforms, doesn't have a newsletter sign up form on the homepage, as opposed to Salesforce. Instead, Mailchimp captures leads on its Resources page via this form: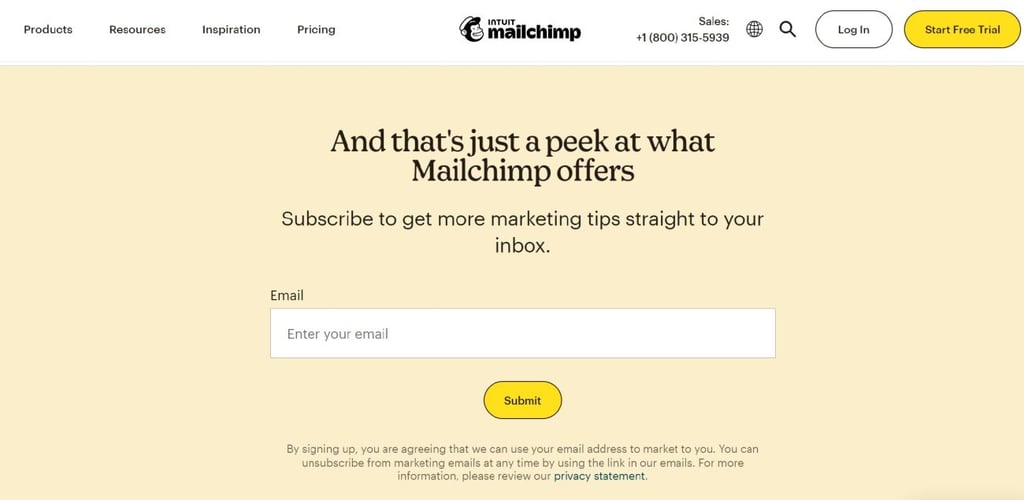 Once the copy takes you through the different services Mailchimp offers, the headline above nicely segues to the email signup form. See how short and simple the subheading is? Mailchimp knows that people read these CTAs in a hurry, and it doesn't make us work too hard to understand what we get when we subscribe.
#16. Zoho: "Keep me in the loop"
Zoho's email newsletter sign-up form is yet another example that you don't need any bells and whistles to attract people to your email list. Using a minimalistic design, the form allows you to pick the kinds of emails you care most about. Segmentation goes a long way, so if your databases are growing fast, start with basic segmenting at the point of capture.
"Keep me in the loop" is an effective CTA, and Zoho's designers used a bright color for the button, so you can't miss it.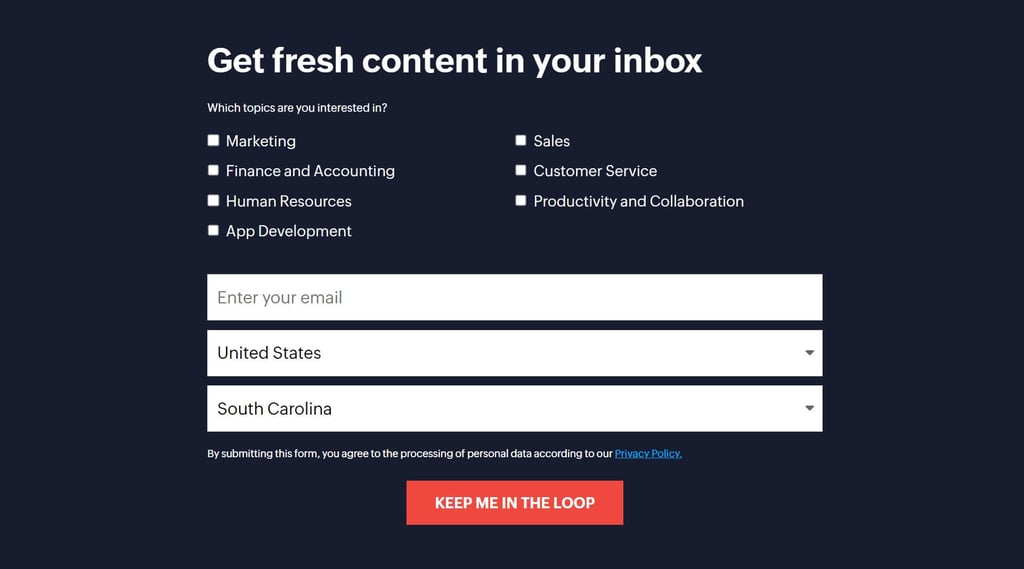 #17. Versium: "Stay in the loop"
If you want to avoid the classic "subscribe to newsletter" CTA, here's another example of asking people to "stay in the loop" instead. While Zoho says it in first person, Versium chose the imperative tense – they both work, it's a matter of preference.
Versium knows how valuable leads are, so the company placed its email newsletter signup form in the website footer. Remember that if you're in email list growth mode (and we all are, right?). Make sure people can easily find your forms so they can subscribe.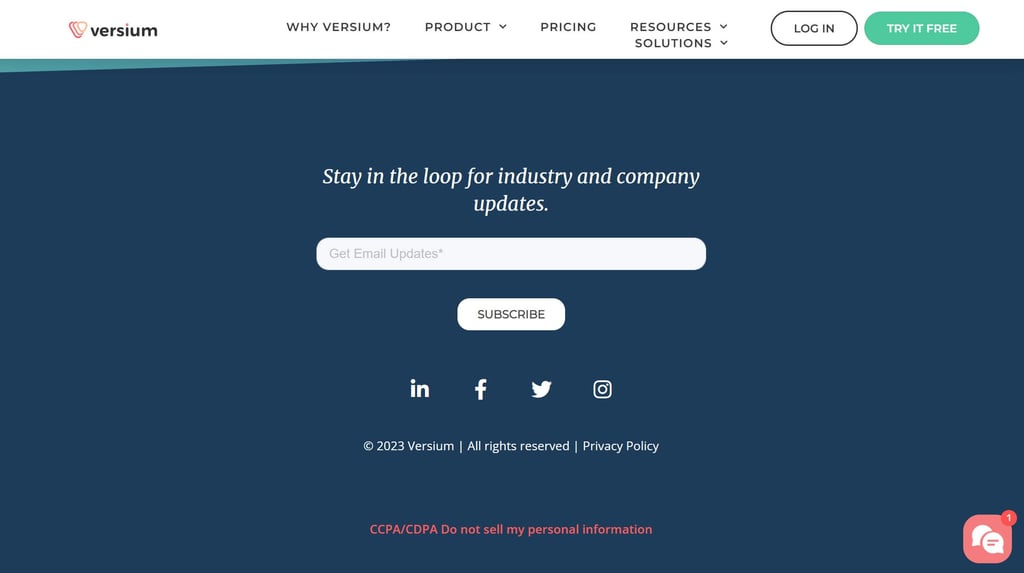 #18. Mailbird: "Subscribe to our blog"
Next, let's look at how Mailbird designed its email newsletter signup.
The homepage CTA buttons focus on getting people to download the app, so you won't find any forms there. However, Mailbird has an email list signup form on the blog.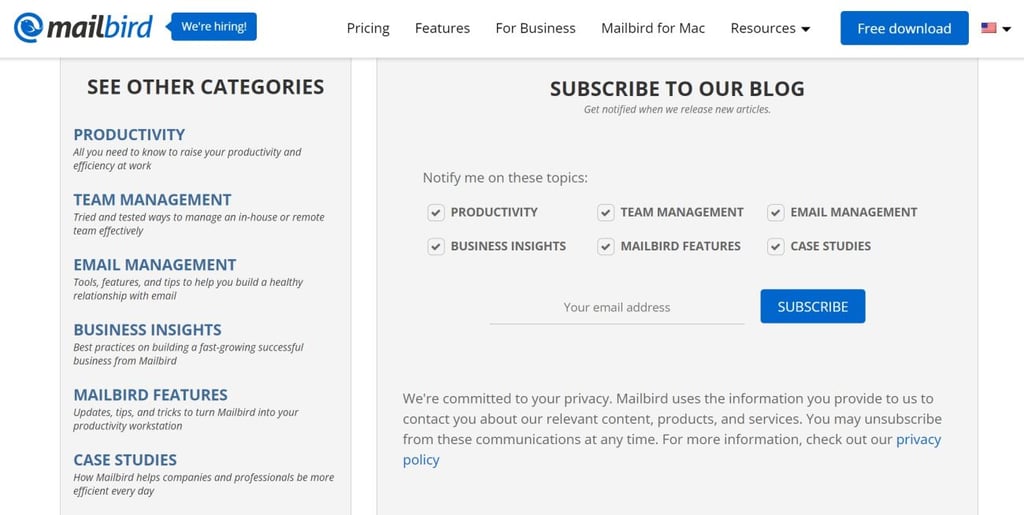 The headline is straight to the point, but just like Zoho, Mailbird allows you to choose what emails you'd like to get. It's such a great way to offer your audience the most relevant experience with your newsletters. Mailbird also gets points for not asking for any data other than your email address.
RELATED: Did you know that ZeroBounce integrates with Mailbird?
#19. Ideta: "Join our newsletter"
Like many businesses, Ideta doesn't use an email newsletter signup form on the website. However, the company added one to its blog. The headline says:"Join our newsletter" if you're looking for tips about chatbots. The design is simple and does the job – why waste time and space if you can present your offer in just a few words?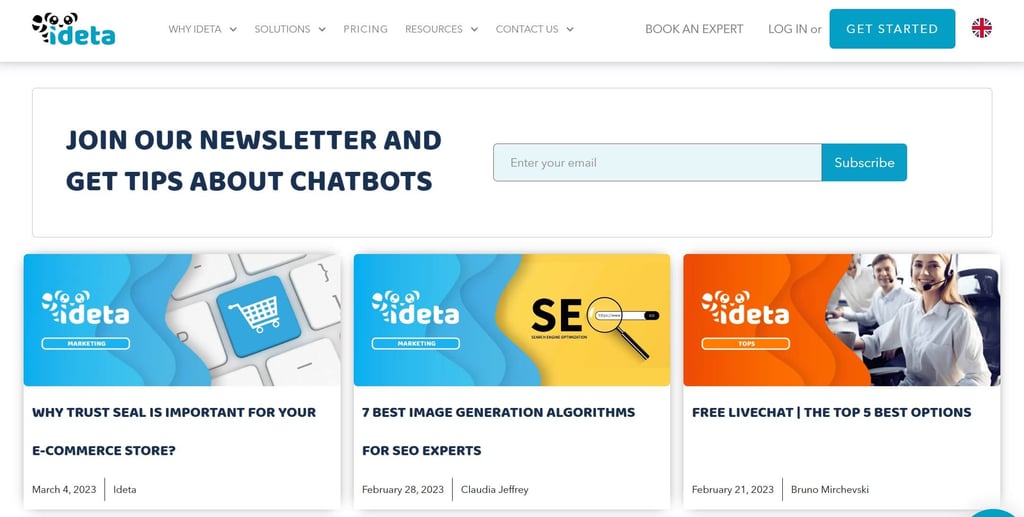 Bonus tip: As you can see, some of these companies don't have an email newsletter signup form on their homepage or in any other places on their websites. They usually place them on their blogs. However, when prospects register for an account, they can also opt in for the email newsletter. ZeroBounce does that, too. Remember to have an email newsletter signup option on your account registration forms.
RELATED: How to integrate ZeroBounce into Ideta's chatbot
#20. Mailmodo: "Join this community"
This is one of the prettiest email newsletter signup forms I've seen. Mailmodo put some effort into the design to get more subscribers to its monthly bulletin. Like some of the other email subscription examples we analyzed, Mailmodo isn't afraid to share its email list size – and puts that number right into the second headline. The three bullet points, using emojis, make things more exciting, so it's hard not to subscribe.

#21. Nike: "Be the first to know"
Since most of the companies we looked at are SaaS businesses, let's take a look at one of the largest retailers in the world. How does Nike grow its email databases?
Here's the signup form that pops up seconds after you land on the website: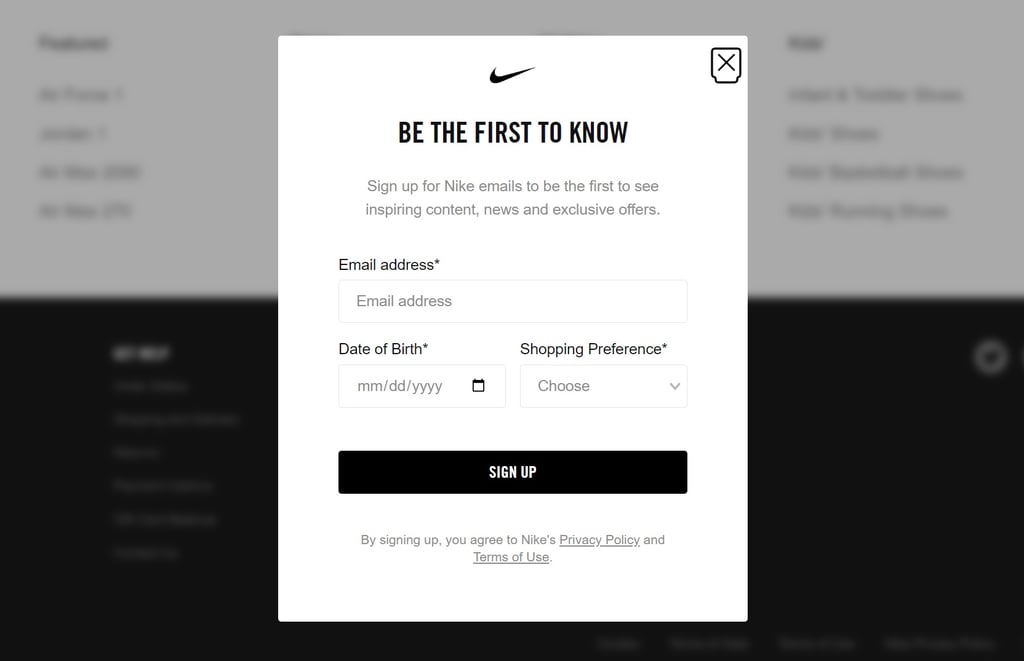 Nike promises inspiring content, news and exclusive offers, and its CTA button is a simple "Sign Up." One thing that's different about this form is that Nike asks for your date of birth. While it's great to have this type of data in your CRM, be mindful about asking for it.
#22. Anthropologie: "Sign up for email"
Here's a newsletter signup example from another popular retailer, Anthropologie, that should alleviate some of your concerns about nailing your form.
"Sign up for email" is Anthropologie's CTA, followed by a snappy subheading telling people what those emails are. From product announcements to sales and exclusive content, it looks like you're in for a treat if you subscribe.
Anthropologie only asks for your email address and also mentions that you'll hear from its sister companies, too.
Main takeaways: what we learned from these newsletter signup examples
What's the best way to grow your email list?
We asked AWeber CEO Tom Kulzer this question in an interview, and I loved what he said:
"Ask people to sign up. It's so common for people to not have a form on their site that you can find. It's so common! So just ask, you'll be surprised what happens."
How you ask, though, can make all the difference. Email newsletter signup forms usually have short, conversion-oriented copy. There's little space for you to make an offer, so you must use that space wisely.
But creating an effective email list signup form shouldn't be that hard. Here are some takeaways from the examples above:
You'll notice that every email signup form above conveys the brand's exclusive offer and its vibe. Use what's yours and only yours – and make that the focus of your CTA.
Most newsletter signup examples we looked at are short. Your audience will see the purpose of your form right away, and most people will skim the copy. However, some companies use more text than others. Don't be afraid to use more words if it drives your point home.
If your goal is to boost your email list growth, place your signup forms where people can easily find them. Is email your main source of revenue? Then add your subscription link above the fold.
Especially in the B2B space, content offers like this e-book continue to yield results. You don't have to spend months working on an e-book, but make sure that your offer gives prospects in your industry something they care deeply about.
You may want to get creative about your CTA button, but maybe people respond better to simpler copy, like "Subscribe to our mailing list," "Subscribe to our newsletters" or "Join our email list." Test different versions and see which one performs best.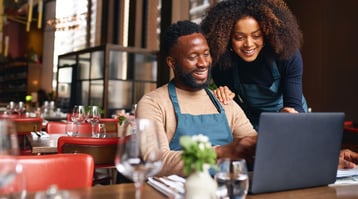 So, you want to build an email list. How do you do it? In this guide, we share all the tactics we know. Tried-and-tested over tim...
Read Story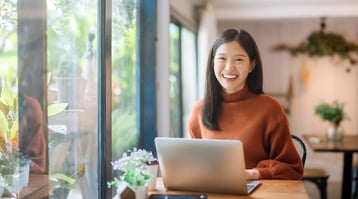 Should you use GIFs in emails? It depends on your brand and what you want to communicate. Marketing strategist Lesley Vos has all...
Read Story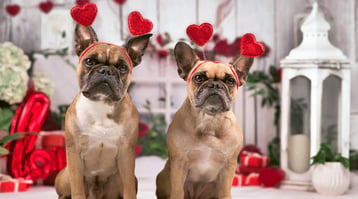 Valentine's day is just around the corner and you are finalizing the last details of your email campaign? Jeremy Moser of PR &a...
Read Story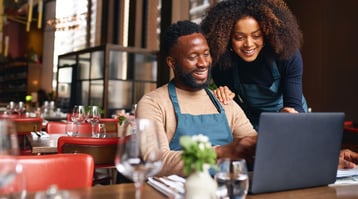 So, you want to build an email list. How do you do it? In this guide, we share all the tactics we know. Tried-and-tested over tim...
Read Story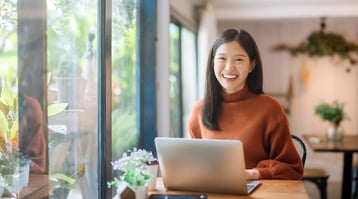 Should you use GIFs in emails? It depends on your brand and what you want to communicate. Marketing strategist Lesley Vos has all...
Read Story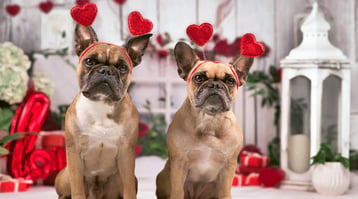 Valentine's day is just around the corner and you are finalizing the last details of your email campaign? Jeremy Moser of PR &a...
Read Story