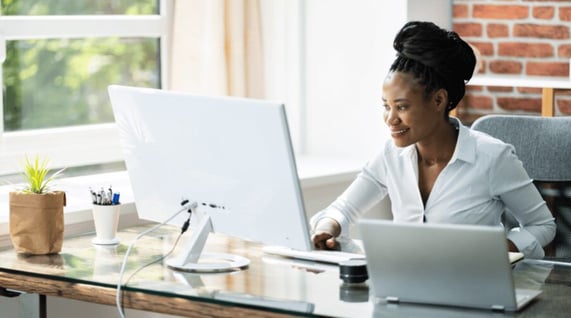 4 B2B Email Marketing Examples to Help You Boost Engagement 
Email works. Whether you're marketing to consumers or to other businesses, email can be a revenue-driving force. However, lots of marketers find it hard to create compelling email campaigns. To help make things easier for you, below we analyze four B2B email marketing examples and show you why they work.
One hundred and forty-three minutes. That's how long the average person spends checking email on a typical workday. You can see why every other company out there is trying to get your email address. It's where they have the highest chance to connect with you.
Reaching a prospect in their inbox gives you tremendous opportunities. Email is intimate and allows you to:
establish a more genuine connection with your audience
build trust and familiarity more quickly than other channels
market and sell on repeat with the right strategy.
Sounds great, but how do you accomplish this if you're a B2B marketer?
How do you make your emails fun and engaging?
What tricks would make a difference in your metrics?
It takes work, but it's all within your reach. The most successful B2B email marketers rely on persistence and learning the fundamentals.
First, let's understand what defines the B2B space, then take a look at some B2B email marketing examples that we can learn from.
What is B2B email marketing?
Business-to-business (B2B) refers to commerce that takes place between two businesses. Instead of selling to consumers (B2C), a B2B company sells its products or services to another company.
ZeroBounce is a great example of a B2B SaaS (Software-As-A-Service) company. It sells email validation software and deliverability tools to companies that send mass emails and need to make sure they reach the inbox.
B2C and B2B email marketing have the same rules
B2B email marketing uses email to communicate, market and sell goods or services to other businesses or professionals.
Although different in strategy and approach, B2C and B2B email marketing operate under the same rules.
The goal is to:
build brand awareness, authority and trust
nurture prospects throughout their different buying journeys
increase sales and contribute to customer retention.
B2B email marketing examples you can steal
So, if B2C and B2B email marketing have the same rules and goals, how are they different?
Should B2B emails sound more professional?
Perhaps have more text than images – or no images at all?
Should you send them less frequently?
All of these questions are valid, and to better answer them, I reached out to a few experts. Their insights will come in handy, so let's see what they say and take a look at a few B2B email marketing examples.
#1. InvoiceBerry: B2B emails should use the same tone of voice as B2C emails
For the longest time, B2B communication was expected to sound "professional." Understandably, businesses wanted to create the impression that they were trustworthy and they did that through language that often came across as dry and boring.
Things have changed, and a conversational tone has become more prevalent in the B2B space. You probably get a lot of B2B emails that sound just as if an acquaintance wrote to you.
InvoiceBerry, an online invoicing platform, follows this tone of voice successfully. They use a more casual approach so that more people can relate to them.
"We cater to small and medium-sized businesses and we decided early on to use a similar emailing approach as you'd expect when facing consumers. After all, the business owners and decision makers that read our emails are humans, too," InvoiceBerry founder and CEO Uwe Dreissigacker told me.
He went on:
"We removed any corporate-sounding language and decided to use colloquial language, just the way we'd talk to each other within the team. This might go as far as attaching a funny, and obviously safe-for-work, GIF to an email. Colleagues within the company would do just that. This way we keep having a relatable and approachable feeling in our campaigns."
Case in point – take a look at one of the emails I received from InvoiceBerry: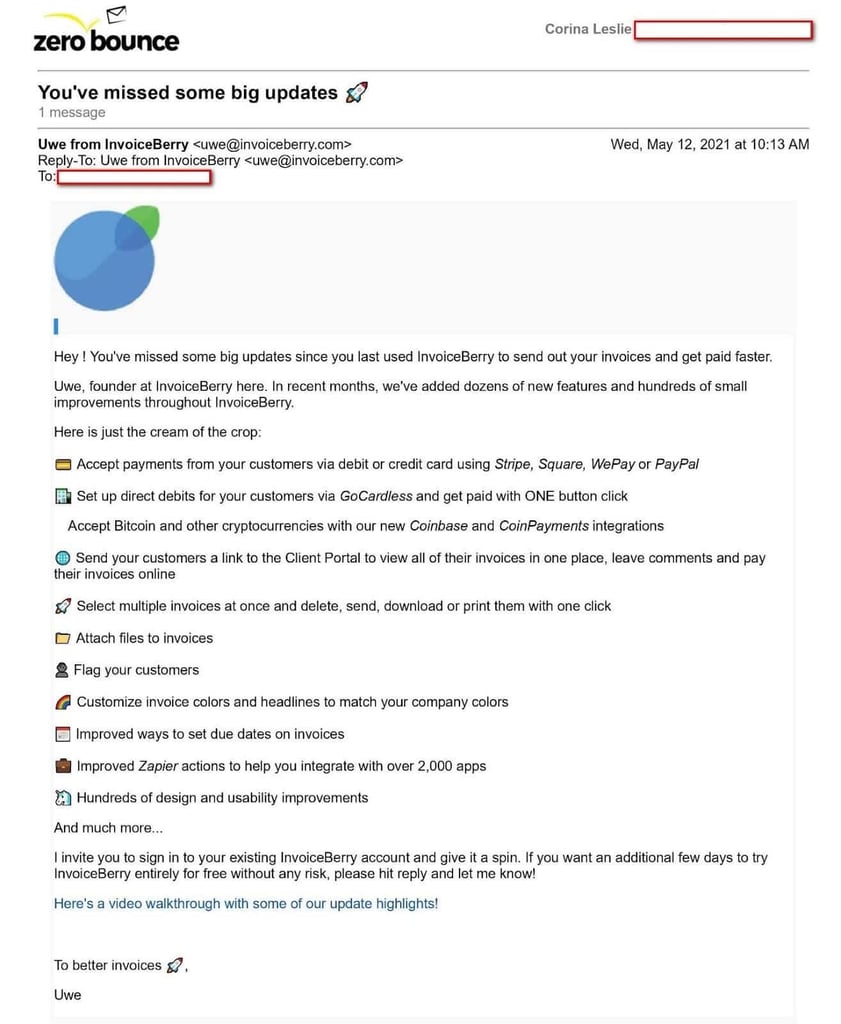 Related: How to Find the Right Email Tone of Voice for Your Brand
What makes this a great B2B email marketing example:
The subject line starts with the most effective marketing word you could use: "you." The reader almost always connects with "you" because it feels like a dialog.
It also manages to pique my curiosity and create some subtle FOMO. I'm wondering what I've missed, so I want to click and find out. Curiosity is a powerful emotion, especially in marketing.
Then, you'll notice Uwe introduces himself, so this email is coming from no other than the CEO of the company. I'm already feeling more connected and I'm likely to remember this gesture the next time InvoiceBerry emails me.
Without wasting my time with lengthy intros, Uwe gets straight to the point and lists each of the updates in such a fun manner. The emojis help a lot and I'm inclined to go through every line because the copy is easy to read.
Towards the end, Uwe invites me to write him back if I want to continue using InvoiceBerry for free for a while. Replies help to improve email sender reputation, so encouraging them is a smart move. In fact, not allowing a reply is insulting.
Finally, he links to a video summarizing some of the updates, thus serving people who prefer to consume content via this medium. Many people are overwhelmed with things to read, and are thrilled if you give them the option to listen.
There's not one thing that I'd change about this email. It's relevant, relatable and likely to get me to engage. There is nothing intimidating about it, even though it communicates so much.
So, keep in mind that not everyone has the same vocabulary. Will using big words impress your readers? Mostly not. It doesn't do any favors to you or your audience.
#2. Emily Ryan: Brands should have more fun with email designs
Next, I reached out to Emily Ryan, founder of marketing agency Westfield Creative and Mailchimp Pro partner. Ryan has sent thousands of emails on behalf of her clients, many of which operate in the B2B sector.
She brought up something many companies wonder about: the design of B2B emails. Ryan's advice completely demystifies anything about email design that you're uncertain of.
"I always encourage brands to have more fun with their email designs. I see a lot of companies worry that their emails need to stay professional, but the more fun you can have, the more likely people will continue to subscribe," Ryan told me.
She also shared this B2B email example from Postable.com: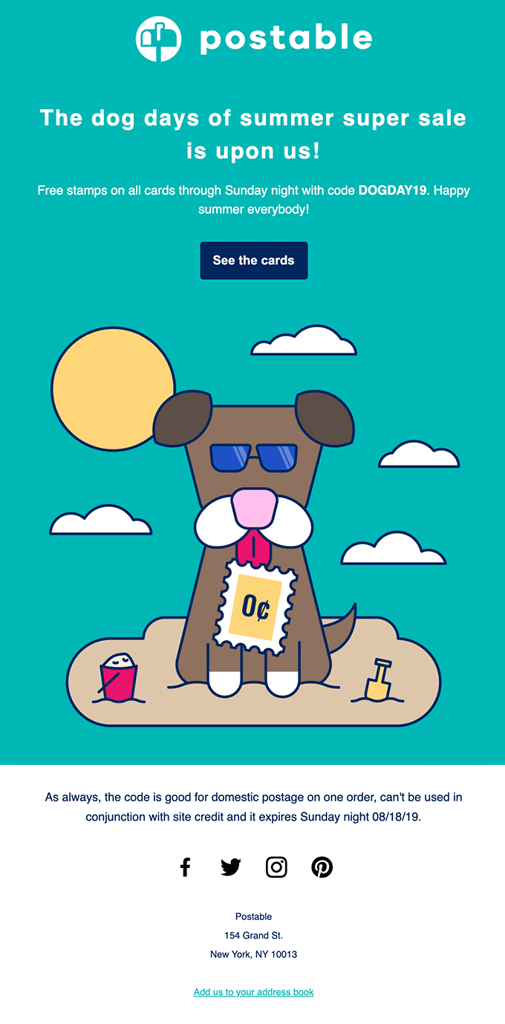 "Their emails always have a funny GIF, bright colors and they're very simple – a headline, an image, and a button. Playing around with your brand colors is always a great idea too (don't be afraid to use neon or bright colors as a background!)," the email pro added.
Why this is a great B2B email marketing example:
The cute dog.
The fresh, vibrant colors that draw you in and make you want to spend some time reading this email.
The copy is short, snappy and engaging. I got all the info I needed within just a few seconds.
Have I mentioned the dog?
"If you want your emails to stand out in the inbox, focus on fun, casual and simple," Emily Ryan suggests. "Those will always convert better than the long, wordy (and dare I say "boring") newsletters."
Looking at this email example from Postable, you may realize how many email marketers overthink things. What if you can simplify and make it fun? And consider being boring one of the biggest disasters to avoid. Nobody should find your emails tedious. It's one of the main reasons people tune out.
#3. Prowly: What works for others may not work for you
As a PR and media relations platform, Prowly uses email to send lots of educational content. Their weekly newsletters are packed with solid info curated from the company's blog and other sources. Since they manage to engage me every time, I reached out to the creator of Prowly's emails, Kamila Hanson.
She shared an experience that may surprise many marketers.
"I'm sure you've stumbled upon articles and studies saying that including emojis in your email subject lines will increase open rates. I thought I'd do the same with Prowly's audience to lighten up our emails a bit. To our surprise, we found that the open rate for subject lines with emojis dropped by almost 15%! Same exact copy, just an emoji added," Hanson said.
What makes this a great B2B email marketing example:
First, it busts a myth that most of us believe as we see it reiterated in every other study out there. Emojis make your emails catchy and fun, they say, so use them as often as you can. In reality, it depends so much on the audience. There are some brands where an emoji may seem off-putting.
The fact that it comes from a person ("Aleksandra") is a plus as it humanizes the brand.
Now, why did Prowly's open rates go down on the email that included the emoji? Pure speculation, but it may have come across as spam. Deliverability experts advise to:
Stay away from using Caps Lock in your copy, especially in the subject line.
Avoid using too many exclamation points. Using one, like in this example, is alright. However, combined with the other elements (the capital letters and the emoji), the email might have seemed suspicious.
One thing is sure: Prowly got some great feedback on what its audience resonates with.
"This was a really valuable lesson for me, especially in terms of getting to know your specific target audience. What works on the majority may not work for you, so in my experience testing is the only best way to find that sweet spot," Prowly's Content and UX Writer Kamila Hanson concluded.
There is not a "one size fits all" approach to everyone's email marketing strategy. Sometimes going against the grain can yield surprising, but winning results.
#4. MuckRack: Focus on the benefit you're offering
Ask any copywriter and they'll tell you: a golden rule for writing copy that converts is to focus on the benefit, not the features.
If you take a look at this B2B email example from MuckRack, you'll see that's exactly what the company does.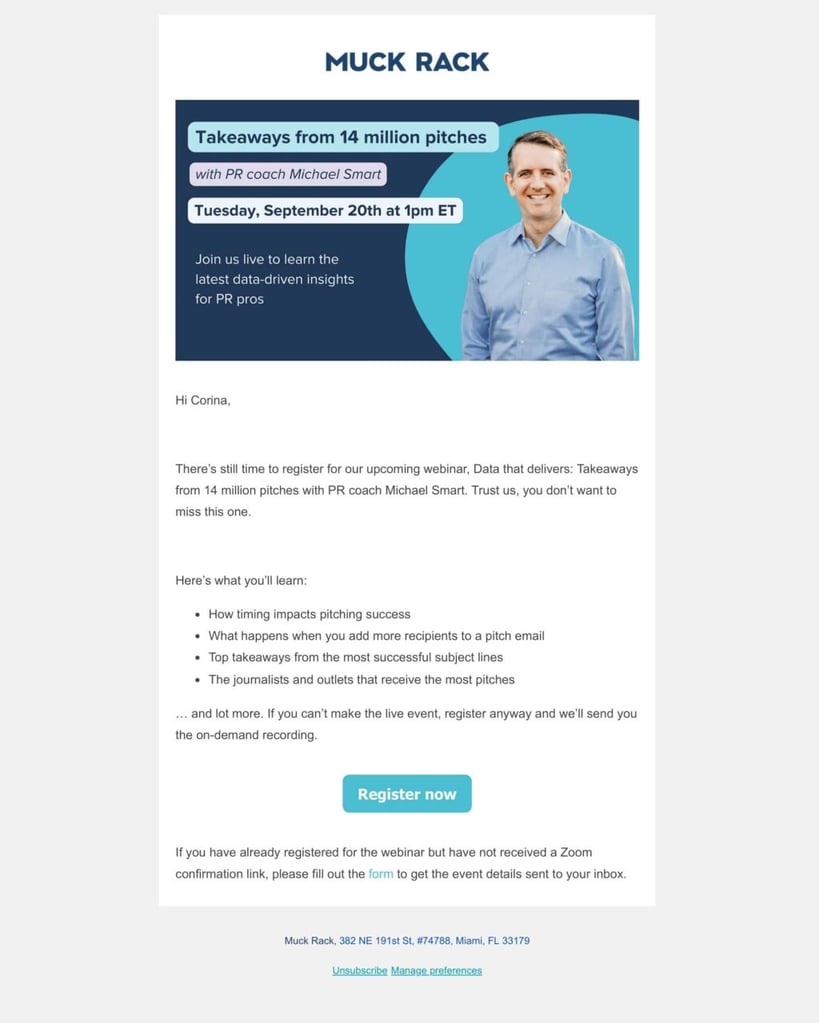 Right away, I'm intrigued by that number: 14 million pitches? As a PR pro, I'd love to learn what useful data MuckRack has distilled for me. Also, you'll notice other elements that make this email engaging.
What makes this a great B2B email marketing example:
MuckRack did a great job highlighting their key selling point. They analyzed no less than 14 million pitches to help PR professionals up their game when reaching out to the media.
Notice the personalization – the first line includes my name. While personalizing an email can go way beyond that, you have to appreciate this basic gesture.
Once it introduces the topic, most of the email focuses on the benefit of attending the webinar. I get a clear idea of what I'll learn – and my eyes go straight to the bullet points. (Tip: Use bullet points in every email that's longer than 100 words.)
It also helps that I know who Michael Smart is, but this B2B email would have converted me either way.
How to help your B2B emails arrive in the inbox
Are you already feeling inspired to start creating your own emails?
Email marketing is exciting, and it's extra satisfying when it works. Creativity and consistency are at the core of good email marketing, but first, you have to make sure your campaigns land in the inbox.
So, before you hit Send, take a moment to assess your email list. When was the last time you verified it?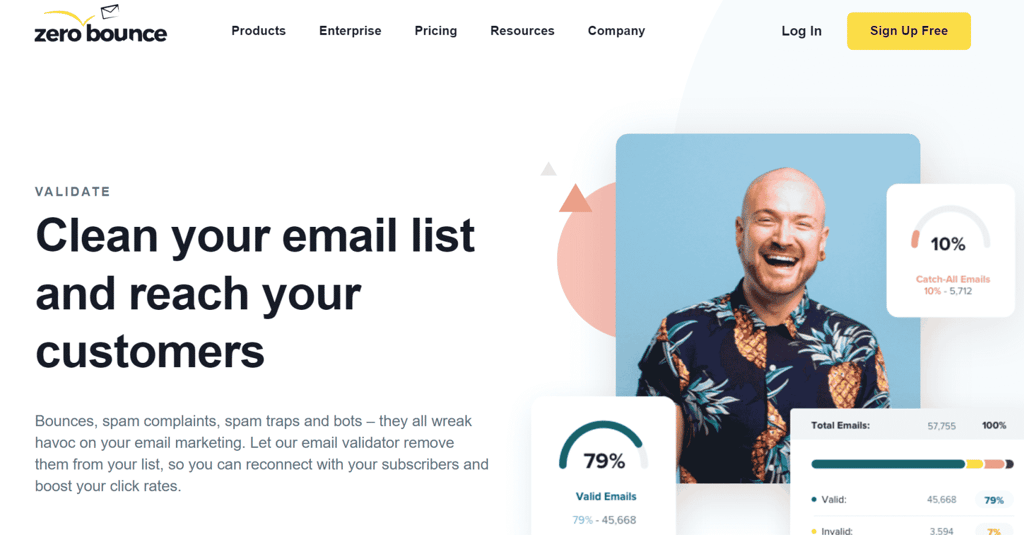 On average, about a quarter of your email list degrades every year. At ZeroBounce, we found that 30% of our database churned in the past 12 months. Data decay has accelerated during the pandemic, and The Great Resignation trend only adds to that.
Using an email verification service is thus a must if you want your emails to get into the inbox. It takes only minutes to scrub your email list and prevent bad data from sabotaging your results. 
Types of B2B email marketing
Next, let's talk about the types of emails you can send as a B2B email marketer. Are there any limits as opposed to B2C? Absolutely not.
B2B email marketing can include a variety of messages, depending on:
where your customers are in their journey
the campaigns you plan for each quarter
and the goals and KPIs you set for your email marketing.
If you have a B2B company but have never engaged in email marketing, here are the first two steps you can start with
#1. Launch a newsletter
It's a great way to break the ice. Newsletters are an inbound marketing tool and focus on educational content, so strive to create emails that address and solve common issues in your industry. That's how you build brand authority and pave the way for sales emails.
#2. Create a welcome email
Did you know that welcome emails get the highest engagement? Studies show that their open rate hovers around 50%, which is more than twice the average email open rate across all industries. People have come to expect a welcome email from companies, so make sure to set one up.
Once you start building some engagement, you can add any other type of email to the mix:
product update emails
dedicated sends to specific segmented groups
Bonus tips to make your B2B email marketing work
As you can see from the examples above, B2B email marketing isn't that hard to master. The most important thing to keep in mind is to talk to a person, not a business. So, when you write your next email, think about your ideal customer. Try to visualize them in the flesh.
How would you talk to them?
What would you tell them?
Using this premise will help you sound authentic and honest. Always keep in mind that your intended audience is a live person. So what is the best way to convey humanity? Authenticity.
Before you go, here are a few extra tips to use in your B2B email marketing:
Prune your email list every few months. Removing old, bad data is a must if you care about your email deliverability. Keeping dormant readers or fake emails has no upside.
Use double opt-in to grow your list of contacts and never add any subscribers to it without permission.
Metrics tend to be lower for B2B emails, so don't panic if your engagement isn't that high. Keep testing different elements of your emails until you find exactly what your audience likes.
Finally, keep at it. Be consistent. No matter how great your content, it won't bring you results unless people see it regularly.
Frequently Asked Questions About B2B Email Marketing
What is B2B email marketing?
B2B email marketing refers to a series of marketing emails sent by a business to another business. B2B email marketing can include newsletters, welcome emails, drip campaigns and special offers. 
Is email marketing good for B2B?
Email marketing is one of the most effective ways to engage your customers and prospects, and make more sales. Business to business (B2B) email marketing focuses on providing useful information that nurtures subscribers into making a purchase. 
What are B2B email marketing tools?
B2B email marketing tools support a business in creating and sending marketing emails to another business. A reliable email service provider will allow you to build and send B2B emails, and measure their performance by analyzing key metrics such as open rate, click rate and conversions.
What is a good B2B email strategy?
Every business determines its B2B email marketing strategy, depending on industry and audience. The best way to develop your B2B email marketing strategy is to analyze your audience and pinpoint what it responds to. Sending useful, relevant emails is always a reliable way to engage your subscribers.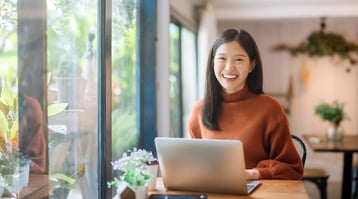 Should you use GIFs in emails? It depends on your brand and what you want to communicate. Marketing strategist Lesley Vos has all...
Read Story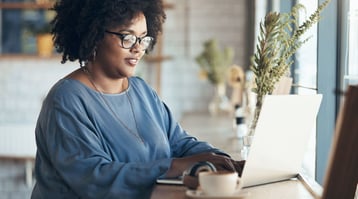 Struggling to grow your email list? Many marketers and business owners are. Worry not – these newsletter signup form examples a...
Read Story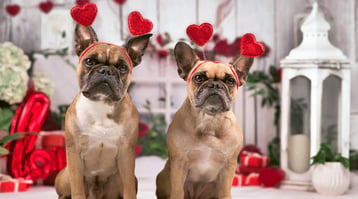 Valentine's day is just around the corner and you are finalizing the last details of your email campaign? Jeremy Moser of PR &a...
Read Story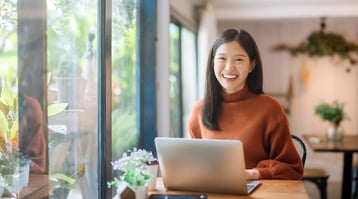 Should you use GIFs in emails? It depends on your brand and what you want to communicate. Marketing strategist Lesley Vos has all...
Read Story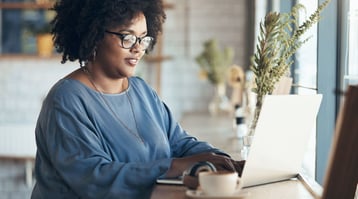 Struggling to grow your email list? Many marketers and business owners are. Worry not – these newsletter signup form examples a...
Read Story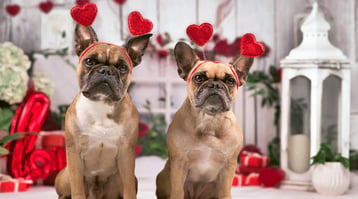 Valentine's day is just around the corner and you are finalizing the last details of your email campaign? Jeremy Moser of PR &a...
Read Story