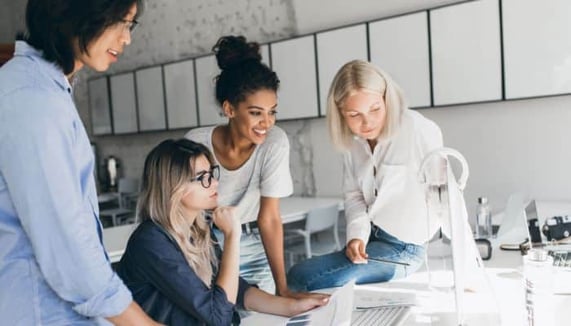 5 Examples of Irresistible Email Subject Lines for Event Invitations
Is your company organizing a conference or celebrating a special anniversary? Then you have to get the word out! Email is your friend, but how will you get people to engage? It all starts with the first few words you write. Patty Yan of RingCentral shares some tips below, along with five useful examples of email subject lines for event invitations.
Email marketing isn't showing any signs of slowing down.
With an estimated 4.4 billion email users by 2024 and an average ROI of $42 for every dollar spent, it's a medium worth adopting. While you may rightfully be looking at other marketing channels too, email marketing and retargeting should remain an integral part of your campaigns.
Your ultimate target is a good conversion rate from your emails. The first step toward this is getting customers and prospects to open and click.
The average open rate is between 21% and 25%, according to several studies. So, how do you reach that figure – or even exceed it?
Subject lines can make or break your metrics. That's true for all emails, including those that are promoting a special event for your company. A poor subject line may result in total silence from your audience. A good one can start you on that path to conversions.
In the article below, we look at some of the best email subject lines for event invitations so you can improve your performance.
One thing to consider before you think about subject lines is how clean your email list is. Are there people on it who've never opened an email? Bounces and spam complaints can damage your stats, so it's always worth cleaning up your email list before a new campaign.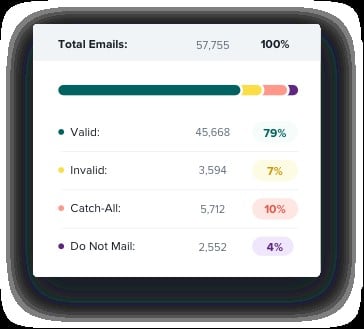 Why you should polish your event invitation subject line
On average, people receive 121 emails every day. That's a lot, and nobody is going to open all of them. What most of us do is glance at the subject line to see if the email interests us. This is where your opportunity lies.
Many emails are consigned to Spam or deleted. This is why your event invitation subject line is so important. It's what catches attention and makes the receiver consider opening it. Without an impressive subject line, your event invitation email may disappear into the ether.
The whole idea of your invitation's email subject line is to make the person think: "I want to know more." If you read a subject and don't get that impression, you need to rethink how you're doing it.
The tagline needn't tell you everything, but it should reveal enough to intrigue, interest and make you open the email.
Think about the message you're trying to convey. For example, if you want people to learn about better online team collaboration, a phrase such as "Increase your staff's productivity today" may be enough to capture a manager's attention. There has to be a clear connection between the subject line and the contents of the email.
Consider invitation subject lines as the email equivalent of window dressing in a physical store. It's often a window display that tempts customers to enter. So it is with subject lines: a well-crafted one will entice the recipient to open the email and see what it contains. Always make it relevant to both the reader and the content.
Dos and dont's of event invitation subject lines
Of course, what your subject line says will depend on your brand and what you're trying to communicate. The tagline and your call-to-action (CTA) are the most important components in your event invitation email, so following certain rules can help you get them right.
The people you're targeting and what you have to offer are two things you need to focus on when constructing your subject line.
If you're sharing a useful resource, for example, then you need to be sure email recipients have an interest in the subject and that it's clear as to what your content contains.
Let's take a look at some golden rules.
Don't make your subject line too long
Believe it or not, there are people who try and put the whole email in the invitation subject line. It's not only annoying, but impossible to read for the 1.7 billion people who access emails from a mobile device. A good rule of thumb is to limit the subject line to around 40 characters.
Avoid clickbait
The last thing your audience wants is to see a captivating subject, only to discover the contents of the email bear no relation to that clickbait line. If people find your tagline misleading, not only will they delete the email, but they may never open correspondence from you again.
Don't ramble
If you're going to adhere to that roughly 40 characters rule, you don't want to waste a single one of them. While personalization is good, there's no need to waste characters with add-ons such as "dear" or "hey." Keep it short, simple, interesting and concentrate on writing a quality subject line.
Consider your demographic
Let's assume you've already segmented your email list. While it may seem tiresome to construct different invitation subject lines for different segments, it makes sense.
For example, using emojis in a subject line may be effective for younger target audiences, but it probably won't have the same effect on a more mature segment. Think about who you're talking to and adjust to suit.
Create a sense of urgency
Creating a sense of urgency in your subject line is a highly effective tactic. However, that doesn't mean you should use it all the time or people will get fed up and it will lose its efficacy. Keep this back for your most important campaigns. Words and phrases can vary, but include things such as "act now," "time-limited offer" or "last chance."
Emphasize promotions
As with urgent subject lines, this shouldn't be overused, but it is a great way to highlight special campaigns if your email is pushing a genuine promotional event.
For example, if you're running a seven-day sale offering 25% off the cost of a customer experience platform, highlighting these offers in the subject line (e.g. "save up to $XXX today") can be effective.
Be informational
Perhaps you want to promote an event that's educational, such as a webinar. In these cases, tailor your subject line to the interests of your target audience and what's happening during the event.
For instance, if you're presenting a webinar on improving productivity in a remote work environment, then highlighting the subject and any guest speakers is a good tactic to pique interest and get your email opened.
Inject emotional appeal
This won't work for all campaigns or brands, but it can be effective in some scenarios. If you're running a fundraising or charity event, then an emotional appeal can be the ideal approach.
Use simple phrases such as "Help save these condemned dogs." For a ticketed event, combine this with a sense of urgency by using phrases such as "Tickets selling fast."
Five great event invitation email subject lines
It can be helpful to see some real-life examples of what a good event invitation subject line looks like. Knowing how companies use subject lines, in combination with this guide, should mean you're soon constructing your own irresistible intros.
Example #1: Meetups this week with: Marketing Technologists, Web Developers

Organizing specialist events will appeal to a niche audience. By customizing your invitation subject line to a particular profession or job, you thus increase interest. This approach can be great when you host multiple events and want subscribers to know your forthcoming schedule. Thus, they can pick which of these they'd most like to attend.
Example #2: Thanks for coming to Design+ Ethics! Check out professional shots from the event

Targeting attendees of an event that's already happened can be a good way of pointing them in the direction of future events and showing appreciation for their attendance. People like seeing photos and summaries, with anything that involves them automatically piquing their interest. This provides a great opportunity to garner feedback regarding what they thought about the event too.
Example #3. GDPR: Are You Ready…? The Countdown Begins!

If there's something major happening regarding compliance or regulatory requirements, then people want as much info as possible – especially when it's a complex issue. Creating a sense of urgency is ideal and highly effective in this sort of scenario, as there are often deadlines for when such requirements will come into force.
Example #4: Fitbit is 10: A note from our founders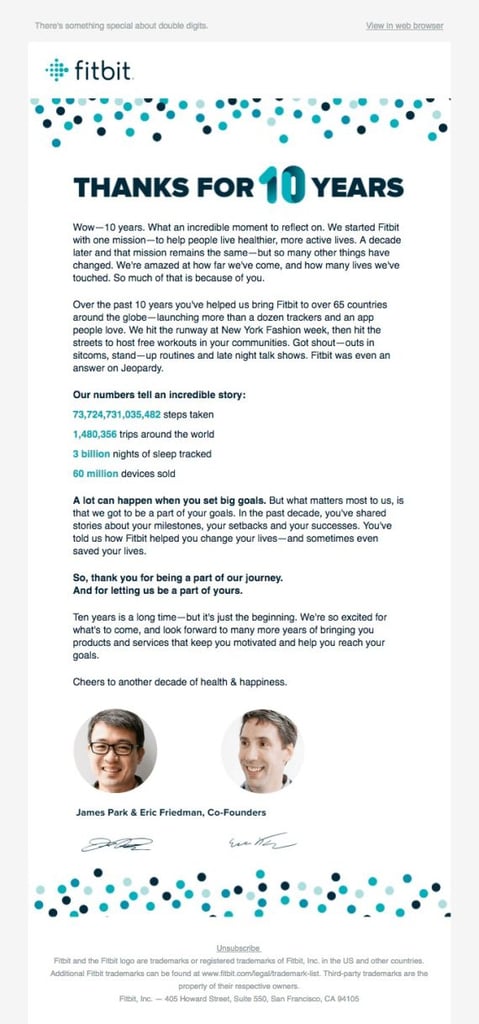 If your business is celebrating an anniversary, this offers a great opportunity to expand your marketing. Special offers can be an ideal click-through tactic to add to these emails. This can be an excuse to spread brand awareness, let people know about your company values, or simply thank customers for their loyalty.
Example #5: Registration is now open for Next '19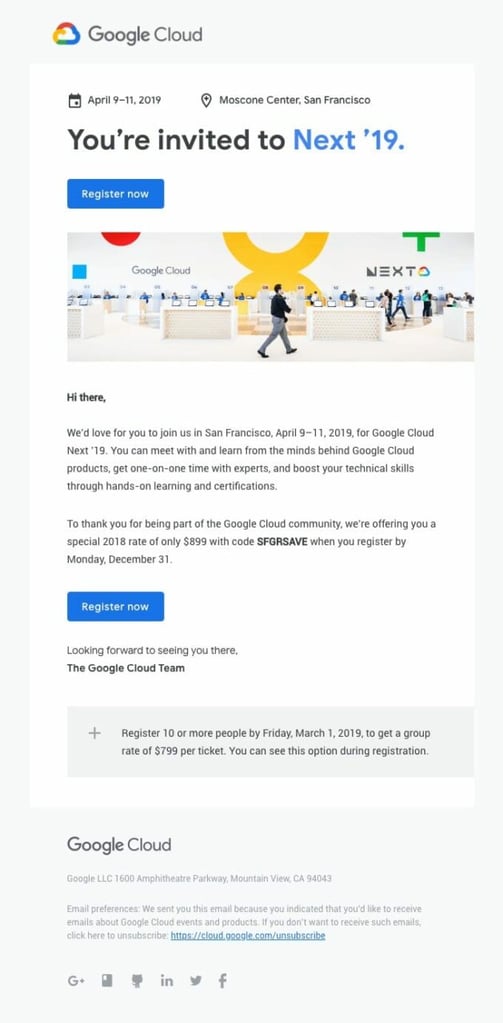 Creating a sense of urgency has always been an effective sales and marketing tactic. This type of event invitation subject line can then lead to more info in the email and communicate the idea the event will be in demand. This is useful for driving demand for both virtual and physical events.
These subject lines demonstrate many of the ideas we discussed above. Each of them makes you want to know more, leading you to open the email, read the content and click the links for more info.
Taking the time to construct a well-thought-out subject line can therefore lead to dramatic increases in your open and click-through rates.
Clean and segment your list for the best results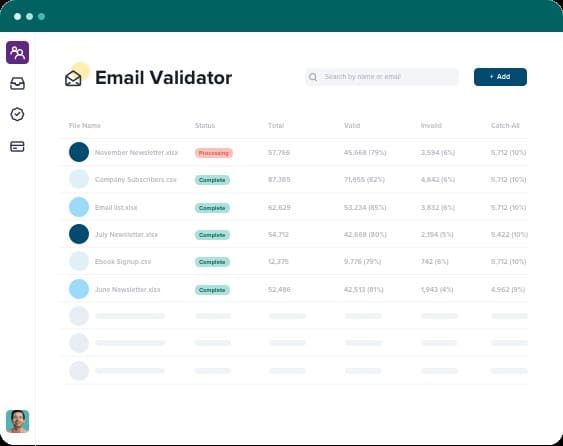 With such a significant ROI, you should see email as a crucial part of your marketing strategy. However, to get as much as possible out of your mailing list, make sure to check it before you send your event invitation.
Once you have a clean email list and understand the value of each recipient, you can look at segmentation. This may be done by age, geographical location or any other factor you consider important.
With all of that taken care of, you can then start thinking about those all-important subject lines and how to ensure a high open rate.
Author: Patty Yan is the EMEA Product Marketing Manager for RingCentral Office, the leader in cloud communications solutions for SMEs and call centers. Patty is passionate about creating value and differentiation, ensuring a better experience for customers and partners. She gained a wealth of international product marketing, product management, GTM, and market development experience, across a range of high-tech SaaS in a fast-paced, hyper-growth environment that assumes both strategic and tactical execution. She is not new to UC, starting in Tandberg, then Cisco, driving the launch of video collaboration and services, and Enghouse with global responsibilities for hosted CCaaS.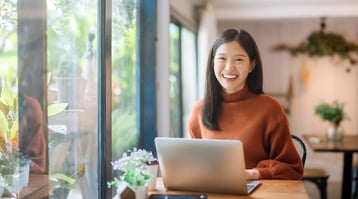 Should you use GIFs in emails? It depends on your brand and what you want to communicate. Marketing strategist Lesley Vos has all...
Read Story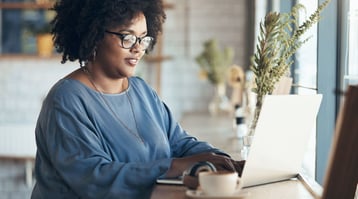 Struggling to grow your email list? Many marketers and business owners are. Worry not – these newsletter signup form examples a...
Read Story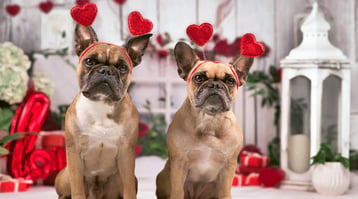 Valentine's day is just around the corner and you are finalizing the last details of your email campaign? Jeremy Moser of PR &a...
Read Story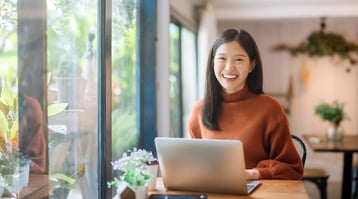 Should you use GIFs in emails? It depends on your brand and what you want to communicate. Marketing strategist Lesley Vos has all...
Read Story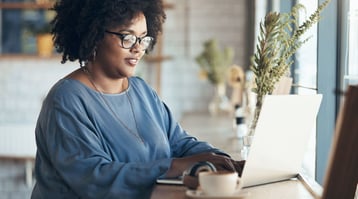 Struggling to grow your email list? Many marketers and business owners are. Worry not – these newsletter signup form examples a...
Read Story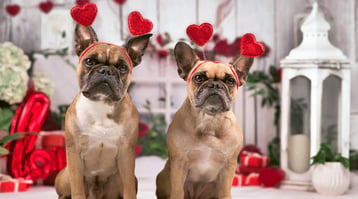 Valentine's day is just around the corner and you are finalizing the last details of your email campaign? Jeremy Moser of PR &a...
Read Story