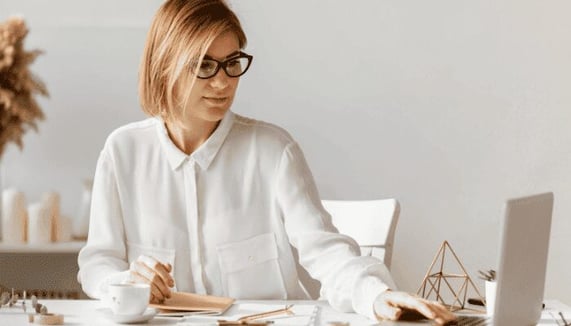 Email Newsletters: Why They're In Again – And How to Get Them Right
Our guest author Mark Quadros tells you why email newsletters are cool again and shares some easy-to-use tips to get them right.
The next time you come across a headline that says "email is dead" from a leading business magazine, do yourself a favor and don't click through.
Because with more than four billion email users worldwide, email marketing is anything but dead.
Email newsletters are the most-used type of content marketing for 81% of B2B marketers. Furthermore, 31% of businesses consider newsletters their highest-performing lead generation tactic.
So, email continues to be a powerful marketing avenue for brands to use, despite the arrival of other instant communication tools and digital marketing platforms.
In this article, you'll learn why email newsletters, in particular, are here to stay in the world of email marketing. What's more, you'll learn:
the different aspects of email newsletters as a strategy
how you can start creating branded email newsletters to better connect with your audience.
Why email newsletters are making a comeback
Here are three key reasons why email newsletters – considered by some as a marketing underdog – have been making a strong comeback in the past few years.
#1. More newsletter design options
Gone are the days when email newsletters were limited to bland, purely text-based copy slabs.
Today you have plenty of tools and options to create an elaborate newsletter packed with visuals and action buttons to entice more click-throughs.
For instance, check out how food delivery service Caviar's newsletter includes a witty GIF, text copy with emojis, a bright CTA, and social media buttons.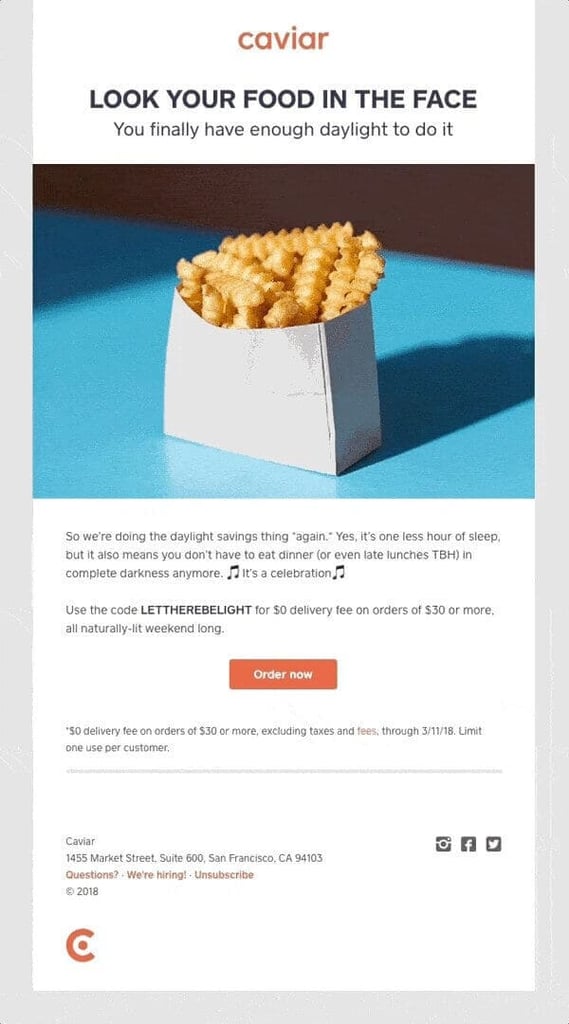 That being said, there's nothing wrong with a purely text-based format, and they can still work well.
For example, below is a no-nonsense, simple-text newsletter from MailCharts to new subscribers sent straight from the co-founder.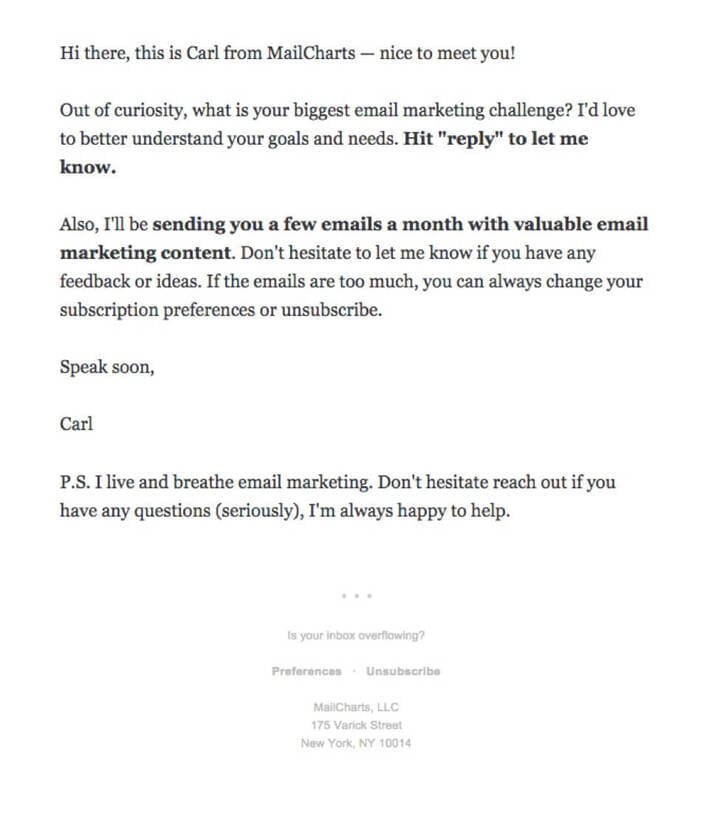 It sets clear expectations about the email frequency. Also, it encourages engagement by prompting recipients to hit "reply" to share their most prominent email marketing challenge or any ideas/ feedback.
Couple this with the subject line they used: "How can I help you with email marketing?" This short and simple newsletter is compelling enough to solidify trust and humanize the brand.
This goes to show how even the simplest of newsletters wield tremendous marketing power.
#2. It creates a direct relationship
An email newsletter helps create a more personal relationship between your business and its customers. This is evident in the MailCharts example we discussed above, where the company's co-founder talks with new subscribers one-to-one. Email personalization, even within your newsletter, can create an impact with your customers.
A newsletter is an ideal channel for brands to share raw and honest thoughts with their customers or leads, who in turn enjoy receiving such content from brands they appreciate. Email newsletters help to build more customer loyalty and can translate to more repeat sales.
#3. It goes hand-in-hand with email marketing
Does your business already engages in email marketing – say, in the form of sending promotions and discounts to a subscriber list using marketing automation? Then integrating a weekly or monthly newsletter can further improve your email marketing efforts.
Instead of sending only promotions, use the newsletter to provide actionable information that addresses their problems. If you sell skincare products, you can use your newsletter to share daily skincare tips.
Your audience will appreciate how your emails are more than mere ads for products. The more valuable your content is, the more loyal your audience will be to your brand and can boost customer retention in the long run.
The benefits of an email newsletter strategy
Anything successful starts with a strategy, and if you're wondering why you need an email newsletter strategy, here are three key reasons.
#1. It provides direction
Sure, you can send a promotional email now and then and call it a day, but that's not how you'll get tangible results from your email marketing efforts.
Take the time to chalk out an email newsletter strategy, which includes:
defining your target audience,
segmenting them for personalization,
deciding the types of content to send and at what frequency,
split testing the design and copy, and more.
An email newsletter strategy also includes establishing what success looks like in terms of concrete metrics. Think about your email open rate, CTA click-through rate, email list growth rate, and overall ROI.
Having these metrics handy can also take your insights and customer engagement strategy to the next level.
Not to mention it's essential to assess and understand your market's long-term needs. That helps to create a sustainable strategy that continues to hit your goals while minimizing waste of your marketing budget.
#2. It leads to a better marketing strategy
A well-defined email newsletter strategy helps improve other areas of your digital marketing strategy.
Based on the email content that's well-received, you can pivot and build your content marketing strategy to better accommodate your audience's preferences.
For example, you can build your content curation efforts if you notice this strategy worked before.
Or, if promotional emails with a particular landing page design are performing markedly better than others, then maybe it's time to incorporate that design for your PPC and social media ad campaigns as well.
And so you can use your email marketing strategy to optimize your overall online marketing efforts.
#3. It builds your data and insights
As Peter Drucker, the influential management consultant and author, famously said, "If you can't measure it, you can't improve it."
With an email newsletter strategy, you have the data you need to track the effectiveness of your email marketing efforts. Without a strategy, you have limited insight into what's working and what's not.
Conversely, with a defined strategy, you have access to detailed information that helps you continuously tailor your efforts to drive better results, whether it be optimizing your subject lines (as WPForms does below using ultra-specific success numbers) or including a bolder CTA.
Why your customers prefer newsletters
The business potential of a well-thought-out email newsletter is clear. Here's what's in it for your customers.
#1. Mobile-friendly and easy to consume
There are well over 3.6 billion smartphone users globally, which translates to 48.37% of the world's population owning a smartphone (not counting other mobile devices like tablets).
Not everyone likes social media, but nearly everyone has an active email. And email is inherently easy to consume on mobile, with people checking their inboxes on the go, in the loo, and everywhere in between.
Newsletters are a convenient way for consumers to receive and digest helpful information, such as news, daily tips & tricks, curated articles, and so on.
#2. Customizable as per your audience's tastes
Besides sending email campaigns about product launches, special offers, and seasonal discounts, newsletters enable customers to receive great content straight in their inboxes.
As different sections of your audience likely have different tastes, you can segment your subscriber list and tailor your newsletter content to individual segments.
Let's look at some of the things you can focus on.
Creating bite-sized newsletters for daily consumption
If a section of your audience consists of ultra-busy, always on the road executives, sending out bite-sized newsletters for quick consumption is a good bet. Check out how Yesler, a B2B marketing agency, sends out a monthly content roundup and gets the most from their B2B newsletter.

The scrollable, one-column design looks neat on mobile. Plus, the sections are easy to navigate and are all centered around a singular focus: data.
Creating long-form content for the keen readers
On the other hand, what if a chunk of your audience consists of individuals with more time on their hands (such as retired people) or avid email readers? Then, sending in-depth content makes sense – either as full-fledged articles in the email itself or links to posts of interest on your website.
Well-designed newsletters stay out of the spam folder
Take a look at your spam folder, and you'll likely find many promotional branded emails. Why did they end up there?
Here are a few common reasons for emails going to spam:
Spammy or misleading subject lines
Absence of unsubscribe link and the business physical address
Unsafe attachments
Erroneous copy with spam trigger words
You haven't given permission to receive those emails
The email design isn't mobile-friendly
Related: Check out our blacklist monitoring tool
Thanks to advances in email systems, spam is automatically identified and filtered. So, as most email inboxes today aren't as overrun with unsolicited junk, customers aren't as wary about signing up for a branded newsletter.
A well-designed newsletter isn't complete without a clear "unsubscribe" button at the bottom. Unsubscribing should be easy and has made email a more honest, user-friendly, and preferred channel for customers.
Now be the bearer of good news-letters
With other marketing channels, like social media and SEO, have gained increasing prominence in the past decade, email newsletters have been put on the back burner by some businesses.
But looking at the clear and compelling reasons above, now you know why that's a big mistake you don't want to make.
As you work on your email strategy, make sure your emails actually reach the inbox and connect with your customers.
Try ZeroBounce's email validator tool to minimize your bounces, boost your open rates, and hit your desired email marketing ROI.
Author bio: Mark Quadros is a SaaS content marketer that helps brands create and distribute rad content. He contributes to several authoritative blogs like HubSpot Sales, CoSchedule, and Foundr. Connect with him via LinkedIn and Twitter.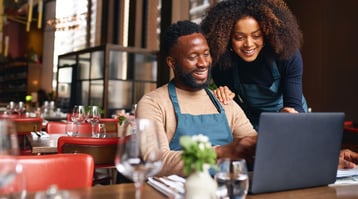 So, you want to build an email list. How do you do it? In this guide, we share all the tactics we know. Tried-and-tested over tim...
Read Story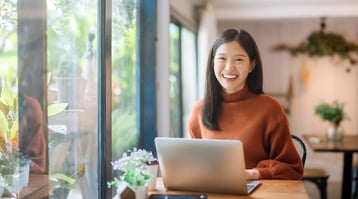 Should you use GIFs in emails? It depends on your brand and what you want to communicate. Marketing strategist Lesley Vos has all...
Read Story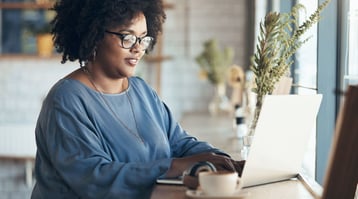 Struggling to grow your email list? Many marketers and business owners are. Worry not – these newsletter signup form examples a...
Read Story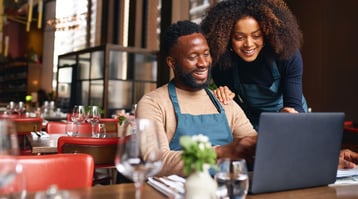 So, you want to build an email list. How do you do it? In this guide, we share all the tactics we know. Tried-and-tested over tim...
Read Story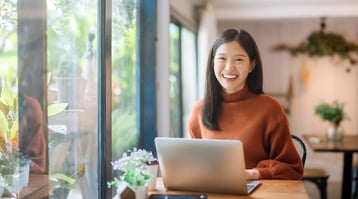 Should you use GIFs in emails? It depends on your brand and what you want to communicate. Marketing strategist Lesley Vos has all...
Read Story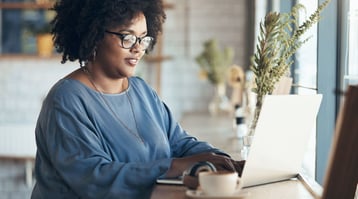 Struggling to grow your email list? Many marketers and business owners are. Worry not – these newsletter signup form examples a...
Read Story