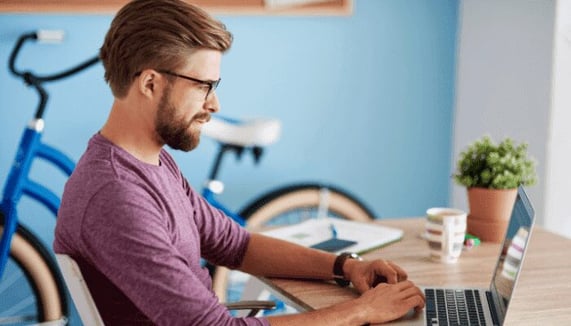 Email Graphic Design: 8 Ways Marketers Can Boost Clicks
Great email graphic design is not only aesthetically pleasing but adds functionality to brand emails. An attractive email can also help you create better connections with your audience.
How can you design email graphics that boost clicks and conversions?
In this guide, Ronita Mohan of Venngage shares best design practices and the top types of graphics to use in email marketing.
7 email graphic design best practices
What does a good email design look like? Here are the top tips for designing graphic emails that will encourage readers to click through to your content.
#1. Create templates
Nobody wants to deal with the last moment scramble to design emails before sending them out.
One way to make the process easier is to design email newsletter templates, like this example.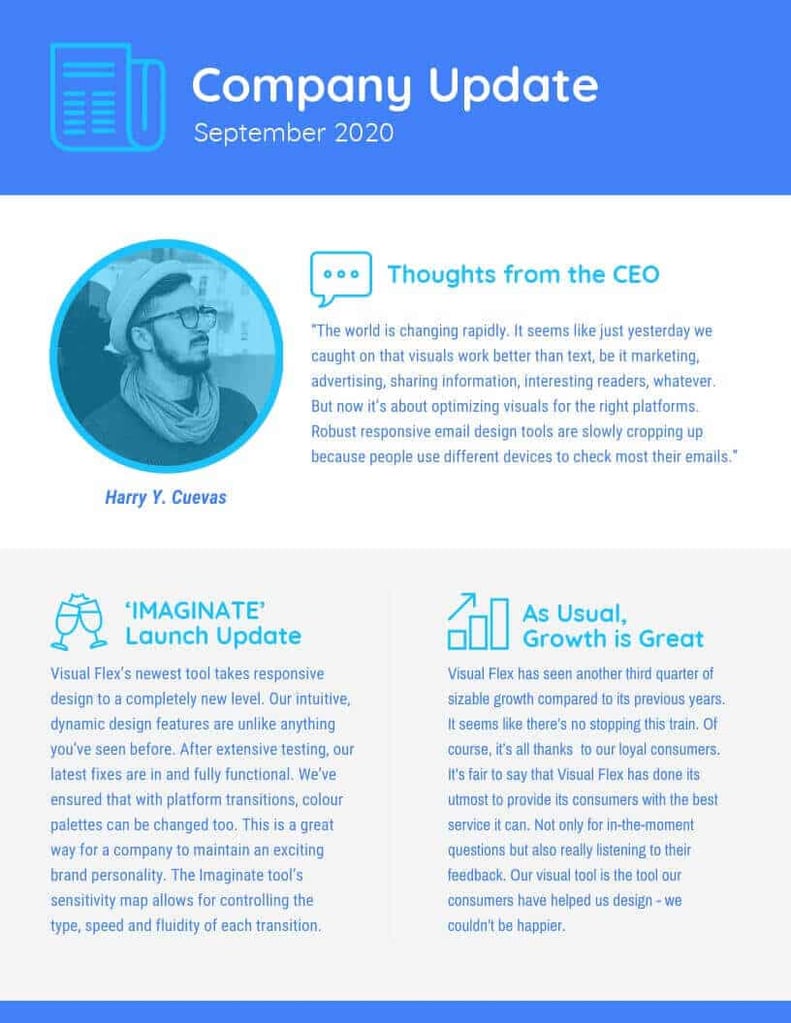 Design a handful of templates that you can repurpose for different email stories. This makes it easier for the marketing team to create emails faster and more effectively. You can create a template online by using an editor and easily re-use it for future messages.
A template can also be expanded as needed when there are more stories to share with your audience.
#2. Structure your email graphic design
The above example highlights the importance of structuring your email graphic design. The distinct sections separate the stories and improve readability.
It's best to alternate the structure of templates for a drip campaign – a reminder email will not need as much detail as the first in a series, after all.
#3. Design an email header
The header of an email is the first thing your email list will see. That is why the email header graphic needs to be memorable, like this example from Remote.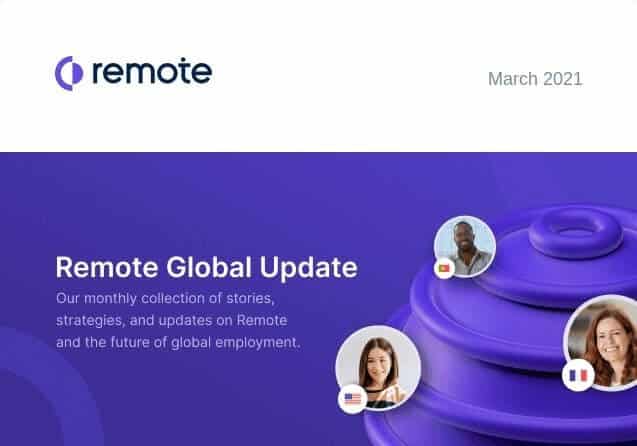 This header works for the following reasons:
The color is striking.
The headline is direct.
The subheading explains what readers can expect.
The inclusion of real faces builds a connection with the audience.
Design a header for your template that you can change according to the needs of your message.
#4. Have a good call-to-action (CTA)
Every email must have a call-to-action. The aim is to encourage users to act on your messages. Look at how Double includes a CTA for each story.

You can limit your email to one CTA. However, it should be prominent, short, and start with a verb. That will give users the impetus to click on it.
It is also advisable to add a UTM code to your CTA. This way you can track clicks from emails and improve your email design for future campaigns.
#5. Don't overlook the footer
The footer of an email graphic may seem like an afterthought, but it is important. This is the section where you include return policies, unsubscribe buttons, T&Cs, and disclaimers.
Sounds boring, but that doesn't mean you can't create an attractive design for the footer, as KidsShoes have done.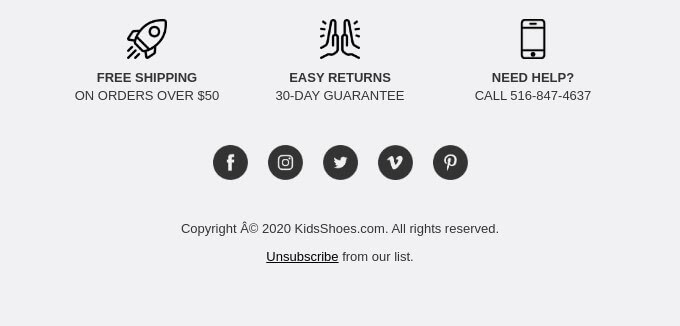 With a few icons, the email design looks more exciting while still being informative.
#6. Brand your emails
Customers get numerous emails every day. What makes your email graphic stand out from the rest? Branding your emails is so important.
Branding includes your company logo, brand colors, and fonts. It's necessary for brand recall and helps build customer loyalty over time.
Maintain consistency by adding your branding to all your emails. So, when users receive your emails, they begin to recognize your email as distinct from all the others.
#7. Use visuals
Great email design needs graphics that illustrate your message. While text emails have their place in email marketing, visuals capture users' attention and incentivize them to read more.
The below example combines product images with a short and simple message to connect to the user. It's an uncluttered email that gets straight to the point.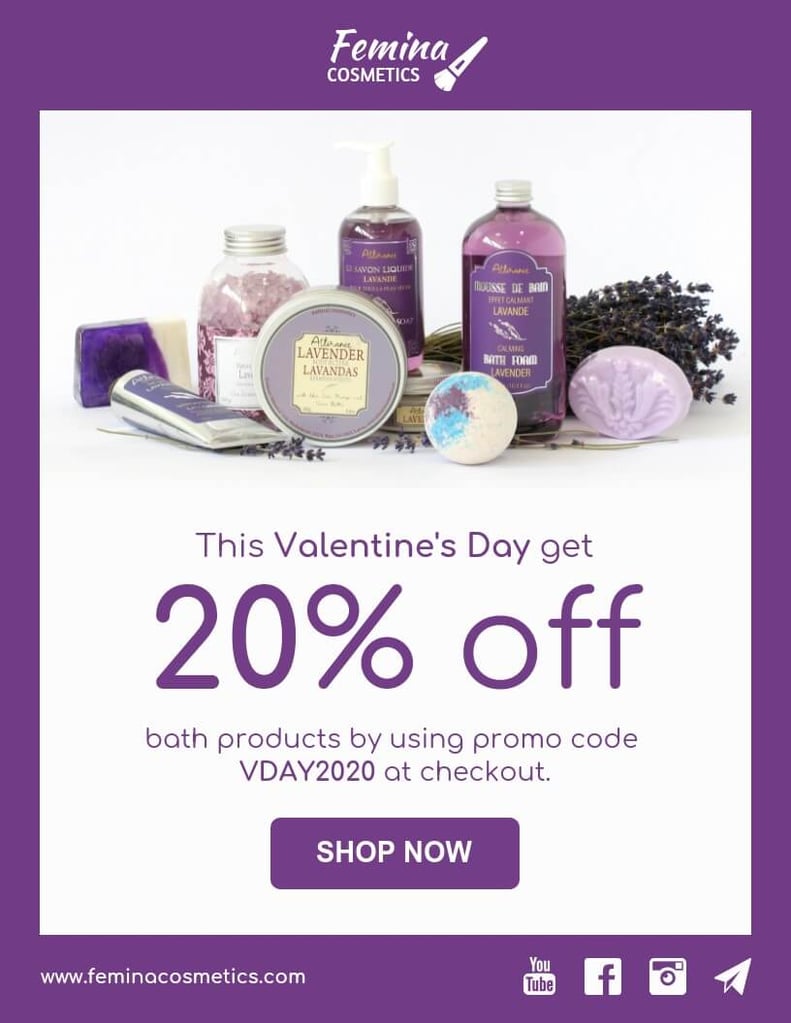 Don't have product visuals to share? Use icons, illustrations, or photographs of customers to add visual appeal to your emails.
8 types of email graphics marketers can use
Creating graphic emails can help you improve email clicks, views, and conversions. Here are the eight types of visuals to use in your emails.
#1. Infographics
There are many kinds of email graphics you can use to attract audiences, but one of the most effective kinds is the infographic.
Combining text, images, illustrations, icons, and data visualizations, infographics are jam-packed with information to keep users engaged.
An email infographic, like this example below, is simple, informative, and effective. The design includes a graphic, distinct sections, lists, and icons that make it easy to follow.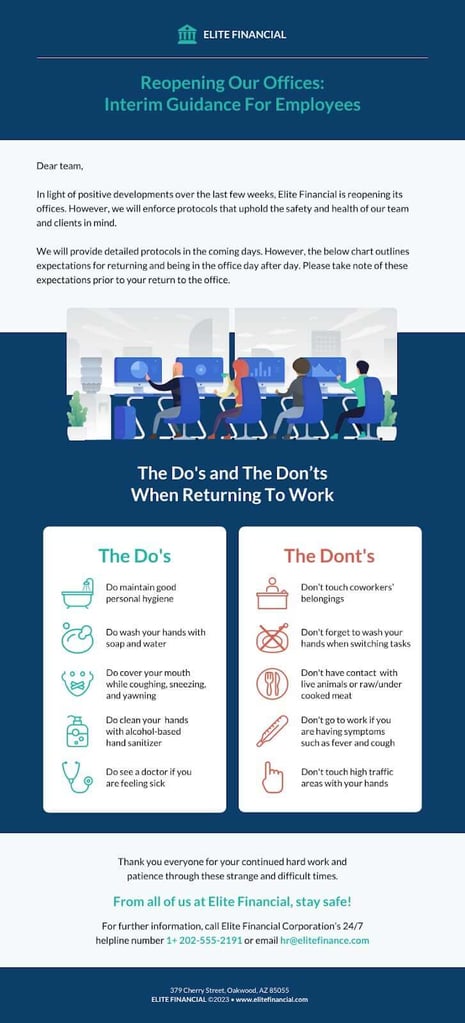 When you contact your email list, you should be adding value to their day. An infographic is an excellent way to achieve that goal and get users to click on your CTA.
#2. Data visualizations
Alongside your subscribers, you might find yourself sending emails to users unfamiliar with your brand. These cold emails tend to have a low open rate but can build longstanding partnerships.
One way to add value to these users is to add charts and graphs to your cold email graphic design. G2 does this well with its user activity emails.

The layout is clean and the charts aren't complicated. The user can immediately see whether their profile is complete, how many reviews remain, and what the popular discussions were.
You can create data visualizations around industry trends and topics to share with your users. This will give them added incentive to click your CTA and engage with your brand.
#3. Product photos
If your company is selling tangible products to customers, they should be showcased in your emails and newsletters.
Here's an email graphic design example from Stauer that highlights their products. Granted, jewelry is always attractive to look at, but the layout enhances the appeal of the products.

It's also good practice to show your products in use. People like to see other people—it lets the user imagine what the product will look like on them.
Include images of your products in your emails so your subscribers know what to expect from your brand.
#4. Background images
You can add decorative images in the background of your email marketing graphic design to make it stand out.
These images can be a picture, shapes, or icons. Background images should be subtle so they don't distract from the main message.
On the other hand, the way Mintel uses images in the background makes the text pop, while still maintaining the user's attention.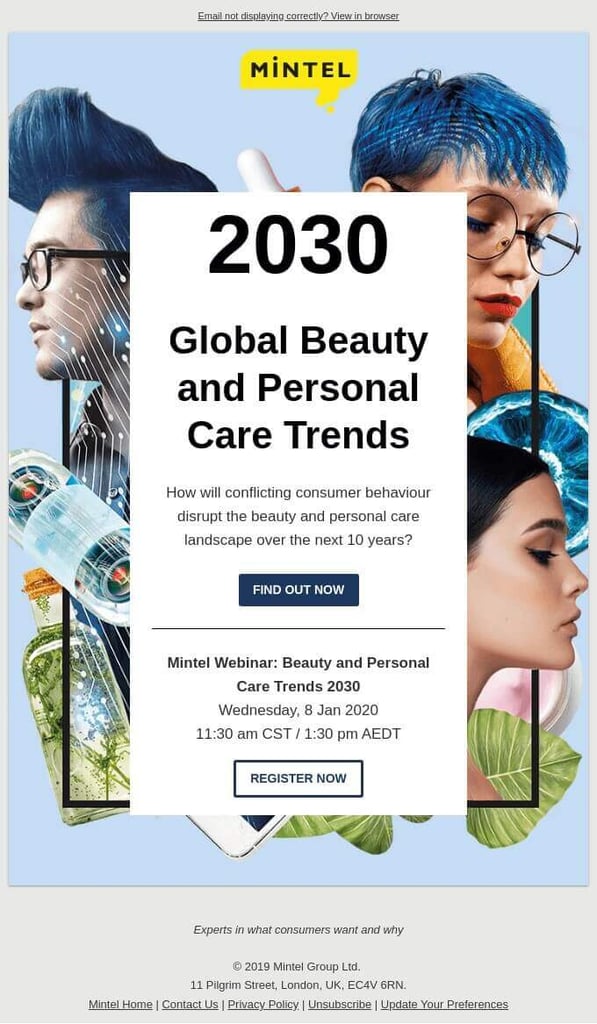 #5. Illustrations
Another way to boost clicks is to add a touch of whimsy to your email design graphic with illustrations. These visuals are open to interpretation and captivate the imagination of users.
The reason why illustrations work in email design is because of their uniqueness. They tell your brand story and set you apart from the competition.
You can use a series of illustrations to highlight the message of your email. They also help to demarcate the different sections, improving the readability.
The only challenge with illustrations is how to create them. An in-house designer can be expensive for small businesses, but there are online resources available that are affordable.
#6. User-generated content
A great way to create a connection with your audience is to showcase your customers. You can create a section in your email to share testimonials, but there's another effective method.
User-generated content is sourced from existing customers and followers. It shows how your products and services are used by people associated with your brand.
There is no better testimonial than your customers organically sharing photos and videos of your products on their platforms.
This Airbnb newsletter highlights two of their hosts. The email graphic design is simple but direct—readers can't miss the message here.

To get user-generated content, you can run contests on your site or social media. Being featured in your email acts as an incentive to users.
#7. GIFs
There isn't much interactivity you can add to your email marketing graphic. This is why GIFs are a great visual to use in emails.
You can design a simple GIF like the one in Sweatsedo's email. The GIF showcases the various colors of one of the brand's products.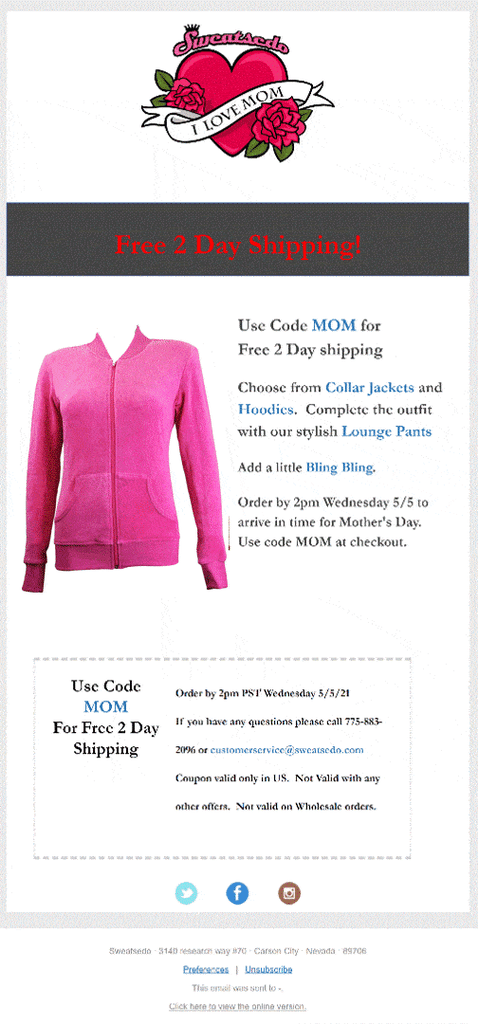 GIFs are easy to create. GIPHY offers a variety of GIFs and you can create branded GIFs using online resources.
#8. Videos
Video marketing has grown every year, and that's not about to change. It isn't surprising that videos have made their way into email marketing.
There are numerous types of videos that can be included in emails, such as the following:
Behind-the-scenes videos that give audiences a glimpse into the workings of your brand
Interviews with employees and C-suite executives
Testimonials from customers
Instagram and Facebook Live videos to connect email subscribers with social content
How-to guides and tutorials
For example, Packlane showcases its team in the email below. The colorful play button makes it obvious to subscribers that there is a video to be played.

Adding videos in emails can get a bit tricky. Since most people view emails vertically on mobiles, the screen can be too small. Link an image to the video to open up externally.
Adapt your email graphic design to host a variety of visuals
Emails continue to have an important role to play in content marketing. With consistently high ROI, emails are a profitable channel for reaching audiences.
Related: Copywriter Laura Belgray says email is the engine of her business
By including memorable visuals that add to your brand story, you can improve click-through rates in your email marketing and improve site traffic and conversions.
In our guide, we have shared the kind of visuals to use and the best practices for designing graphic emails. Armed with these tools, you can design emails that users will click on.
Author: Ronita Mohan is a content marketer at Venngage, the online infographic maker and design platform. Ronita regularly writes about marketing, design, and small businesses.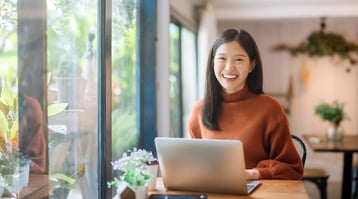 Should you use GIFs in emails? It depends on your brand and what you want to communicate. Marketing strategist Lesley Vos has all...
Read Story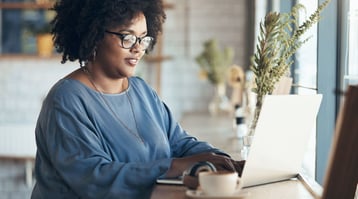 Struggling to grow your email list? Many marketers and business owners are. Worry not – these newsletter signup form examples a...
Read Story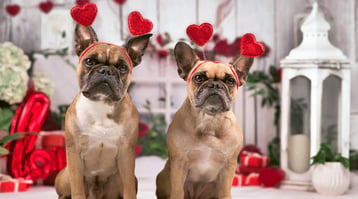 Valentine's day is just around the corner and you are finalizing the last details of your email campaign? Jeremy Moser of PR &a...
Read Story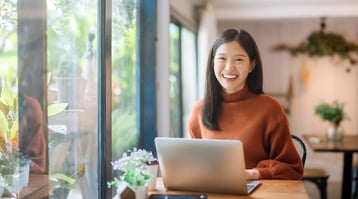 Should you use GIFs in emails? It depends on your brand and what you want to communicate. Marketing strategist Lesley Vos has all...
Read Story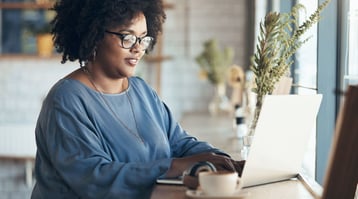 Struggling to grow your email list? Many marketers and business owners are. Worry not – these newsletter signup form examples a...
Read Story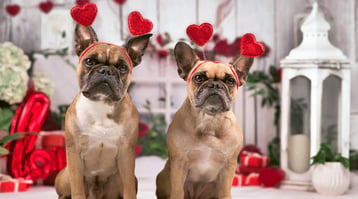 Valentine's day is just around the corner and you are finalizing the last details of your email campaign? Jeremy Moser of PR &a...
Read Story