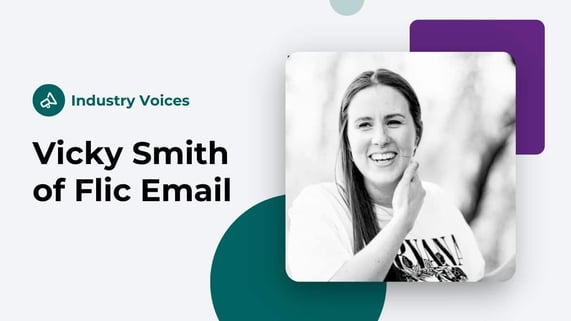 Vicky Smith of Flic Email, on Building a Brand with Email Marketing
ZeroBounce talks to email strategist Vicky Smith of Flic Email about how email marketing can help a brand. Her holistic approach is getting great results for her clients. Read on to meet this innovative #emailgeek!
Without the right words, an email will never reach its full potential. Just ask Vicky Smith, of the copywriting firm Flic Email. Her expert copy skills are a match made in heaven for brands in need of emails that sell. Flic Email was founded in 2017 and specializes in e-commerce bands, in particular food and drink brands.
Vicky works with a lot of food and beverage brands, but considering the diversity of her experiences, there's virtually nothing outside her realm.
Before Flic Email, Vicky Smith has worked in sales, marketing, administration and even wild animal care. She spent two years working at British Wildlife Hospital Tiggywinkles where her duties included handling and feeding foxes and badgers!
How to use email marketing successfully for your brand
Read on to find out more about this fascinating woman and #emailgeek.
What does a typical day look like for you at Flic Email?
I've intentionally built my business in a way which enables me to embrace both motherhood and entrepreneurship!
My day starts with coffee and Spanish lessons on Duolingo, followed by the school run. I'll then be at my desk from 9am until 3pm each day, focusing on client work.
I work several evenings a week as many of my clients are based in the US, and so I often have calls scheduled.
On Wednesday evenings I join a coworking / social media sprint and dedicate 2.5hrs to my own marketing. I'm happiest when I'm creating emails for clients, so I have to carve out this time to work ON my own business!
Related: 4 Ways to Use Targeted Email Marketing and Streamline Your Email Strategy
You describe yourself as an email geek. Can you remember when you first realized: I love email?
There's a saying in the #emailgeek world, "you don't choose email, email chooses you."
For me it happened when the lady who ran a networking group I was part of asked me to take over her Mailchimp newsletter. She knew I worked in marketing and so thought I was the obvious choice. I tried to protest that I didn't have any email experience, but she persuaded me into giving it a go.
I had great fun designing and writing those emails! And quite quickly I found myself reading blogs on email marketing. Then I was following email experts on social media, attending webinars. When I got my Mailchimp certifications… it's safe to say it spiraled!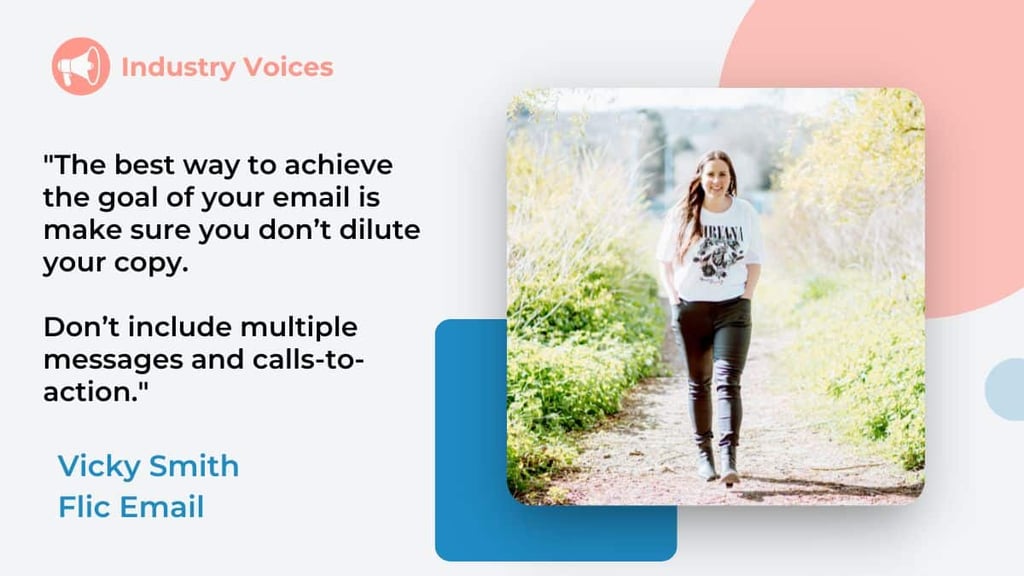 Is there any part of email marketing that you feel is the most important part?
No! I have quite a holistic view of email marketing.
There's no point in regularly sending well-written, informative and funny emails if nobody even knows you have a mailing list. Or your sign-up form is clunky and hidden.
And there's no point in having a beautifully designed email if you have no campaign strategy and only ever send two emails a year "off the cuff."
Each element supports each other, and you have to get them all right. They must work as one big machine.
Equally, I believe email plays a vital part in the bigger marketing picture. Customers don't interact with or think about your brand as separate marketing channels or individual email campaigns, so neither should you.
What advice would you give businesses and marketers who are struggling to determine and convey their voice on email?
In email marketing, a brand's voice needs to come through not just in your campaigns, but also in the smaller details. Like your sign up form, subject lines and unsubscribe message.
So if you're struggling to convey your voice, you really need to go back to basics. Do some customer research.
Look at your previous email campaign reports. What copy did your audience engage with? What calls to action worked? Which didn't? Go deeper if you need to… Spend some time in the places your audience hangs out, read what they read (and write). Survey them. Take some time and interview them.
Your goal is to identify common vocabulary and phrases that your audience relates and responds to. Pull these together in a document with plenty of examples (almost like a design / branding guide) which you can use as a guide when creating your email copy.
What's the most common mistake you see email marketers making?
Putting a focus on features over benefits.
Email copy shouldn't simply replicate a website product page. Email marketers need to flip their approach and convey what the product can do for the customers. How will it make them feel? What will it help them achieve?
What is your no. 1 email marketing rule?
Audience first.
Emails that convert come from analyzing customer data, designing a customer-focused email strategy and writing email copy that speaks to subscribers.
Sure, I want my clients to love the emails I write. But it's more important that their audience does!
Do your clients pay attention to email list quality? How often would you say they clean their email list?
Most of my clients are aware of email list quality and list cleaning to some degree. They know that it's important and that they should do it, but often need hand-holding through the process! It's simply because they've worked hard to build their lists and find it counterintuitive to remove contacts.
How often a client should clean their list varies. It's important to take into account the lifecycle of their product, and how frequently they have been emailing their contacts.
I will often recommend using winback and sunset sequences as part of the process. And these can usually be automated (as can subsequent list cleaning) which makes ongoing list cleaning easier.
What are some great email copywriting tips?
Get really clear on the goal of your email before you write a single word.
The best way to achieve the goal of your email is make sure you don't dilute your copy. Don't include multiple messages and calls-to-action.
Think of email as a one-one relationship, not a one-to-many. Use strategy and segmentation to ensure you are speaking to the right people in your audience – then write as if you are addressing just one of the people in that segment.
Write differently, but don't try too hard! If you're funny, it will come across. If you're passionate, it will come across. If you're faking it, it will come across. A human voice always sounds more genuine.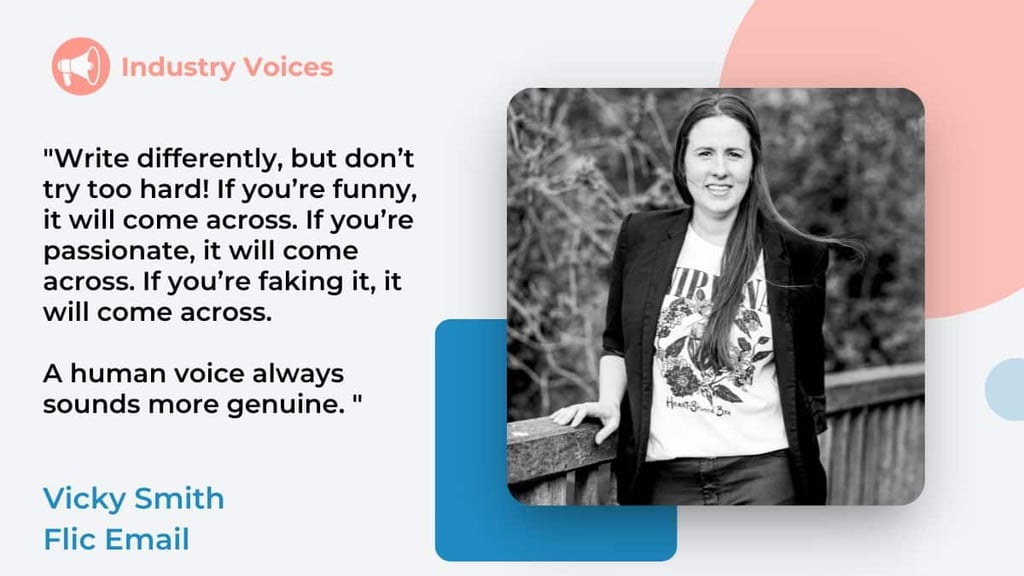 Lightning round: short, sweet, and the first thing you think of
Your favorite social media platform: Instagram
A word you're tired of seeing online: Mompreneur
Podcasts or YouTube shows you watch: Email Einstein podcast
What is the most annoying thing you've seen in a marketing email?: When people use deceitful subject lines. I once got an email from a brand with the subject line 'ORDER CONFIRMATION'. I'd been on their site recently and so was confused (and worried!). When I opened the email it went on to say 'Well nearly, it's only a few clicks away…'. I was not impressed!
Is there a song out there that describes you or Flic Email? Britney's 'Email my heart'!? Haha no. I need a Flic Email anthem for sure!
Most useful digital marketing management tool you know: Mailchimp
Biggest social media no-no for brands: Repurposing content WITHOUT first editing it to make it applicable for each platform.
Most effective way to increase your open rates: Send kick-ass content.
The best call-to-action you've ever seen in an email: This email actually kick-started my interest in writing email copy for food and drink brands.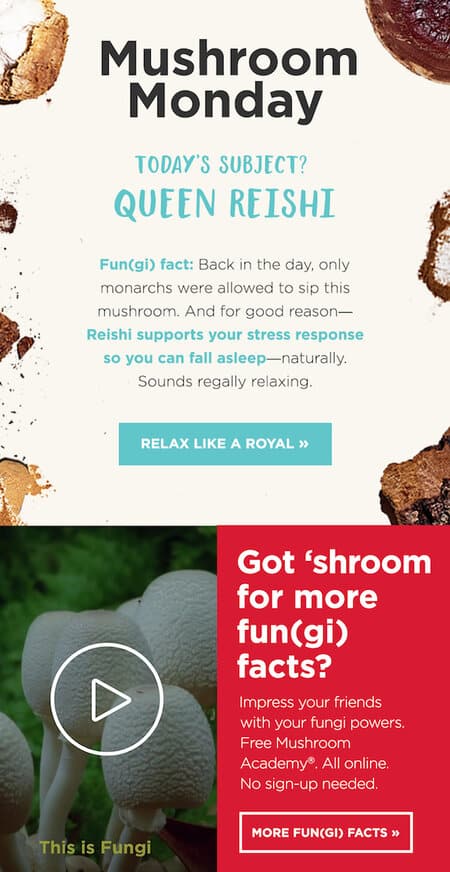 A brand email you always open: Olipop
Most powerful tactic to grow your email list: Talk about it!
Want to learn more about Vicky Smith? Check out her website and be sure to subscribe to her emails.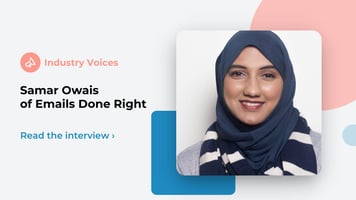 Email strategist and copywriter Samar Owais talks to ZeroBounce about building better email marketing programs and simplifying ou...
Read Story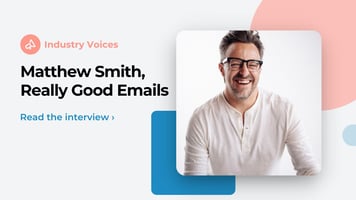 Matthew Smith, the co-founder and CEO of Really Good Emails, knows what it takes to send emails that resonate, connect and, event...
Read Story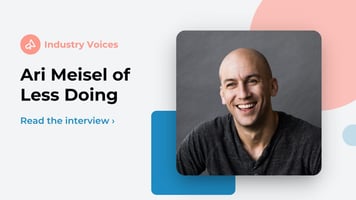 Entrepreneur and keynote speaker Ari Meisel talks to ZeroBounce about email productivity and reinterprets the notion of Inbox Zer...
Read Story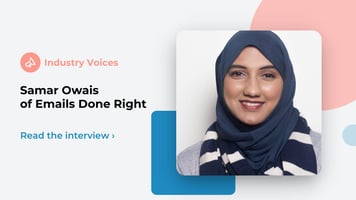 Email strategist and copywriter Samar Owais talks to ZeroBounce about building better email marketing programs and simplifying ou...
Read Story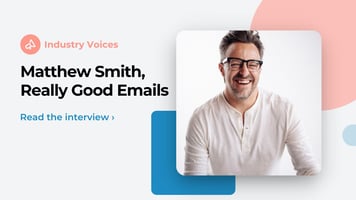 Matthew Smith, the co-founder and CEO of Really Good Emails, knows what it takes to send emails that resonate, connect and, event...
Read Story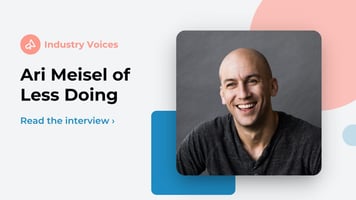 Entrepreneur and keynote speaker Ari Meisel talks to ZeroBounce about email productivity and reinterprets the notion of Inbox Zer...
Read Story