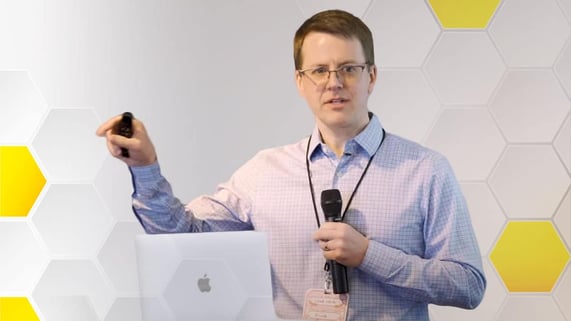 Chad S. White, Oracle: "Email Marketers Need to Focus on Managing Subscribers, Not Campaigns"
Getting a chance to talk to Chad S. White about email marketing is a thrill. At the same time, it's a tad intimidating: he's written more than 3,000 blogs and is the author of the industry Bible, Email Marketing Rules. So, what can you ask him that he hasn't talked about already?
A former journalist for Condé Nast and Dow Jones & Co., Chad S. White is now the Head of Research at Oracle CX Marketing Consulting. He's been featured in The New York Times, Adweek, and The Wall Street Journal, and is recognized as the no. 1 email marketing expert on Twitter.
When it comes to email marketing, Chad is the cat's pajamas – but in spite of the many things he's gone on the record about, he managed to make this interview fresh and captivating. With great passion and knowledge, Chad talked about:
his rule for becoming an email marketing expert,
the one mindset shift that would make email marketers more successful,
how to double your open rates overnight,
one simple thing you can do today to improve your email marketing performance,
and so much more!
We're honored and stoked to have him on the blog – enjoy the interview.
Chad, how did you get into email marketing?
In my previous life as a journalist covering the online retail industry, I used to sign up for promotional emails from all the big online retailers as a way to get leads on new stories, since they'd announce new offerings to subscribers.
I followed retailers' email programs for years and then my older brother started a personal blog back when blogs were the shiny new thing. Being a competitive little brother, I decided to start a blog of my own, The Retail Email Blog, and write about what I was seeing in my inbox on a daily basis.
Shortly after starting that, I left journalism to join the Email Experience Council to do email marketing research full time. Fifteen years, 3 books, and 3,000+ blog posts later, I can honestly say it was the best decision I ever made.
Email marketing is a great industry full of great people. It has a bright future.
How did you learn so much about email? What or who do you credit as your best sources?
First, surround yourself with smart people. I've been fortunate to work at some great companies with super-smart email experts. Here at Oracle CX Marketing Consulting, I learn something new almost every day from my teammates. I also surround myself virtually with lots of bright people on Twitter and LinkedIn, and constantly learn from them as well.
Second, sign up to get emails from lots of companies. In his book Outliers, Malcolm Gladwell talks about the 10,000-Hour Rule, where that many hours of deliberate practice make you an expert in any field.
I have my own rule—the 10,000-Emails Rules, where if you closely examine that many emails then you'll be an email marketing expert.
During the 6-plus years that I ran The Retail Email Blog, I read hundreds of thousands of emails—and I've looked at hundreds of thousands more since. The more emails you look at, the more you'll understand what works and what doesn't, and how things are changing.
I know you wrote a whole book on the topic, but what's your no. 1 email marketing rule?
I list 150 email marketing rules in my book. The first 15 are about following the law and respecting permission. I call those Must-Follow Best Practices. If we assume that everyone's following those, then my No. 1 email marketing rule for this moment in time would probably be Rule #17:
Focus on maximizing the value of a subscriber, not on maximizing the value of a campaign.
Many years ago, I was at a conference and heard a speaker say that the old school retailer sees their products as their inventory, while the new school retailer understands that their customers are their inventory. Rather than securing products and then trying to find people to sell them to, a new school retailer starts with their customers' needs and wants and then finds products that fulfill them.
Email marketers need to similarly flip the paradigm.
Instead of focusing on managing email campaigns, email marketers need to focus on managing subscribers—using personalization, segmentation, and automation to send them the right content at the right time to maximize their subscriber lifetime value (SLV).
Lifetime value is a metric that a small but growing number of marketing programs are tracking, but it will be a key metric for all customer-centric brands in the future.
What are some of the biggest mistakes you see email marketers making?
One of the biggest mistakes is forgetting your customer. You should always be focused on their needs and how you can serve them better. If you start treating them like they serve you, then you're going to underperform.
Another big mistake is not understanding what email metrics mean, what they're each used for, and how you can impact them through changes in your tactics and strategies.
Email open rates are the metric that I rail against the most. It's best used as a list health metric and is great for segmentation and reengagement efforts to maintain good deliverability. But lots of email programs treat it as a performance metric when they should be keeping their eyes focused on metrics further down the funnel that correlate much more closely with business success—which is our ultimate goal.
Relatedly, it frustrates me that so many people use open rates to determine the winner of subject line A/B tests. You're way better off using clicks or—if you have the volume—conversion-related metrics.

What's the first thing you say to someone who complains about low open rates?
Low open rates are a sign that you're emailing the wrong messages to the wrong people. Improve your subscriber acquisition practices and inactivity management, and then improve your segmentation, personalization, and automation practices.
I like to say that I can go into any company and double their open rates overnight. It's really easy. You just suppress subscribers who haven't opened in recent months.
Obviously, you want to be more nuanced and strategic than that, but suppressing inactives from select sends is essential to maintaining high enough engagement rates that you avoid deliverability problems, as well as reducing subscriber fatigue and list churn.
Our Email Deliverability Services team uses predictive modelling to guide our clients' segmentation strategies to maximize reach while simultaneously protecting their sender reputation.
Managing engagement levels has become a central pillar to deliverability, which is why no one can afford to have low open rates.
Please give us one thing anyone can do today to improve their email marketing performance.
I just talked about managing your long-term inactives, but don't forget about the other kind of inactives: never-actives. These are new subscribers that don't engage with any of your emails, not even your welcome email. This is a huge red flag that something is wrong.
Most likely, this person either has subscriber's remorse and regrets signing up…or this isn't a person at all and is a bot or spam trap. Regardless, it becomes increasingly dangerous to mail an address that hasn't engaged with any of, say, your first 8 emails.
If you treat never-actives like you do your long-term inactives and tolerate months and months and months of inactivity, then you're likely doing significant harm to your sender reputation. If you haven't already, set up a rule in your ESP today to suppress your never-actives.
With the holiday season coming up, what are some of the things senders should keep in mind?
This holiday season is going to be extra challenging. We've experienced recessions before, but never in conjunction with a pandemic.
As we discuss in our third quarter Holiday Marketing Quarterly, working ahead as much as possible and creating detailed, yet flexible plans—plus contingency plans—is key.
Shifting your campaigns earlier in the calendar is also likely to help B2C brands perform better this holiday season, given the coronavirus, staffing, and delivery capacity risks that are likely to escalate as we get into December.
Early sales are safe sales, so make the most of Prime Day (Oct. 13-14), Veterans Day (Nov. 11), and the run up to the Thanksgiving holiday weekend.
What is something you never get tired of talking about?
I love talking about email marketing trends, because they're always changing.
Five years ago we weren't talking about dark mode, the California Consumer Privacy Act, Email Annotations, voice-assistants, send-time optimization, and AMP for Email. And five years from now, we'll be talking about a whole new set of issues.
Occasionally, you'll hear really smart people say that email is ripe for disruption because it hasn't change in decades. Anytime I hear that it tells me that this person simply doesn't know much about email marketing.
If anything, email marketers wish that innovation would slow down so they can catch their breath. But I don't think there's any chance of that anytime soon.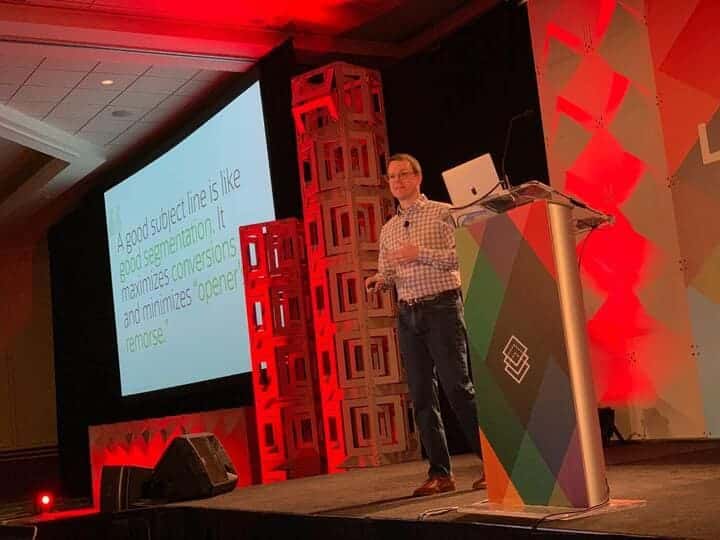 More email marketing tips from Chad S. White
The best way to grow your email list:
The best way is organically by optimizing your best subscriber acquisition sources, which tend to be the ones that are closest to your fulfillment and customer service operations. These are where your customers are, and customers make the best subscribers. So, make it really simple and appealing for them to sign up for your promotional emails.
A brand email you always open:
My 9- and 11-year-old kids are big Nintendo fans, so I always open their emails to see what's coming out. I also open Fandango's emails, although there haven't been very many reasons to do so this year with so many movies delayed.
No. 1 email deliverability tip you can give us:
Only email your full cadence to subscribers who have opened or clicked recently—which for most companies will be the past 6 months. Everyone else should receive emails less frequently, or not at all.
An email marketing practice to stay away from:
Co-registration is risky and low-yield, unless it's being used to promote signups for sister brands.
A word you're tired of seeing online:
"Growth hacking." For me, that screams shortcuts and gray hat practices, at best.
The word more marketers should use in their copy:
"You." It will keep you from talking to yourself instead of focusing on your subscriber and their needs.
A grammar rule you love breaking:
Sentence fragments are perfectly fine in email because people are scanning, not reading. Therefore, complete sentences optional.
A grammar rule you always stick to:
Oxford commas help you avoid confusing your readers.
Your favorite place to work:
?I've been working remote for nearly 15 years and do my best to contain my work to my home office. My grandfather worked at an oil company in Texas, where I grew up, and when he passed away I got his big, wooden 3'x6' desk. When I sit down at that desk, it's time to work. No working from the couch or deck for me.
Who is Chad S. White
Chad S. White worked as a journalist at Condé Nast and Dow Jones & Co. before he switched to a career in email marketing. He has served as email marketing researcher at some of the more prominent companies in the email space: Litmus, Salesforce, ExactTarget, and Responsys, as well as the Direct Marketing Association.
In 2019, he became the Head of Research at Oracle CX Marketing Consulting. His 3,000+ blogs have helped thousands of marketers improve their strategies. Also, his book – Email Marketing Rules, published in three editions – comes highly recommended by everyone in the industry.
Chad has appeared in more than 100 publications, including The Wall Street Journal, The New York Times, Adweek, Fortune, and USA Today. In 2018, the Email Experience Council named him "Email Marketer Thought Leader of the Year."
Find Chad's insights and tips on his website, Email Marketing Rules, and the Oracle marketing blog.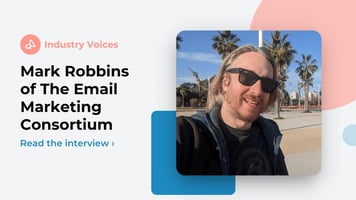 Mark Robbins of the Email Markup Consortium and Parcel talks to ZeroBounce about email accessibility – and how to make your ema...
Read Story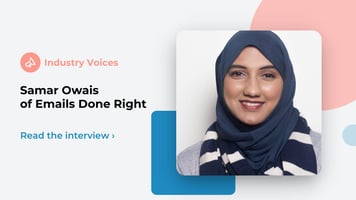 Email strategist and copywriter Samar Owais talks to ZeroBounce about building better email marketing programs and simplifying ou...
Read Story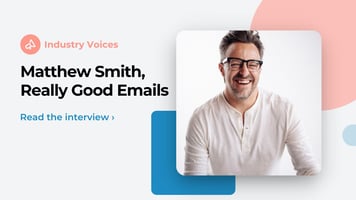 Matthew Smith, the co-founder and CEO of Really Good Emails, knows what it takes to send emails that resonate, connect and, event...
Read Story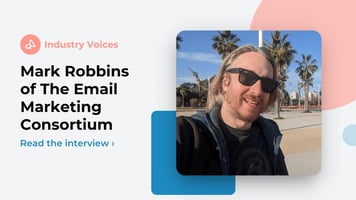 Mark Robbins of the Email Markup Consortium and Parcel talks to ZeroBounce about email accessibility – and how to make your ema...
Read Story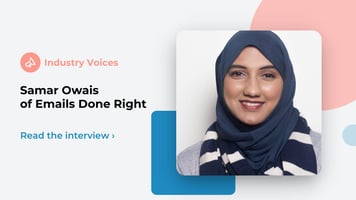 Email strategist and copywriter Samar Owais talks to ZeroBounce about building better email marketing programs and simplifying ou...
Read Story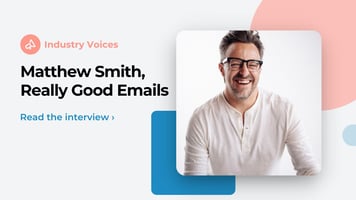 Matthew Smith, the co-founder and CEO of Really Good Emails, knows what it takes to send emails that resonate, connect and, event...
Read Story