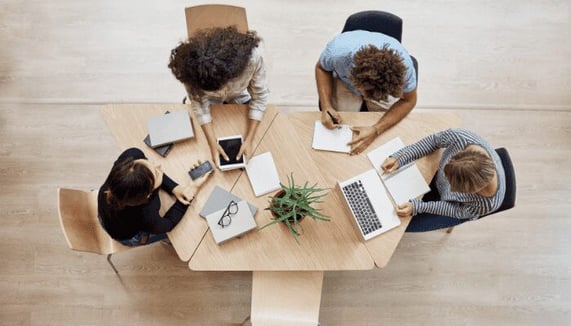 How to Create A Winning SaaS Email Onboarding Series: 3 Case Studies
Creating an effective SaaS email onboarding series isn't that hard – not when you have the right tools and tips. Marketing pro Bruce Harpham shares some of his best suggestions on how to get started and boost your results today.
Learning new software takes time, and it can be a frustrating experience.
In a customer relationship management (CRM) product, there are different ways to import and update records. In an email marketing tool, there are different reports and optimization features.
Your users' familiarity with HubSpot doesn't mean that they would know how to use Salesforce CRM.
As an owner or SaaS marketer, you suffer from the curse of knowledge. You've forgotten what it is like to use it for the first time. As a result, your onboarding emails and onboarding resources may not connect with the end-user.
Use these case studies as a resource to solve this problem and optimize your onboarding emails.
What is a SaaS email onboarding email series?
A SaaS email onboarding series is a type of triggered email designed to achieve a few goals. These emails explain your product and guide people on how to use it effectively.
Think of this first goal as the customer success objective. In the freemium model or free trial products, the onboarding emails also have a sales objective: convincing the user to upgrade to a paid plan.
Before going further, we need to acknowledge that these emails are not a solution for every SaaS growth problem. If there are advanced features you want to train users on, consider offering a webinar instead.
Further, an email onboarding series will not increase your traffic or leads. Instead, an onboarding series should help engaged users, free trial users, or new customers achieve success with the product and keep using it.
Email onboarding series for free users
For SaaS companies, that offer a free trial or a "forever free" basic account, an onboarding email series for free users is vital for several reasons.
First, the emails can encourage customers to stay motivated and log into the product.
Second, an email series can gradually introduce new features. This gradual approach helps to minimize the risk of overwhelming new users.
To illustrate this type of email series, take an example of a SaaS product that offers a free trial for new users. The free trial may have limited features and volume (e.g., Mailchimp's limit is based on the number of contacts and restricts access to advanced features) or time-based (e.g., Moz offers a thirty-day free trial account).
Whether the clock is running in terms of a free trial or not, the goal remains the same – engage free users and encourage them to convert to paying, long term customers.
What about onboarding enterprise SaaS customers?
In the enterprise SaaS environment, the email onboarding series looks different. In most cases, there is no focus on converting users from a free trial to a paid plan. Instead, you'll focus on maximizing customer retention and "land and expand" (i.e., go from 10 customers this year to 50 customers next year).
The principles in the case studies below will still apply with some creative adjustment.
Case study: Standard Resume converts 1% of free users to paid accounts
A high-quality resume is a critical document for job seekers. Yet, many people don't know how to create a resume, which leads to job search frustrations.
StandardResume is a SaaS tool that helps people create quality resumes quickly. The company started its email onboarding series in 2020.
Key metrics and benchmarks:
Open rate benchmark for SaaS onboarding emails: 45%
Conversion (Free Account to Paid Account): 1.5%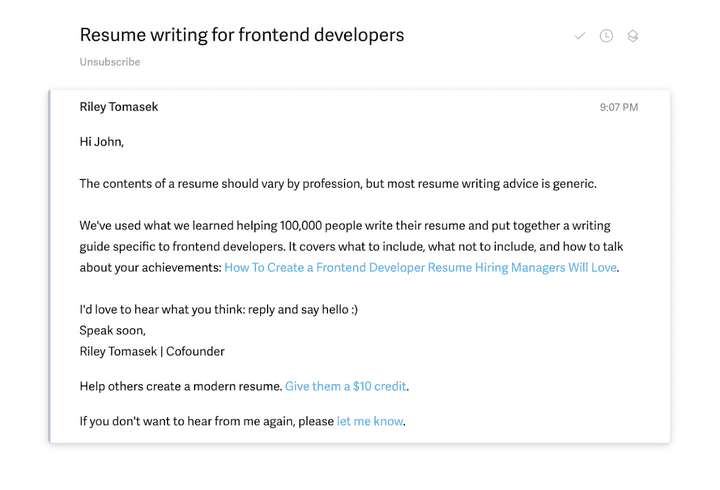 Best practices from StandardResume
#1: Tailor email messages for every person
StandardResume's critical practice to model is their tailored user personas. When people sign up for a free account, the platform captures their profession. Then, the company uses this data to send targeted emails based on profession.
#2: Give people a reason to visit your website for more information
Your onboarding emails don't have to cover everything. In StandardResume's case, the company includes links to resources on their website (e.g., iOS developer resume) to drive traffic and engagement further.
Case study: Qgiv increases implementation rate from 80% to 90%
Qgiv is a software platform that helps nonprofits increase their fundraising success. The company offers a free trial account and four paid plans. Advanced features available in paid plans include "text to donate," CRM integrations, and support for recurring donations.
Key metrics and benchmarks:
Open Rate: 48%
Conversion rate: The company has increased its 90-day conversion rate to over 90%.

Best practices from Qgiv
#1: Rethink your time periods for conversion
Many SaaS companies offer free trial periods of less than thirty days. However, Qgiv tracks its conversion rate over 90 days. That makes sense in their context because people need to set up donation details in the software. Setting up payment details may involve the charity engaging with multiple people, so the process takes longer.
#2: Use special offers to boost conversions
Typically, you might think SaaS onboarding emails are written once and then run for a long time without being changed.
In 2020, Ogiv offered a special promotion for their entry-level paid account plan (i.e., the Data Plan), where users could get the Data Plan for free. The free Data Plan promotion led to 7.4% click-through rates.
If you're offering a special promotion, then consider offering that promotion in your onboarding emails.
Case study: BigMailer achieves 50% open rates
Bigmailer is an email marketing tool built on top of Amazon technology. The service can send marketing emails, transactional emails, send based on trigger events and other situations. You need an Amazon SES account to start sending emails.
Key metrics and benchmarks:
Open Rate: 30-50%
Conversion Rate: 80% of customers who go through a demo upgrade to a paid plan.
Best practices from BigMailer
#1: Consider the long-term impression your emails make
When you create a SaaS email onboarding series, it's natural to focus on your short-term goals – like user engagement or persuading people to sign up for a paid plan.
In addition to those goals, BigMailer takes a broader perspective – the value of maintaining high engagement for all of your email campaigns.
"Our customers typically receive a welcome sequence before receiving our monthly product update emails. We believe a quality sequence helps us get a very high open rate with our product updates emails (40-70%)," says Lilia Tovbin, Founder of BigMailer.
#2: Test providing in-depth information in your onboarding emails
If you only ever send short emails, then pay attention. You might be shortchanging your customers!
BigMailer's first email (see screenshot above) contains a wealth of information. Consider testing longer, more in-depth onboarding emails, especially if there are multiple steps involved, like connecting your product to Amazon or another platform.
Four tweaks to optimize your SaaS email onboarding series
Use these four methods to improve your SaaS onboarding email success.
#1: Boost your email onboarding open rate
Low open rates on your onboarding emails are a major red flag. That tells you that many or most people are not seeing your messages. To improve your open rate, use the following techniques:
Read through your emails and ask yourself the question, "If I knew NOTHING about the product, would this email help me hit my goals?" Rein in your desire to talk about yourself and the dozens of features you've built.
Use the ten-headline rule
In email marketing, the subject line is your headline. It is worth spending extra time and effort on crafting great subject lines. If you are using the first subject line that comes to mind, you will probably hurt your results.
Instead, use the ten-headline test. Write out ten email subject lines before you press send and then step away for a few minutes. Finally, come back to your work and then choose your email subject line.
Verify your email addresses
Use a tool like ZeroBounce to clean your email list. This step helps you weed out old, inactive, or inaccurate email addresses from your onboarding program. Removing these emails from your system means you can focus your energy on solid leads.
#2: Work with an email agency
Modern digital marketing is made up of multiple disciplines. Few people can claim to be proficient, let alone an expert, in all of them. If your team is too busy with other marketing objectives, you may need external help. For the best results, work with an email marketing agency that focuses on software as service companies.
#3: Extend the duration of the onboarding series
Qgiv uses a ninety-day window for tracking some of its conversion metrics. That's much longer than the thirty-day window you often see in the SaaS world. If your onboarding series isn't working, it might be too short. Consider adding more messages to present different value propositions.
Take the first step today
Improving your SaaS onboarding emails might feel like an overwhelming project. Get started by choosing a single strategy from this post and see what you can achieve in 15 or 30 minutes. For example, brainstorming new subject lines to boost your open lines is a great starting point.
Author bio:
Bruce Harpham helps B2B technology companies get inbound leads. He is the author of "The Marketing Blueprint: Scale Your Startup Business To 1000 Customers." Outside of work, he enjoys reading history, science fiction and fantasy (and travel when it is safe to do so).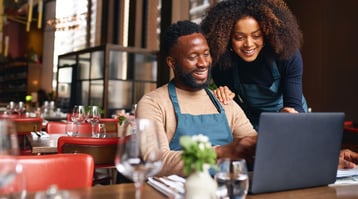 So, you want to build an email list. How do you do it? In this guide, we share all the tactics we know. Tried-and-tested over tim...
Read Story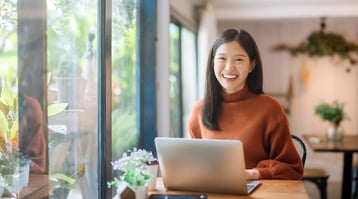 Should you use GIFs in emails? It depends on your brand and what you want to communicate. Marketing strategist Lesley Vos has all...
Read Story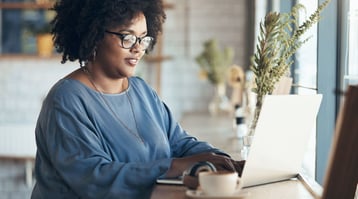 Struggling to grow your email list? Many marketers and business owners are. Worry not – these newsletter signup form examples a...
Read Story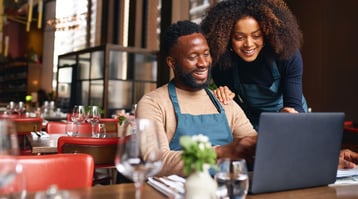 So, you want to build an email list. How do you do it? In this guide, we share all the tactics we know. Tried-and-tested over tim...
Read Story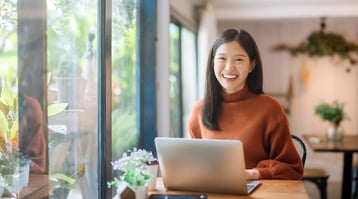 Should you use GIFs in emails? It depends on your brand and what you want to communicate. Marketing strategist Lesley Vos has all...
Read Story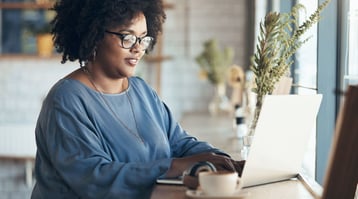 Struggling to grow your email list? Many marketers and business owners are. Worry not – these newsletter signup form examples a...
Read Story