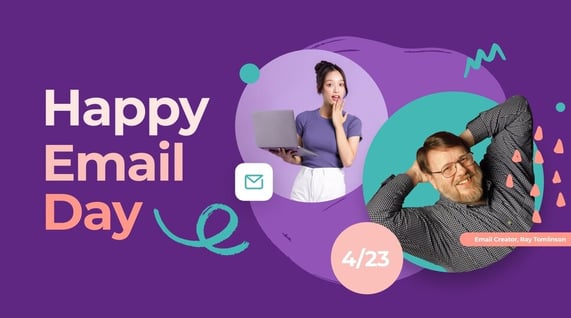 Email Day Chat: We're Celebrating with Partners, Friends – And You
We're celebrating Email Day for the second time – and you're invited! Read our email chat with partners and friends, then get 23% free bonus credits to keep your email list in tip-top shape.
Email has touched all of our lives in so many ways. If you're like most people, you check your inbox at least once a day. Email is also at the heart of our business, along with so many others. For more than five decades, email's prominence has only been growing.
Last year, ZeroBounce started Email Day, now a global holiday that takes place yearly, on the birthday of email inventor Ray Tomlinson, April 23. We think the man more than earned an annual, special day of recognition.
To mark this holiday we invited some of our partners, friends and email lovers to answer our email questions. From heartfelt sentiments to useful email marketing tips, you're going to see a little bit of everything below.
Ready to dig in?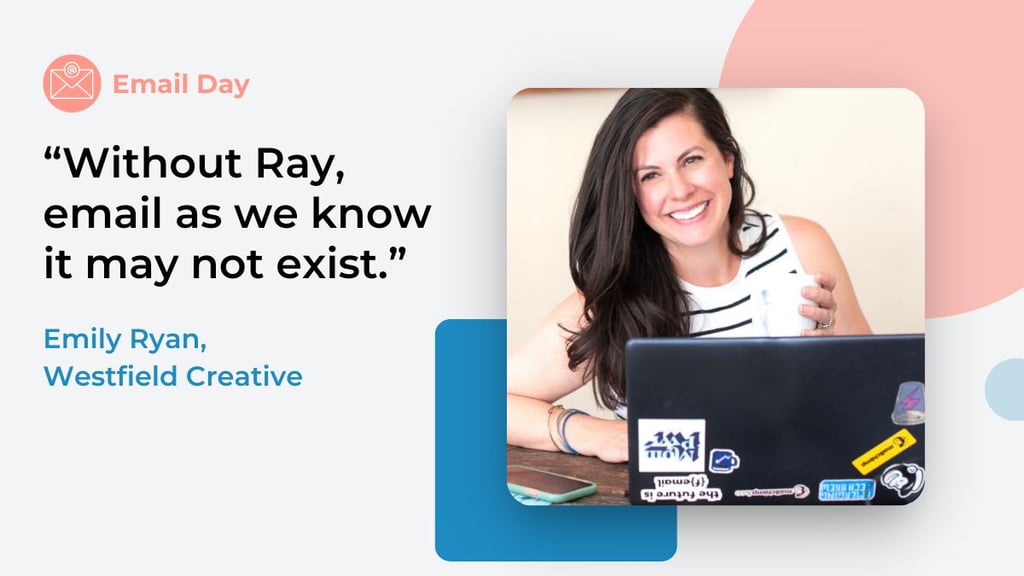 What do you think about Ray Tomlinson?
"The man invented the email address! I'd say that affects nearly every human on this planet. For one person to single-handedly create something that affects our daily lives so much, he should be absolutely recognized and celebrated. Without Ray, email as we know it may not exist.
If I could have talked to him, I would have said: 'Ray, can you imagine that with your invention of the email address, someday millions of businesses would generate millions of dollars using YOUR invention to help promote their products or business? And that with it, you would change many lives in a big way?' If only he could see things now…"
— Emily Ryan, Email Strategist and Co-Founder of Westfield Creative
How do you plan on celebrating Email Day?
"This Email Day, I've decided to take the plunge and get my inbox under control. I'm going to get rid of unnecessary emails, unsubscribe from outdated newsletters and create folders for better organization. I'm going all in on this much-needed digital cleanse. Not only will it be a fitting tribute to the incredible power of email, but also help me better manage future emails."
— Musa Aykac, SEO Manager at ZeroBounce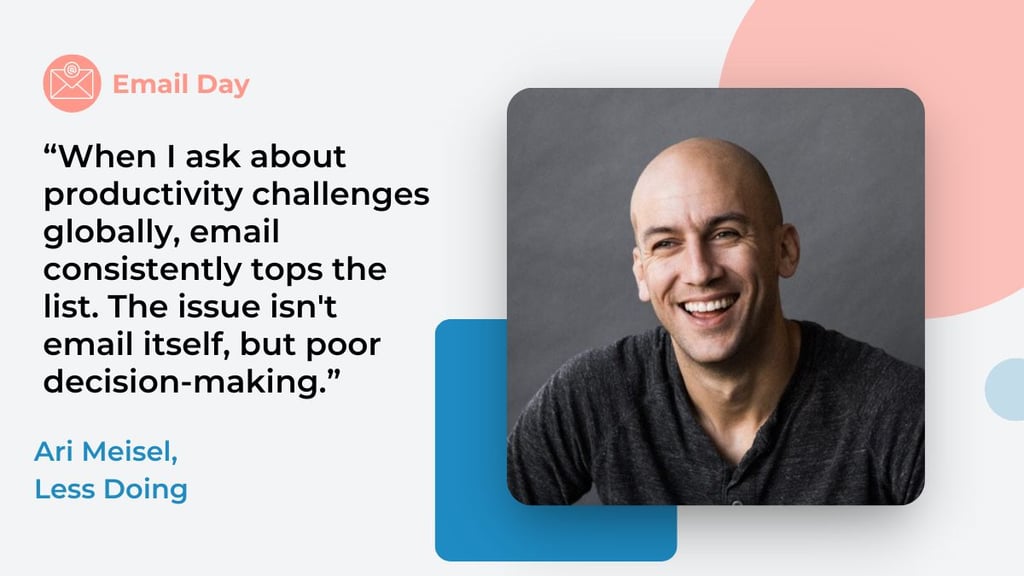 What's one way people should look at email differently?
"When I ask about productivity challenges globally, email consistently tops the list. The issue isn't email itself, but poor decision-making. By adopting an effective decision-making system, you can transform email into a powerful productivity tool and become a better leader in the process."
— Ari Meisel, Founder at Less Doing
What's the word email marketers should most use in their copy?
"As an email marketer, your goal is to create engaging content that drives conversions. One simple but powerful way to achieve this is by replacing any instances of 'I' or 'we' with 'you' in your email copy. By doing so, you shift the focus of the email from the sender to the reader, which can make all the difference in terms of engagement.
Using 'I' or 'we' can create a distance between the reader and the sender, making the message feel self-centered or even pushy. When you use 'you,' you directly address the reader and make them feel seen and understood. This personalization can increase engagement and make the reader more likely to take action, whether that's making a purchase or simply clicking through to your website.
So next time you're crafting an email, remember the power of 'you.' By making this subtle shift in your copy, you can make a big impact on your audience and ultimately drive more conversions for your business."
— Vicky Smith, Email Consultant, Strategist & Copywriter at Flic Email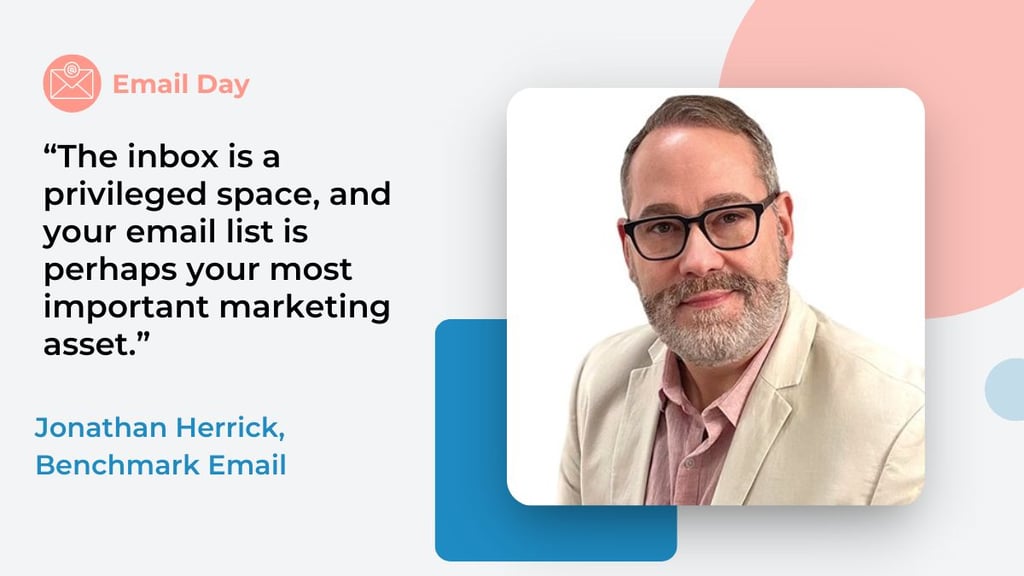 Is email here to stay? If so, what's the biggest reason you think so?
"In an industry where things change daily, email marketing is still here, and I believe strongly that it's here to stay.
The biggest reason is that it continues to evolve and therefore provide value to users. There was a time when all you could do was send a plain text email. Now, you can send emails with videos and dynamic content. You can send personalized, tailored content to specific segments of your list, allowing marketers to build unshakeable trust with their audience.
The inbox is a privileged space, and your email list is perhaps your most important marketing asset. With consistent advancements in how we send emails, marketers can continue building trust in a way that just cannot be achieved with other forms of marketing."
— Jonathan Herrick, CEO at Benchmark Email
You've read hundreds of thousands of emails. What do the best of the best emails have in common?
"The very best marketing emails I've seen over my nearly two decades in the email marketing industry were clean and easy to scan, and delivered a surprisingly valuable experience—and, of course, came from brands that I gave permission to email me. But exactly what that surprisingly valuable experience was varied widely.
Sometimes, it was highly personalized content just for me. Other times, it was a unique and fun interactive experience. And on a few occasions, it was simply a highly valuable deal or amazing content. Brands have so many ways to deliver tremendous value, but the foundation is always permission and well-written and well-designed emails."
— Chad S. White, Director of Research at Oracle Marketing Consulting and author of Email Marketing Rules
What's the best email reply you ever got?
"As a Sales Development Representative, getting a reply is always good. If you get a 'no,' you can always try to turn it around, but it's a lot harder to break through and start a conversation with a prospect.
In our emails, we use simple calls-to-action asking for a suitable time to chat. So most responses we get would just specify if a person is available or suggest an alternative time slot for a call.
A reply that will always brighten up my day is the one complimenting my creative outreach or personalization. It's great to know that people appreciate the extra effort you put into every email, especially considering that we sell to salespeople.
Sometimes, however, the same email template can get directly opposite replies from different prospects. So, I guess, you can't please everyone!"
— Olesia Krilyshyn, Sales Development Representative at Reply.io
What email marketing trend do you think is here to stay – and why?
"AMP emails have been a game-changer since their launch and this trend is only going to pick up in the coming years. According to State of Email 2023, more than 30% of email marketers saw a 2X jump in their conversions with AMP emails and around 8.6% of them even witnessed a 4X rise.
The reason is simple: AMP emails enable users to take an action without leaving the inbox, thus leading to lesser friction and better user experience. It's equivalent to creating a landing page inside an email. And with the no-code tools available today, the process hardly takes a few minutes – a win-win for everyone!"
— Aquibur Rahman, CEO at Mailmodo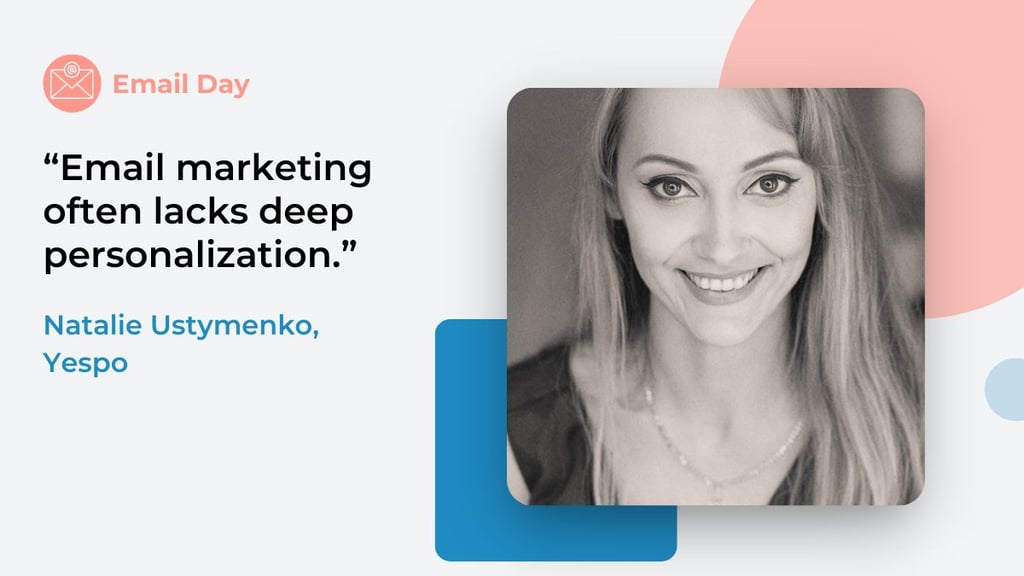 What do you think is missing in email marketing today?
"Email marketing often lacks deep personalization. To build effective email marketing programs, we need in-depth personalization, and we can use platforms to gather and leverage data. For example, advanced platforms use AI to allow you to:
Personalize content using your clients' needs and interests and additional information such as gender, location, etc.
Use data from your clients' wishlists to notify them about back-in or out-of-stock products.
Make product recommendations based on previous orders and customer behavior on website, applications and emails.
Effective message personalization needs detailed data analysis and Target Audience behavior. You can use analytical tools and statistics such as Recency, Frequency, Monetary Value (RFM) and cohort analysis for this."
— Natalie Ustymenko, Head of Direct Marketing at CDP Yespo
What is email's greatest power?
"Email marketing provides a unique opportunity to hyper-personalize your messaging at scale, a feat unmatched by other marketing channels. The secret lies in dynamic content delivery, which leverages critical data points—behavioral data, purchase history and user interests, to name a few.
To illustrate, imagine you're a marketer for a footwear brand. Using dynamic email, you can serve distinct gender-specific product images targeted to your male and female prospects within the same email. Such product personalization achieved by dynamically changing the content can boost conversions.
Though incorporating dynamic content requires some effort to integrate customer data across tools, it outshines every other marketing channel by providing 1:1 personalized content. And that, in my opinion, is email's greatest strength."
— Poonam Singh, Marketing Manager at Zoho Marketplace
What's the best inbox management tip you have?
"Every morning, I go 'quickly' through my emails. My rule is:
1. Anything that takes less than two minutes to answer or is urgent, I answer right away.
2. Anything else I get to while working on the corresponding projects. In Mailbird and other email clients, you can also snooze these emails.
Anything that doesn't fall into the two categories can wait or be deleted immediately.
Working through my inbox this way, I know exactly the status of my inbox and can continue my day."
—Christin Baumgarten, Operations Manager at Mailbird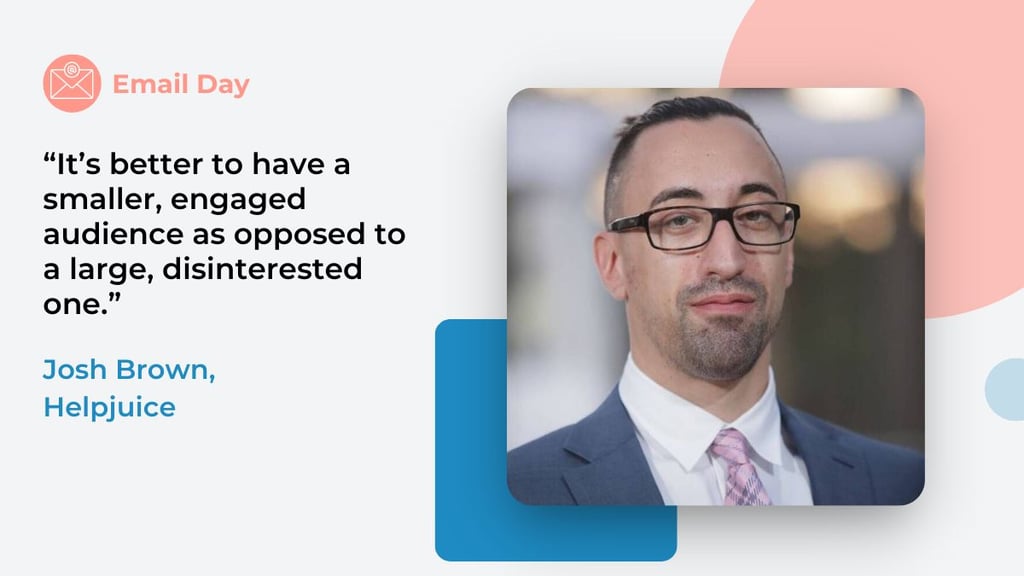 What would you say to someone who is upset by getting unsubscribes?
"Seeing unsubscribes can be disheartening, but remember that it's a natural part of email marketing. Moreover, it's better to have a smaller, engaged audience as opposed to a large, disinterested one.
With that said, if you believe your unsubscribe rate is higher than average or you're just aiming to optimize your approach, here are a few things to consider to reduce your unsubscribe rate:
Segment your list into smaller, targeted groups so that you can better personalize and improve upon the value of the content that you send to your subscribers.
Experiment with your sending frequency to identify the optimal balance that keeps your audience engaged, while avoiding overwhelming them. (This is another reason why segmentation is important, as frequency may vary depending on the segment.)
Don't be afraid to ask for feedback to learn what your audience's preferences are so you can optimize content and frequency."
— Josh Brown, SEO & Content Marketing Mananger at Helpjuice
How has email changed your life?
"Fundamentally and continuously, email is so intrinsic to everyday life that I often forget its significance.
Since before the first days of MSN Messenger, email has been an ever-present acquaintance, friend and confidant. Email allows me to chat and connect with others and, over the last ten years, build a business.
As part of globalization, email has developed into a conduit for connections. Email is more than a username on a website; email has the power – the power to build relationships and develop friendships.
I have laughed, cried and seen businesses built around email (including mine) all through the power of the written word.
Email allows me to share family milestones, such as my children, in privacy, an owned channel, a personal address, and a place to start and grow a community."
— Simon Harper, Founder and Marketing Consultant at SRH Design
Celebrate Email Day and get 23% free bonus credits at ZeroBounce
Ready to begin the Email Day festivities?
This year, to celebrate April 23, 2023, ZeroBounce tops off any purchase with 23% free bonus credits. Your credits never expire and you can use them to validate, score and add Activity Data to your email list.
Just use the code 2023EmailDaySub at checkout through Thursday, April 27 . The code is case-sensitive. 
Happy Email Day, everyone!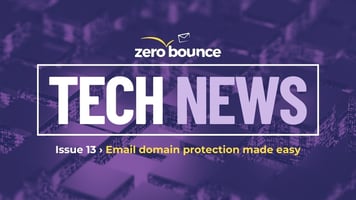 ZeroBounce DMARC Monitor launches to help you protect your email domain. Fall is here, and I know you're already busy getting ...
Read Story
India enacted the Digital Personal Data Protection Act recently. Learn more about India's data security regulations, and the st...
Read Story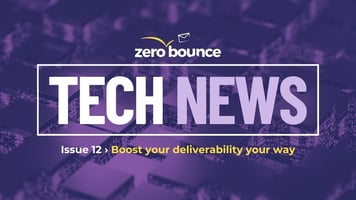 Summer's cooling off, but that just means business is about to heat up! If you want to make sure those big email campaigns make a...
Read Story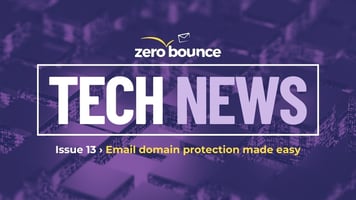 ZeroBounce DMARC Monitor launches to help you protect your email domain. Fall is here, and I know you're already busy getting ...
Read Story
India enacted the Digital Personal Data Protection Act recently. Learn more about India's data security regulations, and the st...
Read Story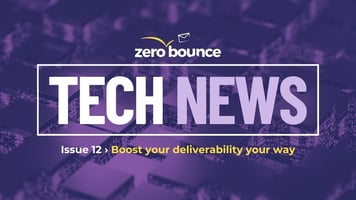 Summer's cooling off, but that just means business is about to heat up! If you want to make sure those big email campaigns make a...
Read Story