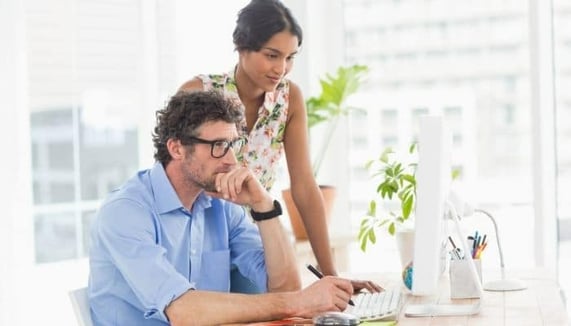 How To Use Email Coupons to Drive More Revenue for Your Business
Have you considered using email coupons to boost your sales? If you don't know where to start, these tips below will come in handy.
Email marketing performs consistently as the digital marketing strategy with the greatest return on investment (ROI), reported to be sitting at $42 return on every $1 spent.
That said, such high conversions are not a sure thing when it comes to email marketing. Developing a solid email strategy is vital to your campaigns' performance, and email coupons could boost your ROI significantly.
Why use promo codes and email coupons?
One of the reasons that email has such a high ROI is that people respond positively to email promotions – especially ones that contain coupons and discounts. These numbers say a lot about the power of digital coupons.
The number of e-coupon users in the US will grow to over 145 million by 2022.
92% of shoppers stated that they searched for coupons before finalizing an online purchase in 2020.
41% of consumers reported that they prefer to receive digital coupons via email.
68% of online shoppers reported that digital coupons are successful in building awareness of a brand.
In addition to these key statistics, research shows that emails containing coupons:
boost open rates by 14%
increase unique clicks by 34%
can rise revenue by 48% per email.
Related: Prospecting Emails 101: 8 Tips to Close More Sales
Email coupon options – and how to use them
Now that you know how effective email coupons can be, let's take a look at the types of offers you can send.
#1. Discount codes
A simple approach to boost your email marketing sales is to extend a discount offer to your audience. Whether it be 10% or 50%, offering a discount code is an effective way of enticing customers into the 'awareness' phase of the sales funnel process. Email recipients are more likely to open an email when they know it comes with a discount coupon or code.
In this example by SkillShare, notice how the large font engages the reader to "Save" and "Explore." Both of these concepts are enticing for the intended audience. Curiosity is the bedrock of learning and everyone wants to save money.
Also, the opportunity to save 30% is mentioned three times in an ad that doesn't feel overbearing.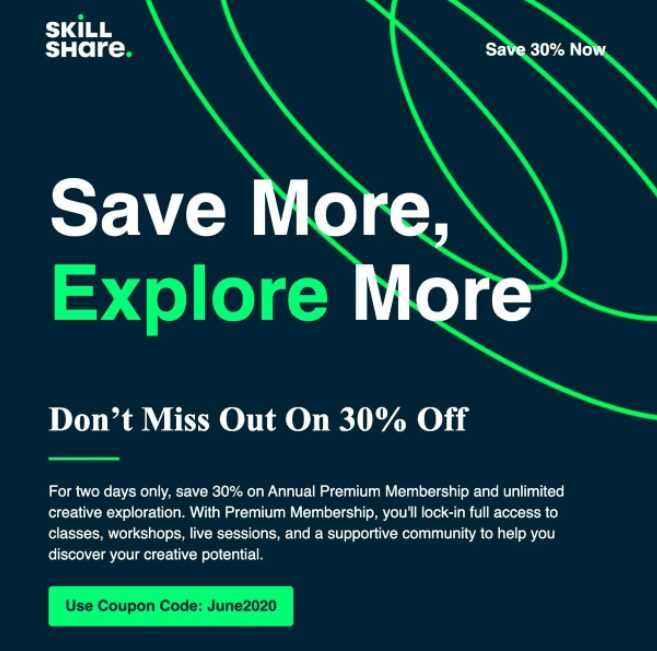 Additionally, the warning to not "miss out," coupled with the limited-time offer of two days, adds urgency to the offer. The benefits of the premium membership are concisely highlighted and followed up with a bright green call-to-action. All packaged on-brand with a simple color combination and graphic.
#2. Exclusive deal coupons
E-commerce businesses are strategizing with exclusive offers and VIP programs like never before, and for good reason. According to Social Comparison Theory Psychology, feeling part of an exclusive program gives consumers a sense of community and achievement that encourages them to spend.
When correctly executed, offering exclusive deals encourages consumers to shop more and feel good about it as they do. It can also be an effective strategy to send greater discounts to a business's most loyal customers. For instance, they could receive higher-tier discounts the more they spend.
#3. Buy one, get one free
Another way to increase sales is to entice customers to purchase more than they intended to, through the use of complementary products.
Sending emails that include a Buy One, Get One Free (BOGO) offer within the "consideration" phase of the sales funnel can draw more customers in. It entices them to visit your store and make an online purchase they weren't intending on making.
#4. Free shipping
Who hasn't winced at some shipping costs after deciding on a purchase? For many people, it can be a dealbreaker. Extending a "free shipping" offer through your email sequence can be just what is needed to get some of those shoppers across the line.
In the following example, while clothing company Everlane's primary offer was free shipping, they created a sense of urgency with their limited-time email marketing offer.
In the subject line – "Today Only: Free 2-Day Shipping" – they communicated so much. Opening with an alert to a limited-time offer, then immediately following that with the powerful marketing word "free." Then, they sweetened the deal by letting people know they'll get the goods within just two days.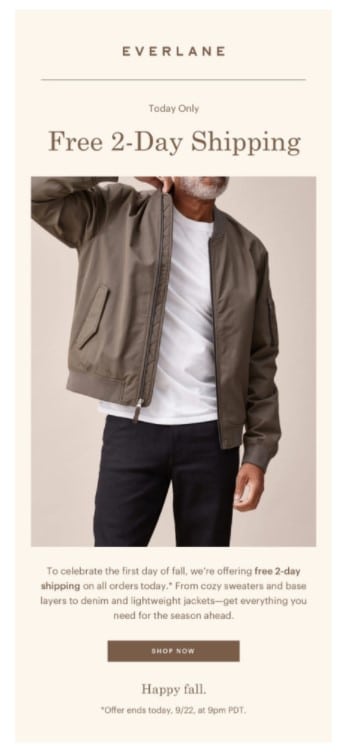 The design of the offer is minimal and well-branded, with a muted color palette that befits the clothing line. The primary offer for free, two-day shipping is clearly outlined as a header.
Also, they've incorporated an image that displays their product's quality and style, while using a stance that implies ease and leisure. The call-to-action button at the bottom is as clear as it can be – Shop now. They then wrap it up with a cheerful greeting.
#5. Limited-time offers
Limited-time offers (i.e for one day only) are a great way to ignite a consumer's FOMO (fear of missing out). Sending out email coupons that are only redeemable for a short time can be highly effective at hooking consumers through their scarcity mentality. It awakens their motivation to get it while they can. It can be particularly effective to use this strategy during the "interest" phase of the sales funnel, capturing shoppers' attention and converting them into customers.
The following example is an abandoned cart pop-up from SwissWatchExpo. Nevertheless, it's a brilliant example of how aggressively the limited-time offer can be used to sway consumers into taking action.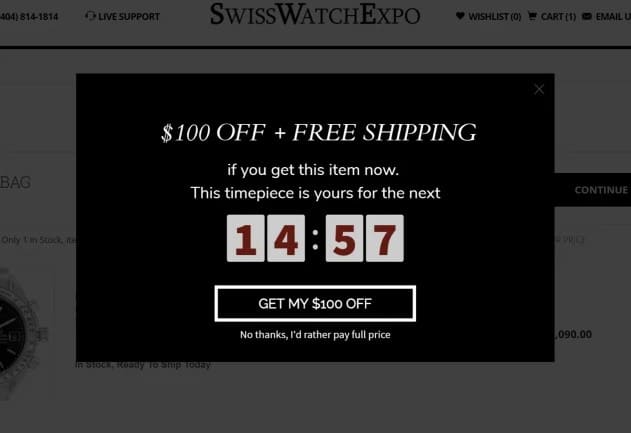 Combining a significant discount with free shipping, the online pre-loved luxury watch retailer gives no apologies and takes no prisoners with their approach, including a countdown clock for the ultimate FOMO trigger.
Even though this was a pop-up design, much can be applied to email coupon marketing. Where a live counter is not possible, some marketers set an image of a counter to zero or close to it, to suggest that time is of the essence.
Using a minimal design such as this also helps to create a dramatic contrast that helps to drive the urgency of the message home to the reader. The call-to-action button is also clear in its intentions. What's more, it comes with a "think twice" alternative underneath that uses some reverse psychology to entice the customer further regarding not missing out.
#6. Holiday season coupons
If you haven't already, the time to set up some automated coupon emails for all huge holiday shopping periods is yesterday.
The lockdowns caused a massive e-commerce boom, but it was already firing up before Covid came to town. The greatest US online shopping figures in history were recorded on Cyber Monday in 2019, soaring to over $94 billion in sales.
Related: Cyber Monday Emails: 5 Tips to Make Your Campaign Successful
Holiday coupon opportunities cover not only Christmas and Easter, but all celebratory days for family and friends. This example by Automotive is an excellent example of a well-branded Father's Day sale email promotion.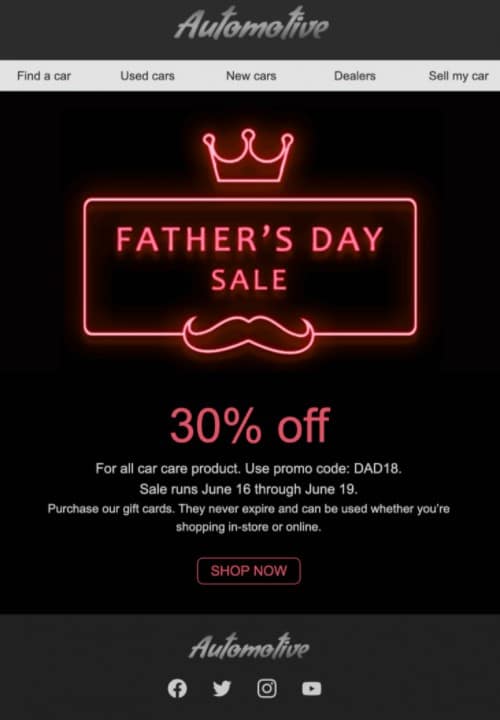 Firstly, the brand and company fit the occasion well. The design of the campaign, with the neon light effect and the mustache, ties it together even further.
Moreover, there's a time frame for urgency, the amount of discount being offered is clearly stated, and the call-to-action button invites viewers to get shopping. Adding the suggestion of gift cards is also a strategic move.
It can be difficult to find the right gift for some people, and purchasing a gift card from a company that offers products of interest to the recipient is a great solution. Furthermore, outlining that their gift cards never expire is another perk to the proposal. Hard to resist for sons and daughters scrambling for ideas in time for Father's Day!
During holiday days and seasons, people shop online with higher purchasing intent. Email marketing campaigns that target holiday shopping and feature tantalizing coupon deals are often too hard for shoppers to resist.
Before you send out your email coupons…
In addition to using these email coupon ideas, consider the following:
Make sure people can redeem your email coupons via mobile.
Schedule your holiday promotions well in advance and test them.
Send a follow-up email to any cart-abandoners with discount coupons to re-spark their desire to make a purchase.
Launch an exclusive loyalty program to make your customers feel even more special while they shop up a storm.
Sending out perfectly timed and well-designed promotional emails that incorporate email coupons can result in you capturing more leads, creating quality customer relationships, and leaving the competition far behind.
Read More: Email Marketing in 2022: 7 Experts Tell You What You Need to Know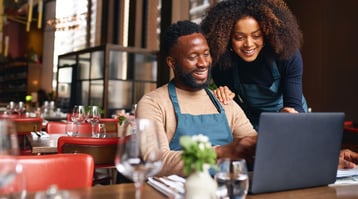 So, you want to build an email list. How do you do it? In this guide, we share all the tactics we know. Tried-and-tested over tim...
Read Story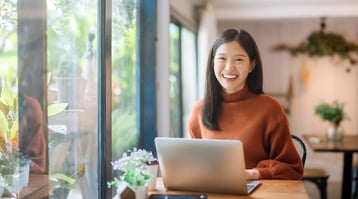 Should you use GIFs in emails? It depends on your brand and what you want to communicate. Marketing strategist Lesley Vos has all...
Read Story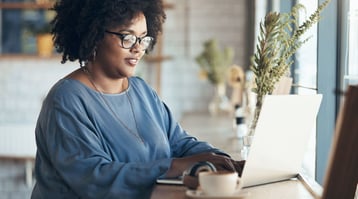 Struggling to grow your email list? Many marketers and business owners are. Worry not – these newsletter signup form examples a...
Read Story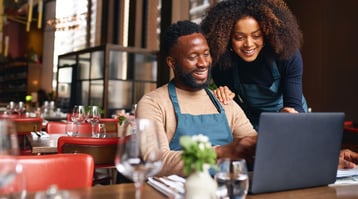 So, you want to build an email list. How do you do it? In this guide, we share all the tactics we know. Tried-and-tested over tim...
Read Story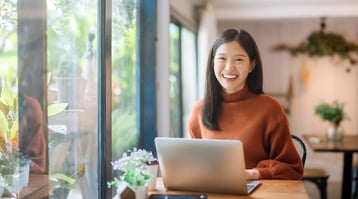 Should you use GIFs in emails? It depends on your brand and what you want to communicate. Marketing strategist Lesley Vos has all...
Read Story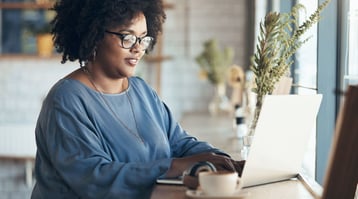 Struggling to grow your email list? Many marketers and business owners are. Worry not – these newsletter signup form examples a...
Read Story