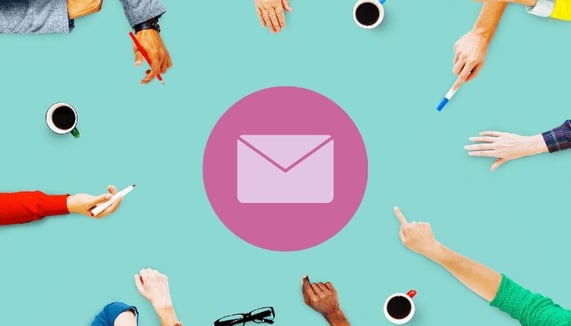 What's the Best ZeroBounce Feature? The Team Weighs In
The email verifier, the scoring system, the deliverability or list enhancement tools – which one is your favorite ZeroBounce feature? We asked our team to weigh in, and their responses are fun to read.
Want to share your own answer?
Email us at support@zerobounce.net and tell us what your favorite ZeroBounce feature is.

Make a purchase – get any number of credits.

Until September 30, at 11:59 p.m. PST, we'll add 15% more, for free!
Anyone who sends emails knows that creating the email is half the battle. Just because you have a great email doesn't mean it will hit the inbox, which is the reason behind what we do.
ZeroBounce is an email validation and deliverability platform with features and tools that make all the difference to maintaining your list hygiene and improving your email performance. 
I asked the team about what ZeroBounce features they felt were the most useful and impressive. Below you can see what they told me!
First, what are the ZeroBounce features?
Of course, email validation is ZeroBounce's hallmark. However, it's all of the tools and offerings that make ZeroBounce effective.
Before we show how the features compare, here's a quick rundown.
Email validation
It's the cornerstone of ZeroBounce. Our email validator allows you to clean your list, so you can remove those pesky invalid or harmful email addresses. Regular email validation drastically cuts back on bounces, spam complaints and bots, so you can reach the people on your list.
Real-time email validation API
We created an API you can connect everywhere you have a point of entry: from registration forms to newsletter sign-up forms. The real-time API keeps bad data off your email list in the first place.
Data appending
An added feature that is a sweet tie-in to ZeroBounce's email validation. For many of the emails you upload, we use public sources to provide you with additional information like name, gender, location or IP. We adhere strictly to GDPR protocols and other international data protection regulations.
ZeroBounce Score: A.I. email scoring and catch-all validator
Classic email validation services can identify, but cannot validate, catch-all emails. ZeroBounce Score further investigates catch-all emails to return valuable feedback on their potential validity.
The inbox placement tester
This tool allows you to verify the placement of your emails with email service providers around the world. Will it land in the inbox or elsewhere? Find out.
The email server tester
It lets you ensure your mail server is configured correctly and thus, avoid deliverability problems.
Blacklist monitoring
This tool monitorsif your IP or domain is on any blacklists, so you can get delisted.
Activity Data
It lets you see the engagement data of your email subscribers. Using this ZeroBounce feature, you can determine who opened, clicked, forwarded or unsubscribed from an email in the past 30 to 365 days.
The team picks their favorite ZeroBounce features
Let's see what my colleagues had to say about the ZeroBounce feature as the leader of the pack.
"I would have to say that the basic email validation is my favorite feature that we provide. It's the heart and soul of our service. All of the other tools were built around it.
Even though they are amazingly helpful, the quality level that our extraordinary team was able to reach with the validation provides a solid base for every tool that came after. It will keep doing that for whatever we come up with next!
— Robert Balanescu, Customer Support Specialist
"I like the deliverability tools and how helpful they are for our customers.
The main goal of the tools is to diagnose deliverability issues for both email servers and inbox placements. And they work in perfect harmony with the validation service."
— Dan Straton, Customer Success
"My favorite feature is the level of detail that we provide on our validation results. There are a lot of gray areas for companies to make business decisions such as allowing role-based or catch-all emails, or even business domains versus free domains.
We love providing granular details so everyone can pick their perfect path.
Also, I love our human approach to our customers. Real people, trained and qualified to help our customers and do what is best for them.
We don't push people into packages or long-term commitments. We provide value – and it's all baked into what we offer."
— Brian Minick, COO
"It's hard to pick my favorite ZeroBounce feature since all of them are helpful in their own way, but the most innovative one is our data appending feature.
It can help people to find a first name, last name and gender for an email address. And this may be an important criterion when you send an email campaign.
The more information you know about your customers, the better you can communicate with them."
— Iris Iordanoiu, Customer Success
ZeroBounce Score receives praise and endorsement
"My favorite ZeroBounce feature has to be the A.I. scoring system because I can get an idea of how real the address in question is – is it simply valid or in actual active use?
Plus, it's a fast process while the ROI is immeasurable in the long run."
— Radu Pasarica, SMTP Deliverability Specialist
"My favorite feature is ZeroBounce Score.
As we know, catch-all emails are impossible to validate without sending a real email and waiting for a bounce.
We do understand that setting up a catch-all option for a mailbox on a domain name has its advantages. It helps minimize the number of lost email messages due to misspelled email addresses or emails sent to employees who have left the company.
However, catch-all emails are problematic. Some validation services can't identify them and lead you to believe they are valid, which can increase bounces.
I find this feature great because the scoring is not a mail server check. In real time, we are going out and looking for activity on that email address.
It's a completely different approach that we built to allow our customers to save some of the catch-all emails and have more confidence in sending emails to them.
If we can help squeeze 1-5% more of your catch-all emails, for some people that might be a handful of more conversions. We see lists that have 5-75% catch-all emails on them. Scoring them allows you to get the most value out of those risky emails."
— Raluca Popa, Customer Support Specialist
Some on the ZeroBounce team had more than one "favorite"
"One of my favorite features is this one: "smtp_provider":"microsoft", since I can see their SMTP provider and what kind of problems they may have with every provider. It helps you be more specific. They can see it too and can separate emails based on their provider if they want to.
My other favorite ZeroBounce feature is Activity Data. Our customers can profit greatly from this feature when they need to warm up their IPs.
But my favorite-favorite of all ZeroBounce features? That would be the blacklist monitor. This feature is great at monitoring your IP and domain and alerting you if you've been blacklisted.
Moreover, ZeroBounce gives you all the contact info so you can reach out to those blacklist providers and request to be removed from there."
— Cezar Mitrenca, Customer Support Team
"The wide variety of features and tools we have are so useful. With that said, for me, it's a draw between two surprisingly simple tools at our clients' disposal, great for their customizability and quality of life.
The API real-time validation
Although the API is a simple tool, it allows for as much customizability as our clients desire. You can integrate it into a registration form, login page or at any email gathering point.
Then, you can filter certain contacts automatically and set triggers based on the results status. Also, you can customize the kinds of emails you want the API to reject.
For instance, if the email belongs to a free provider, you can set the API to not allow it to get on your list. Furthermore, you can set preferences relating to the domain's age, provider, and other criteria. From the start, this lets you prevent the gathering of bad or undesired emails.

Understanding one's clientele is very valuable. By having genders appended and your clients' geographical location identified, you can gain a clearer understanding of who you're reaching. This can help you further develop your service or product because you know who your main demographic is.

Overall, it's a tremendously useful tool! Some clients use it in different ways because it provides so much information on the fly, which can be filtered automatically – as an API is intended.
AutoPay
This is a simple concept that works hand in hand with the real-time API to make sure you never run out of credits.
If you suddenly get a higher influx of leads and you run out of credits, the API would stop working. By enabling AutoPay, you can make sure that never happens and the API continues to work in the background.
It's from the school of thought of "set it and forget it." It's a simple and reliable safety net and makes your life easier.
— Vlad Stoian, Deliverability Specialist
The newest feature: Activity Data has quickly become popular
"My favorite ZeroBounce feature is Activity Data because my customers use it to identify their most valuable email contacts. I've received feedback that their open rates and click rates have increased."
— Aquino Farmer, Senior Account Executive
"My favorite ZeroBounce feature is also the newest one: Activity Data.
I like it because it gives information about the last activity on an email, so marketers and sales pros can create more targeted marketing campaigns aimed at their more active users."
— Catalin Neagu, Customer Support Specialist
"Activity Data is at the top of my list. It helps our customers better understand how their audience behaves within the inbox and how active they are, on average.
Having this kind of insight into your email list is fantastic. If I were a marketer and I'd just cleaned my list, this is the feature I would use next!"
— Narcis Parmac, Custmer Support
"The feature that I like and bring up the most in my demos is Activity Data. My reason is that we're able to provide our clients with deeper insight than just a valid return. Our customers can now segment their list even further by activity.
Marketing clients find this feature very useful to use various data points for the highest open rates.
The Activity Data feature helps companies and individuals better understand who they should market to with more consistency and segment subscribers that are not as active."
— Chris Gallego, Enterprise Success Manager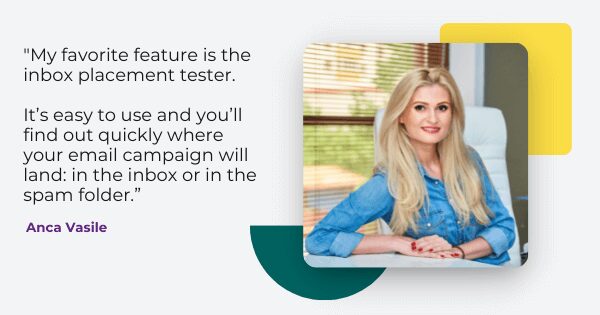 The inbox placement tester is tied with Activity Data
"My favorite feature from ZeroBounce is the inbox placement tester. It's easy to use and you'll find out quickly where your email campaign will land: in the inbox or in the spam folder.
There are several reasons why your email lands in spam or doesn't get delivered at all. You can talk with your postmaster about the right strategy to overcome these obstacles. Based on those results, you'll know if something didn't work and maybe you can use the email server tester to see if there are misconfigurations on your servers, or if you need to edit your content.
On the other hand, maybe your campaign is perfect and ready to go.
This feature is super-helpful for our customers. Once you've cleaned your email list, running an inbox test can play a huge role in the success of your marketing campaigns."
— Anca Vasile, Customer Support Trainer
"My favorite ZeroBounce feature is the inbox tester. How nice is it to be able to test with 20 international testing addresses so you can see how those mailboxes handle your emails?
If I send out campaigns, I'd like to know whether my newsletter will arrive in my customers' mailboxes. Will it arrive in the inbox, spam, or just go missing altogether? The tester tells you before you send."
— Laura Comsa, Customer Success
"I love ZeroBounce as a whole and that makes my PR job much easier! There are so many features and stories I can pitch, and my enthusiasm transcends in every email I send to the media. You're more likely to succeed in getting media coverage when you genuinely love the product you pitch.
However, if I had to pick one favorite feature, I'd say using the inbox placement tester has been an eye-opening experience for me.
Before you send your email, ZeroBounce allows you to send it to 20 testing email addresses first and see where it goes – to the inbox or the spam folder. If you find that it went to spam with certain providers, you get a chance to see what's wrong and fix it. Sometimes, your email doesn't even get delivered, but you wouldn't know that if you didn't use the tester!
People get an average of 121 emails a day. With so much competition, you can't afford to not be in the inbox, and this tool is a game-changer in helping you get there. Plus, with a ZeroBounce account, you get one free test every month."
— Corina Leslie, PR Manager
"The deliverability tools are my favorite. I like them so much because it gives people the ability to get to the root of their low inbox placement issues.
The way the SMTP performs and sends email is an important part of the email sending service.
It helps people understand why their emails bounced even if we determined they were valid."
— Robert Fundulea, Customer Support
"For me, the most exciting feature is the blacklist monitor. It was a boom when we launched it, everybody was asking about it.
Why do I like it? Knowing who's blacklisting you is critical and also, we save you time by making it easy to contact that blacklisting company and talk about your status.
Blacklisting is a way to filter malicious IP addresses and every blacklist can block your domain or IP. The monitor will verify your status with more than 200 blacklists and alert you when your status changes."
— Crina Maria Mitrenca, Customer Support
The best-loved ZeroBounce feature?
According to Vlad, it was a tie between the AutoPay and the real time email validation API. For others, it's no contest: the real-time validation API is the best ZeroBounce feature!
"My favorite ZeroBounce feature is the ability to provide real-time validation of email addresses. Businesses can check the validity of an email address before they add it to their list.
For example, when someone is entering their email address in a form, our email validation API can verify if the email address is valid. If the user enters an invalid or incorrect email address, the business can prompt the user to re-enter the email address and will disable the form so the user must enter a valid email address.
This eliminates contacts that are entered with a typo or incorrect information, catching the error at the onset of customer submission."
— Anne Ghaltchi, Director of Digital Media
"My favorite feature is the real-time API.
I love to imagine the look on someone's face when they think they're getting away with entering junk information and instead, they just get slapped with an "invalid email" notification and can't pass through.
And then the feeling of disappointment and annoyance settles in when they realize they're going to have to enter their correct information, or they will not get what they want.
I find great satisfaction in this as a service provider."
— Austin Helm, Enterprise Success Manager
"One of the main things I love about ZeroBounce is that besides email validation, we offer many useful features.
Typically, customers realize that they need to use a good validation service after they experience issues like ending up in the spam folders of their recipients. Sometimes, the solution is not just in verifying those emails. It can be like a puzzle.
In some cases, we find out they're having serious issues with how their email server is configured, or that they are blacklisted. Our deliverability tools are helping people go deeper and fix those issues. We help make the customers aware of them. So, I'm a big fan of the deliverability tools!
However, my favorite ZeroBounce feature is the email validation API. Working with our customers on different projects, I can tell you there are a lot of great things about this feature:
It's much appreciated by customers because automation is key these days, especially when it comes to large customers and companies.
It creates a strong and long-term relationship with the company. It allows us to interact with multiple team members from the commercial, marketing, and tech team. In most cases, this is an ongoing process where we have the opportunity to provide guidance and more value for our customers.
The real-time API enables us to present to the customer other features like the "low credits" notification and the AutoPay. Customers appreciate that because they can choose the best option to avoid running out of credits. They have peace of mind knowing that the API works ceaselessly, without them having to monitor their accounts all the time."
— Ciprian Vlad, Enterprise Success Manager
"My favorite is the API. It's the best way to validate any email in real time and recover missed leads that had a typo in their email address.
One example would be that a possible customer goes to your website and creates an account. By mistake, they type in a wrong letter in their email address.
If you don't have an API that validates the email in real-time, the sign-up would be accepted. However, your new client would never receive your confirmation email. That's a lost customer and a possible bad review because the person thinks the service does not work.
All of the ZeroBounce features play a role in helping you connect with real people, convert more and increase your sales. But what the API does is invaluable, and many of our customers are hooked."
— Liviu Tanase, Founder and CEO
My favorite ZeroBounce feature
The real-time API bandwagon may feel a little crowded, but that's because it manages to be highly effective. At the same time, is simple to use.
Keeps off bad data in the first place? Works in the background? Is it easy to set up? Well, sign me up.
It may be tough to pick a favorite, but the real-time API goes a long way to keeping your list in pristine shape. For that reason, I'd pick it as a favorite feature, too!
However, the great thing about ZeroBounce is that you can use the email validation and all of the tools together. You don't even have to pick a favorite.
What is *your* favorite ZeroBounce feature?
Email us at support@zerobounce.net and let us know!

Until September 30, at 11:59 p.m. PST, we'll add 15% bonus credits, free, on top of any purchase you make!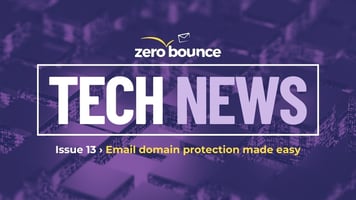 ZeroBounce DMARC Monitor launches to help you protect your email domain. Fall is here, and I know you're already busy getting ...
Read Story
India enacted the Digital Personal Data Protection Act recently. Learn more about India's data security regulations, and the st...
Read Story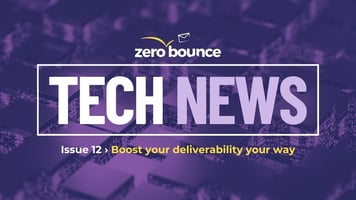 Summer's cooling off, but that just means business is about to heat up! If you want to make sure those big email campaigns make a...
Read Story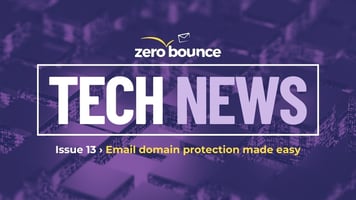 ZeroBounce DMARC Monitor launches to help you protect your email domain. Fall is here, and I know you're already busy getting ...
Read Story
India enacted the Digital Personal Data Protection Act recently. Learn more about India's data security regulations, and the st...
Read Story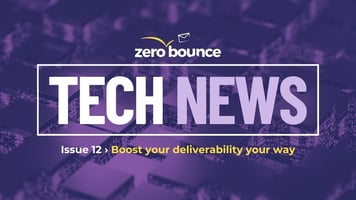 Summer's cooling off, but that just means business is about to heat up! If you want to make sure those big email campaigns make a...
Read Story